Trump Wants Stormy Daniels to Pay Twice for Her Failed Lawsuit
(Bloomberg) -- Suing President Donald Trump and losing may prove costly for Stormy Daniels.
The adult movie star whose real name is Stephanie Clifford could be hit with a bill for as much as $778,806 after she alleged that Trump defamed her when he accused her of a "total con job" in a tweet and a judge concluded the president was just exercising his free speech rights.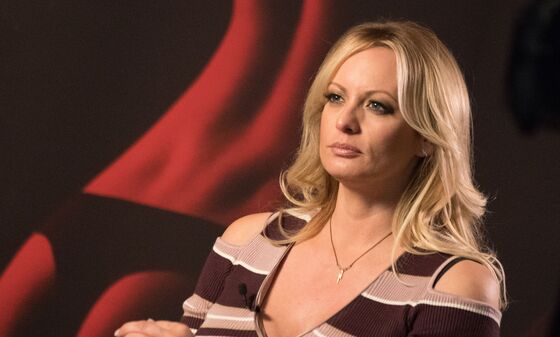 It turns out the president doesn't just want full reimbursement for his attorney fees. He's asking a Los Angeles federal judge to make Clifford pay double to deter future frivolous lawsuits.
At a hearing Monday, U.S. District Judge S. James Otero didn't tip his hand as to how he'll rule after Clifford's lawyer, Michael Avenatti, called the attorney fee request "gross and excessive," and then labeled the sanction demand "absolutely absurd and outrageous."
But the judge did question whether Trump's lawyer, Charles Harding, billed too many hours -- almost 600 -- to defend the president. And Otero asked Harding to show him other cases based on Texas law -- which applies in this case because that's where Clifford hails from -- to support making her pay double.
Whatever the judge decides, he's still handling a bigger case that Clifford brought against Trump to challenge the validity of a $130,000 "hush payment" deal she struck with Trump's longtime fixer Michael Cohen before the 2016 presidential election.
And even if Clifford is ordered to pay the full amount Trump seeks for her failed defamation case, it won't be as much as the $798,779 Trump University was ordered to pay a former student for a failed libel suit in 2015 after she accused Trump's namesake school of fraud.