Trump Visits Pittsburgh After Shooting, Against Mayor's Wishes
(Bloomberg) -- Donald Trump and his family came to Pittsburgh three days after a gunman killed 11 people at a local synagogue, defying the city's mayor and many residents who said the president shouldn't visit so soon after the attack.
The first funerals for the victims were held Tuesday. The massacre on Saturday was the deadliest attack ever targeting U.S. Jews, according to the Anti-Defamation League.
The moment provided a fresh test for Trump's capacity to fulfill the president's traditional role of expressing solace and unity during national tragedies. As midterm congressional elections approach, Trump has ratcheted up his rhetoric on divisive issues such as immigration as he seeks to energize his most loyal supporters to turn out to vote.
"I'm just going to pay my respects," he told Fox News on Monday, outlining plans to visit the four police officers who were shot during the incident, among others.
Pittsburgh Mayor Bill Peduto, a Democrat, said he asked the White House to delay the trip to keep national focus on the victims and their families.
"I do believe that it would be best to put the attention on the families this week, and if he were to visit, choose a different time to be able to do it," Peduto said late Monday on CNN. "Our focus as a city will be on the families and the outreach that they'll need this week and the support that they'll need to get through it."
Trump made the trip without congressional leaders, who often travel with the president for occasions of national mourning. Senate Majority Leader Mitch McConnell declined his invitation from the White House because of commitments Tuesday in his home state of Kentucky. House Democratic Leader Nancy Pelosi of California and Senate Democratic Leader Chuck Schumer of New York didn't go because local officials had asked the president to delay his visit, according to two people familiar with the matter. House Speaker Paul Ryan's office didn't respond to an inquiry about why he didn't make the trip.
The president did not make any public remarks while in the city. White House Press Secretary Sarah Huckabee Sanders said that he "wanted today to be about showing respect to relatives and friends of the victims as well as Jewish Americans."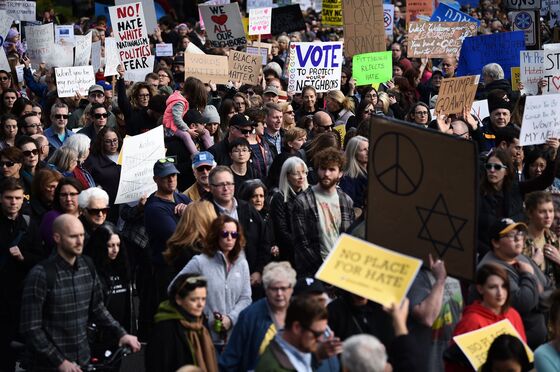 As for requests that he not travel to Pittsburgh, Sanders said that Trump "was also asked by some to come."
Trump arrived at the Tree of Life synagogue at about 4:41 p.m. New York time. He was greeted by protesters, including some who held signs reading that Trump loves Nazis and others chanting "words have meaning" and "make America peaceful again."
Trump placed mourning stones atop each of 11 Stars of David erected outside the synagogue to represent the victims; his wife followed with small white roses.
He was accompanied by his daughter Ivanka and son-in-law Jared Kushner, who are Jewish, as well as Treasury Secretary Steven Mnuchin, Mideast peace negotiator Jason Greenblatt and Israel's ambassador to the U.S., Ron Dermer.
The president's critics complain Trump has done little to tamp down a surge in anti-Semitism in the U.S. that has coincided with his political rise. The number of anti-Semitic incidents in the U.S. rose nearly 60 percent from 2016 to 2017, the largest year-over-year increase since the Anti-Defamation League began tracking them in 1979.
Trump condemned the synagogue attack and has made a point of noting that the Pittsburgh shooter was critical of the president, believing him to be too close to too many Jews.
"This horrible human being, this terrible person that did the shooting, he was not a Donald Trump fan, because he said I was too close to Israel," the president told Fox News.