Trump Decries His Impeachment Charges at Prayer Breakfast
(Bloomberg) -- President Donald Trump attacked his political enemies on Thursday at the annual National Prayer Breakfast after his partisan acquittal on impeachment charges.
"As everybody knows, my family, our great country, and your president have been put through a terrible ordeal by some very dishonest and corrupt people," Trump said at the lectern.
"They have done everything possible to destroy us," Trump continued, without naming anyone in particular although his comments went on to include veiled references to some of the lawmakers who supported his impeachment. "They know what they are doing is wrong, but they put themselves far ahead of our great country."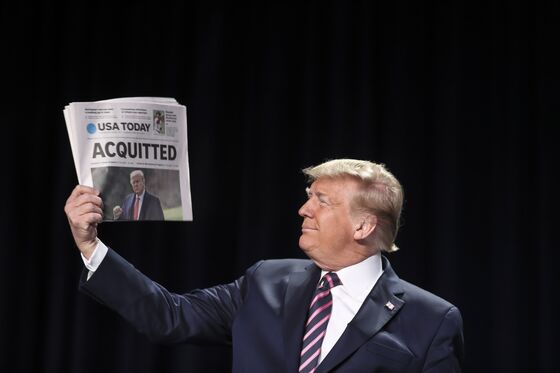 The president is betting his acquittal will add momentum to his 2020 re-election campaign. Trump has expressed no remorse for the conduct at the heart of his impeachment, even though several Republican lawmakers called it inappropriate.
As Trump entered the breakfast at a hotel in the nation's capital, he held up copies of two newspapers with banner headlines saying "acquitted" as House Speaker Nancy Pelosi looked on just five seats away.
Trump started speaking shortly after Arthur Brooks, former president of the conservative think tank the American Enterprise Institute and now a Harvard University professor, encouraged the crowd of lawmakers and others to embrace their enemies.
Trump, instead, used the event to lash out at his political opponents.
Trump appeared to take a swipe at Mitt Romney, who cited his Mormon faith in becoming the only Senate Republican who voted Wednesday to support Trump's conviction on the charge of abuse of power. "I don't like people who use their faith as justification for doing what they know is wrong," Trump said.
In explaining his vote on the impeachment articles, Romney said: "As a senator juror I swore an oath before God to exercise impartial justice. I am profoundly religious," he said on the Senate floor. "My faith is at the heart of who I am."
He continued: "I take an oath before God, as enormously consequential. I knew from the outset that being tasked with judging the president, the leader of my own party would be the most difficult decision I have ever faced. I was not wrong."
After Trump's comments seeming to question Romney's faith, he also appeared to take a shot at Pelosi: "Nor do I like people who say, 'I pray for you,' when they know that that's not so."
Pelosi, a devout Catholic, appeared to shake her head at the remark.
At a news conference later on Thursday, Pelosi told reporters: "I pray hard for him because he is so off the track."
"I thought what he said about Senator Romney was particularly without class," Pelosi said. "He is talking about things he knows little about: faith and prayer."