Trump to Land at Under Armour's Headquarters: Campaign Update
(Bloomberg) -- Donald Trump's presidential helicopter will set down at Under Armour's global headquarters in downtown Baltimore on Thursday, two years after the sports-apparel giant's Chief Executive Officer Kevin Plank came under fire from some of the brand's top pitchmen for praising the president.
After arriving on Marine One, Trump will make the short drive to the Inner Harbor hotel where he is expected to address a gathering of Republican lawmakers. It will be Trump's first trip to the city since he attacked Baltimore as a "rat and rodent infested mess" earlier this summer.
Top Under Armor endorsers – including Golden State Warriors star Stephen Curry and actor Dwayne "the Rock" Johnson – criticized Plank in 2017 after the mogul said the president was "pro-business" and a "real asset" in a CNBC interview. Plank later took out a full-page newspaper ad asserting that that his comments "did not accurately reflect" his intent and that his company opposed the administration's executive order banning travel from a set of Muslim-majority countries.
Local groups in Baltimore were planning to protest the president's visit amid anger over his comments earlier this summer. Over a series of days, Trump suggested without evidence that political leaders in Baltimore were corrupt and had stolen billions in federal dollars. He also described the city as "disgusting," and claimed "no human being would want to live there."
Diane Pelkey, Under Armour's senior vice president of global communications, said allowing Marine One to land was a "a consistent courtesy we have provided for public officials since 2014, as part of our longstanding relationship with the U.S. Secret Service and Baltimore City Police Department." The White House didn't immediately comment on the selection of the landing site.
Harris Seeks to Find Her Lane in Third Debate (4:30 p.m.)
Kamala Harris will seek to affirmatively define her lane in the Democratic presidential primary at the Thursday debate in Houston, an adviser said hours before it began.
The adviser, who discussed strategy on condition of anonymity, said Harris plans to set herself apart from her main rivals by suggesting she's a unifier but one who doesn't long for the past or engage in divisive ideological battles.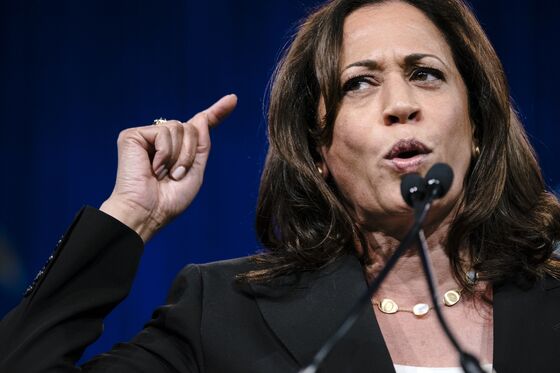 The preview is a tacit acknowledgment of one of Harris's struggles. After a strong first debate late June, the California Democrat has had a rough summer and fallen to a distant fourth place in the polls amid questions about what her political philosophy is. She has sought to court ultra-progressive voters as well as moderates in the primary. -- Sahil Kapur
Warren Asks Amazon to Drop Contractors (12:18 p.m.)
Elizabeth Warren is calling out Amazon.com Inc. for "ignoring labor laws and fostering work conditions that are detrimental to the safety and basic humanity of its workers."
The presidential candidate and Massachusetts senator on Thursday demanded that Chief Executive Officer Jeff Bezos drop contractors that violate labor laws and enforce safety standards to protect delivery drivers and the general public.
"Amazon's pursuit of larger profit margins, increasingly unsustainable delivery expectations, and methods to avoid regulatory and legal oversight are alarming," Warren said in a letter co-signed by Democratic Senators Richard Blumenthal and Sherrod Brown. The letter cited news reports, including a joint investigation by ProPublica and New York Times, that said Amazon contractors were involved in more than 60 accidents since June 2015, causing multiple deaths.
Warren asked Bezos to respond with details on Amazon's policy on third-party drivers as well as whether the e-commerce giant has tried to thwart creation of a union. Warren last year, along with Bernie Sanders, criticized Bezos after reports of anti-union efforts at the company's Whole Foods chain.
"Amazon is proud of our strong safety and labor compliance record across our transportation network of employees and contractors, and we continue to drive improvements that benefit our transportation providers, our customers and the public," Amazon said in a statement. -- Kim Chipman
Trump Tries to Upstage Debate With Banner, Ads (8:13 a.m.)
Donald Trump is making sure he gets his say in Houston on Thursday.
The president's re-election campaign plans to deploy an aerial banner and full page ads in the Houston Chronicle and San Antonio Express-News ahead of the third Democratic primary debate at Texas Southern University.
The ads will contrast Democrats' "disastrous plans for America with President Trump's clear record of accomplishments," according to a campaign release.
The newspaper ads take on some of the Democrats' positions on private health insurance, the fossil fuel industry, and regulation.
The 4,800 square feet air-banner will read: "SOCIALISM WILL KILL HOUSTON'S ECONOMY! VOTE TRUMP 2020." -- Kathleen Hunter
Ten candidates will face off in the third Democratic debate tonight in Houston. It'll be the first time Joe Biden and Elizabeth Warren share a debate stage. Cory Booker, Pete Buttigieg, Julian Castro, Kamala Harris, Amy Klobuchar, Beto O'Rourke, Bernie Sanders and Andrew Yang will also participate.
Elizabeth Warren will appear Saturday at the Massachusetts Democratic Convention in Springfield.
Biden will speak Sunday at the 16th Street Baptist Church in Birmingham, Alabama, to commemorate the 56th anniversary of a bombing that killed four girls and injured 22 other people.
On Monday, Biden, Sanders, Klobuchar, Tulsi Gabbard, Buttigieg and Bill DeBlasio will attend the Galivants Ferry Stump in South Carolina.
Also on Monday, Warren will speak at a rally in New York City's Washington Square Park.
Many candidates will appear at the LGBTQ Presidential Forum in Cedar Rapids, Iowa, on Friday. Contenders who have confirmed they will attend are: Biden, Booker, Buttigieg, Castro, Gabbard, Harris, Klobuchar, Joe Sestak, Warren and Marianne Williamson.