Republicans Pan Trump Lawyer's Rambling Case: Impeachment Update
(Bloomberg) -- Donald Trump's second Senate impeachment trial began Tuesday. The trial is sure to be rich in political and constitutional significance even though it's all but certain to end in acquittal, with most Republicans in opposition.
The nine House managers prosecuting the former president argue that he betrayed his oath of office as president by inciting the Jan. 6 attack on the Capitol. Trump's lawyers countered that he didn't incite his supporters to violence and exercised his First Amendment rights.
Republicans Pan Trump Lawyer's Pitch (5:45 p.m.)
Republican senators offered thumbs-down reviews of the initial performance by Trump's legal team -- and one even changed his vote on an early test of sentiment.
"Anyone who listened to President Trump's legal team saw they were unfocused, they attempted to avoid the issue, and they talked about everything but the issue at hand," said GOP Senator Bill Cassidy of Louisiana. He voted that the Senate trial is constitutional after suggesting he'd join most Republicans on the other side of the question. He said House Democrats had much stronger arguments.
Republican Senator Lisa Murkowski of Alaska, who also voted that the trial is constitutional, was especially critical of the rambling performance of Bruce Castor, the first of two lawyers for the former president to speak.
"I thought that the House presented a pretty good legal analysis. In fairness, I was really stunned at the first attorney who presented for former President Trump," she said. "I couldn't figure out where he was going."
Cassidy and Murkowski joined Democrats in voting that the impeachment trial is constitutional even though Trump is no longer in office, as did fellow Republican Senators Susan Collins, Mitt Romney, Pat Toomey and Ben Sasse.
But the 56-44 vote was hardly a sign of likely success for Democrats seeking to convict Trump at the trial's conclusion: It was well short of the 67 votes that would be needed. -- Laura Litvan and Steven Dennis,
Senate Finds Trump Trial Constitutional (5:10 p.m.)
Trump's second impeachment trial is constitutional and valid, the Senate decided Tuesday, clearing the way for arguments to begin on whether he incited the insurrection by inflaming the mob that stormed the U.S. Capitol last month.
After four hours of arguments from House impeachment managers and Trump's defense team, the Senate voted 56-44 to affirm that it's constitutional to try an official who is no longer in office.
The trial resumes at noon on Wednesday, starting 16 hours for each side to make its case.
Video Shows Anti-Trump Democrats (4:15 p.m.)
After Democrats showed a video of Trump urging his supporters to action before a mob attacked the Capitol, the former president's lawyers offered a video of their own: It showed a procession of Democrats in Congress demanding Trump's impeachment starting as early as 2017.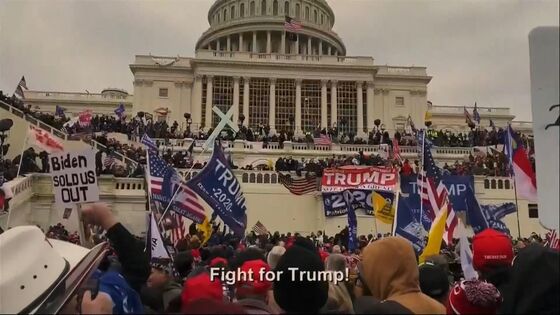 "This is nothing less than the political weaponization of the impeachment process," Trump attorney David Schoen said, driven by "base hatred."
"Pure raw sport, fueled by the misguided idea of party over country, when in fact both will surely suffer," he said, predicting the U.S. standing in the world would suffer. "Our archenemies who pray each and every day for our downfall will watch with glee," he said.
Democrats in the Senate chamber exchanged expressions of disapproval as Schoen raised the specter of a second Civil War and, citing the effect on Trump's supporters, shouted "disenfranchise!" -- Steven Dennis, Billy House and Daniel Flatley
Trump's Lawyer Invokes First Amendment (3:50 p.m.)
Trump's lawyer Bruce Castor defended his speech to a crowd of supporters before the attack on the Capitol as protected by the First Amendment.
If Trump were convicted, the Philadelphia attorney said, partisan impeachments over political speech could become commonplace.
He said everyone on Trump's team would "in the strongest possible way denounce the violence of the rioters." The rioters should be prosecuted, he said, but noted that none have been charged with conspiring with Trump.
The attorney, who repeatedly acknowledged that Trump lost his re-election bid in November, said House Democrats were motivated by a fear that Trump will run for president again in 2024. "We are really here because the majority of the House of Representatives do not want to face Donald Trump as a political rival," he said.
Castor also praised the presentation by House Democrats who preceded him, and he flattered senators at length in often rambling remarks. -- Steven Dennis and Billy House
Democrat Raskin Tells a Tale of Loss (3:04 p.m.)
House impeachment manager Jamie Raskin closed his arguments Tuesday with an intensely personal story about the impact of the insurrection on his family. Raskin had buried his son Tommy, who died by suicide, the day before. He had brought his daughter Tabitha and his son-in-law Hank to the Capitol as they grieved together, only to have them caught up in the riot.
"They thought they were going to die," he said. When they were finally rescued, Raskin embraced his daughter and told her it wouldn't be like this the next time she comes.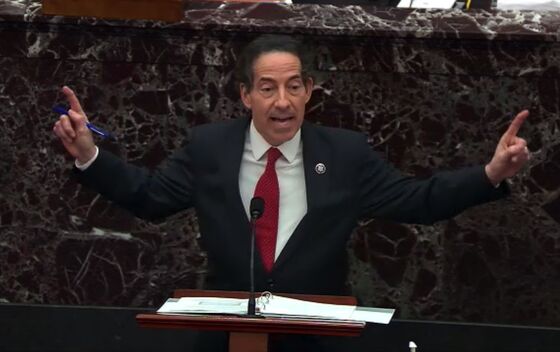 "She said, 'Dad, I don't want to come back to the Capitol,'" he said, choking up as colleagues in the Senate chamber fell silent.
Raskin said since Jan. 6, the video that has hit him the hardest was of someone using a flagpole with an American flag on it to attack a police officer.
Raskin said officers ended up with brain damage and had their eyes gouged. One had a heart attack, another lost three fingers and two have since committed suicide.
"This cannot be our future," the Maryland Democrat said. "This cannot be the future of America. We cannot have presidents, inciting and mobilizing mob violence against our government and our institutions because they refuse to accept the will of the people under the Constitution of the United States." -- Steven Dennis
Trump Can't Tweet But Supporters Can (2:42 p.m.)
Donald Trump has been banned from Twitter, but his allies and aides were frenetically active on the social media platform tweeting Trump-like responses as House managers made their initial arguments to impeach him.
Tweets from the "Trump War Room" account included one showing the Senate's president pro tempore, Democrat Patrick Leahy, presiding over the trial and said, "Imagine having a 'trial' where the 'judge' had already voted to convict the defendant? That's what happens in banana republics, third world dictatorships and now the United States Senate. SAD!"

Trump adviser Jason Miller also tweeted during the presentation by lead House manager Jamie Raskin about the constitutionality of the trial even though Trump is no longer the president, saying that "using Raskin's argument, House Democrats could impeach George Washington."

When House managers showed a video with footage of Trump supporters attacking the U.S. Capitol after he urged them to "fight like hell," Miller retweeted a post from Republican members of the House Judiciary Committee showing a clip of Democratic Representative Maxine Waters urging supporters in 2018 to confront members of the Trump administration.
"What Democrats didn't show you today," said Miller, who tweeted or retweeted posts more than 20 times during the House managers' presentation. -- Mark Niquette
Democrats Say Founders Anticipated Trump (2:10 p.m.)
"President Trump may not know a lot about the framers," Democratic Representative Jamie Raskin, the lead House impeachment manager, said in arguing that the trial of the former president is constitutional. "But they knew a lot about him."
Representative Joe Neguse laid out the case that two centuries of precedent and common sense backed by numerous conservative legal scholars make clear that former officials must be tried by the Senate when impeached.
"This is not the first time this direct question has been debated in this chamber," he said. Otherwise, the Colorado Democrat said, public officials could just resign a minute before a Senate trial or even during the trial if it wasn't going well.
"That would effectively erase disqualification from the Constitution," he said. He added, "You don't need to be a constitutional scholar to know that the argument President Trump asks you to adopt is not just wrong, it's dangerous."
-- Billy House and Steven Dennis and Mark Niquette
Vivid Video of Trump and Mob Opens Trial (1:38 p.m.)
House managers opened their presentation with a graphic video that intercut Trump's fiery rhetoric to supporters with scenes of the mob that attacked the U.S. Capitol soon after.
Raskin, the House impeachment manager, said Trump was impeached "for doing that. If that's not an impeachable offense, then there is no such thing."
The video was marked by title cards tying Trump's oratory to the scenes of the mob, complete with chants and obscenities. "Trump's Mob Breaches the Capitol," one title card read.
It intercut scenes of violence -- including a police officer crying out in pain as he was attacked -- with a video Trump released hours after the attack began telling his supporters "I know how you feel" but "go home."
"You don't need to be a constitutional scholar to know that the argument President Trump asks you to adopt is not just wrong, it's dangerous," Neguse said. -- Mark Niquette and Steven Dennis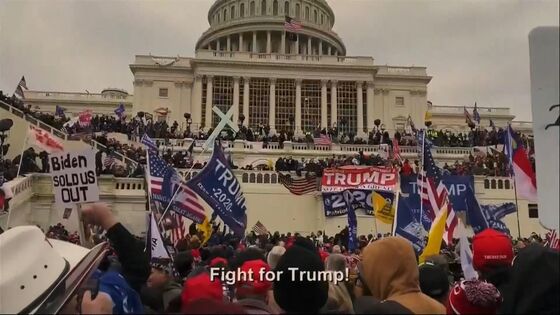 Rules Approved for Trump's Second Trial (1:15 p.m.)
The Senate approved the ground rules for the first phase of Trump's impeachment trial, setting up an initial debate among senators about whether the proceedings are constitutional before they hear arguments from both sides beginning on Wednesday.
The 89-11 approval lays out proceedings for the next several days, with senators first holding four hours of debate and then a vote Tuesday evening on the question of whether it's constitutional to try Trump even though he's no longer in office. The vote on a motion to reject the trial as unconstitutional is expected to fall short of the majority it would need, allowing the trial to proceed. In a similar vote last week. a minority of 45 senators -- all Republicans -- voted against dismissing the argument that the trial was unconstitutional.
Under the trial rules, starting at noon Wednesday the Senate can debate and vote on any pretrial motions that are filed, and then the nine House impeachment managers and Trump's defense team make their cases over as many as four days, each getting up to 16 hours.
After presentations by both sides, senators can question the impeachment managers and defense for a total of four hours, and then the Senate could choose to deliberate behind closed doors about whether to subpoena any witnesses or documents. If there aren't any subpoenas, the trial rules would let the proceedings move toward a speedy conclusion, with four hours of closing arguments by each side and then a final vote on whether to convict or acquit. -- Laura Litvan
Second Trump Trial Opens in the Senate (1:03 p.m.)
The U.S. Senate convened the second impeachment trial of the former president at exactly 1:03 p.m. with Democratic Senator Patrick Leahy of Vermont, the senior member of the majority party, presiding.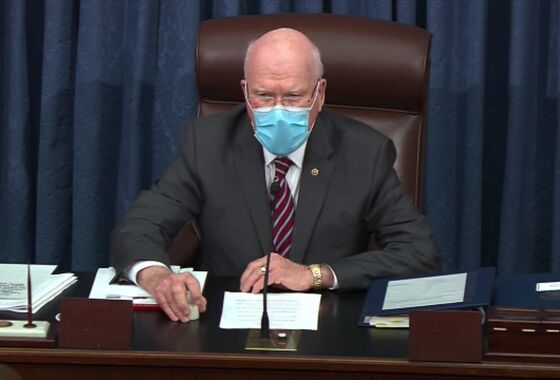 Mask-wearing senators in a Senate split 50-50 between the parties took to their desks to first approve rules that will govern proceedings that could take less than a week. The rules allow for as many as four days of arguments divided between House impeachment managers and Trump's defense team starting Wednesday afternoon. Each side gets 16 hours to make its case.
First, though, the Senate will debate and vote Tuesday on whether it's constitutional to try Trump now that he's no longer president. The trial is expected to proceed because only a majority vote will be required to find the process constitutional. Still, the four hours allowed to debate the matter should push the first day of the trial into the early evening.
Jordan Says Trump to Win Again in 2024 (12:48 p.m.)
The top Republican on the House Judiciary Committee says Democrats are pursuing an unconstitutional impeachment conviction against Trump because they are anticipating he will run for president again in 2024.
And Representative Jim Jordan of Ohio said Tuesday on Fox Business that they're right: He believes Trump will run for the White House and win.
"It would be good for the nation if he did," said Jordan, one of several House Republican Trump loyalists who plan to serve as a rapid response team to events during Trump's Senate trial.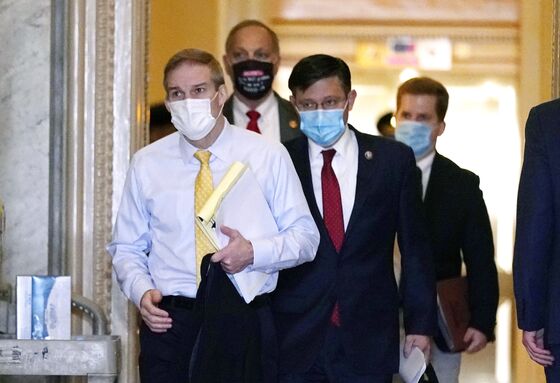 On the impeachment trial, Jordan said, "The American people see this for what it is. This is an obsession by Democrats. They've been trying to remove Trump from office, frankly before the got there. Now, they are trying to remove him after he left." -- Billy House
Trump Accused of Blaming Supporters (11:40 a.m.)
House impeachment managers said Tuesday that Trump "has no good defense of his incitement of an insurrection against the nation he swore an oath to protect. Instead, he tries to shift the blame onto his supporters."
In a reply to arguments filed by Trump's lawyers, the House Democrats said "he invokes a set of flawed legal theories that would allow presidents to incite violence and overturn the democratic process without fear of consequences."
In rejecting the contention that Trump incited the riot through his speech to a rally of supporters, his lawyers said in their filing that some of those who attacked the Capitol planned it several days in advance. The House managers countered that only "underscores that President Trump knew exactly what he was doing in his campaign to overturn the election." -- Larry Liebert
Third Lawyer Added to Trump Trial Team (10:55 a.m.)
A third lawyer has been added to Trump's defense team and is expected to join Bruce L. Castor Jr. and David Schoen in speaking during the trial.

Michael van der Veen, an associate of Castor's and founder of his Philadelphia law firm who has done personal injury and criminal defense work, joined Castor and Schoen in signing the trial brief filed Monday as counsel to Trump.

Trump named Castor and Schoen only nine days ago after he parted ways with his former defense lawyers, amid reports that the former president wanted the lawyers to argue his baseless claims that the Nov. 3 election was stolen. The new lawyers say they're not using election fraud as a defense.

The defense team had requested a break in the trial on Friday evening and Saturday so Schoen could observe the Jewish Sabbath. But Schoen withdrew that request on Monday when the defense changed the timing and order of presentations so the role that he would have played will be covered in his absence. -- Mark Niquette
House Managers Promise New Evidence (10 a.m.)

House impeachment managers will present new evidence, including video that hasn't been seen before, a person briefed on the prosecution's strategy told reporters Tuesday morning.
The attack was personal for many lawmakers, who faced threats by the mob that sought to disrupt a joint session of Congress. The nine Democrats presenting the House's charge against Trump are expected to call on senators -- the trial jury -- to reflect on their own experience that day.
The managers haven't indicated whether they'll ask for Senate approval to call witnesses, and they haven't ruled out asking the Senate to subpoena Trump, who declined their request to testify under oath, the person said.
The prosecution is confident in the constitutionality of trying a former president, the issue that will be argued on Tuesday and is subject to a majority vote, the person said. -- Billy House
Trump Trial Opens With Constitution Debate (6:00 AM)
Before Trump's impeachment trial can begin in earnest, there will be an impassioned debate about whether it's even constitutional to have it.
Trump's lawyers argue that he can't be tried because he's no longer in office. The House impeachment managers, who will prosecute the case, argue there is no such thing as a "January Exception" to the Constitution that "allows Presidents to abuse power in their final days without accountability."
That debate will go on for four hours, divided equally between the sides, to present those arguments -- followed by a vote in the Senate on whether the trial is constitutional. A simple majority will decide the question. Five Republican senators voted with Democrats on Jan. 26 to block an effort to declare the trial unconstitutional, indicating it will continue.
Starting at noon on Wednesday, the impeachment managers and the defense will each get as long as 16 hours spread over two days to present their cases. After that will be four hours for questions from senators. Then the Senate will hear arguments and vote on whether to allow witnesses, which could add substantially to the trial's length. In the final stage, both sides get four hours to make closing arguments before the Senate deliberates and votes on a verdict.
Watch the proceedings live on the Bloomberg Terminal or streaming on the web at bloomberg.com. Cable news networks CNN, Fox News and MSNBC are likely to show significant portions of the trial. C-SPAN 2, which covers Senate floor proceedings, will broadcast it on cable and online.