Trump Trade Fight Heads to Global Court as WTO Nears the Rubicon
(Bloomberg) -- President Donald Trump's plan to reshape America's global relationships will reach a critical juncture this week when the World Trade Organization decides whether to trigger a landmark dispute over what trade measures nations can use to protect national security interests.
The Geneva-based WTO has long avoided this politically fraught confrontation, which could irreparably harm the organization tasked with deciding international trade disputes. But barring any unforeseen developments, the WTO on Nov. 21 will grant requests from members including China and the European Union to determine if U.S. steel and aluminum tariffs imposed in March -- and based on national security concerns -- are legal.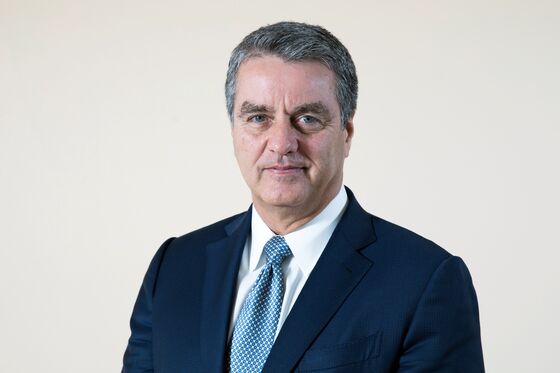 U.S. trade officials say that the WTO has no authority to mediate national security matters and should simply issue a decision that says the matter is outside of the WTO's remit. WTO Director-General Roberto Azevedo has gone so far as to warn countries against taking this dispute to the WTO, arguing that it instead "requires conversation at the highest political level." The fight could end up sidelining the WTO.
"If the WTO finds that Trump's tariffs are permitted under the national security exception, it opens a gaping hole that would allow any other country the right to impose trade barriers on any product at any moment and for no particular reason other than protectionism," Chad Bown, a senior fellow at the Washington-based Peterson Institute for International Economics, said in an interview. "Yet if the WTO rules against Trump, he could see this as political justification to do something even more alarming, such as withdrawing the U.S. from the agreement altogether."