Biden Takes a Walk With Potential Running Mate: Campaign Update
(Bloomberg) -- Democratic nominee Joe Biden asked Karen Bass, a potential running mate, to take a walk with him at the U.S. Capitol. The first presidential debate moves from the University of Notre Dame to Case Western Reserve University out of virus concerns. Almost three quarters of Biden's supporters are anxious about the coming election.
There are 99 days until the election.
Biden Asks Karen Bass for a Stroll
Democratic nominee Joe Biden asked Representative Karen Bass, a potential running mate, to walk with him out of the Capitol after they paid their respects to Representative John Lewis who is lying in state in the Rotunda.
"Want to take a walk?" Biden asked Bass, who is rumored to be among the four Black women that the Democratic nominee said July 20 he is considering for the vice-presidential slot.
The former vice president spoke with Bass about Lewis's legacy and famous march across the Edmund Pettus bridge in Selma, Alabama.
Biden has said he would announce his decision in early August. He has vowed to select a female running mate, but he has faced pressure to pick a Black woman as protests over racial injustice swept the nation in recent months. Bass is among several women including Kamala Harris, Tammy Duckworth, Susan Rice and Elizabeth Warren who are being vetted by the campaign. -- Emma Kinery
Notre Dame Withdraws From Hosting First Presidential Debate (4:56 p.m.)
The first presidential debate will move from the University of Notre Dame to Case Western Reserve University out of concerns about spreading coronavirus, the Commission on Presidential Debates announced Monday.
The commission said the South Bend, Indiana, university had withdrawn from hosting the Sept. 29 forum. The university made "this difficult decision because the necessary health precautions would have greatly diminished the educational value of hosting the debate on our campus," Notre Dame's president, Reverend John Jenkins said in a statement.
The debate will instead be co-hosted by Case Western Reserve and the Cleveland Clinic in Cleveland, Ohio, the commission said.

The Ohio debate will be the first of three scheduled between Biden and Donald Trump, though the president's campaign has lobbied the commission for a fourth forum to take place earlier in September. -- Max Berley
Biden Supporters Are More Anxious About Election (3:21 p.m.)
Biden supporters are more anxious and frustrated about the November election, according to a new poll.
A separate question found 65% of Biden supporters were frustrated about the election, compared to 45% of Trump supporters.
But Trump had one advantage: 42% of his supporters said they were excited about the election, compared to 31% of Biden supporters.
The survey of 1,057 adults was conducted July 16-20 and had a margin of error of 4.3 percentage points.
North Carolina GOP Cuts Trump Tweet on Vote-by-Mail (2:01 p.m.)
A mailer from the North Carolina Republican Party pushing absentee voting uses part of a Trump tweet to make its case.
But it leaves out another part of the tweet that undermines the argument.
"Absentee Ballots are fine because you have to go through a precise process to get your voting privilege," the mailer shows Trump saying.
But it blurs the rest of the tweet, which reads: "Not so with Mail-Ins. Rigged election!!! 20% fraudulent ballots?"
Although terminology varies by state, there is really no distinction between "absentee ballots" and "mail-in ballots," and security measures are taken with both. There's no evidence behind Trump's repeated assertion that mail-in voting is rife with fraud.
Speeches at Democratic Convention Will Be Broadcast From Around U.S. (12:19 p.m.)
The Democratic National Convention may be in Milwaukee, but the broadcast will feature live speakers from around the country broadcast in prime time.
With attendance at the convention limited due to the coronavirus, the televised version will include live speeches and produced videos broadcast from cities and landmarks around the U.S., according to a person familiar with the planning.
The events will be broadcast from 9 to 11 p.m. from Monday, Aug. 17 through Thursday, Aug. 20.
The Democratic National Committee has been exploring contingency options for the convention since just days after the pandemic erupted in mid-March, and postponed it one month not long after. -- Tyler Pager
Poll: Trouble for GOP in North Carolina Senate Race (9:14 a.m.)
North Carolina Senator Thom Tillis trails his Democratic challenger by nine points in a new poll, a bad sign for Republicans hoping to hang on to the Senate in November.
In the NBC News/Marist poll, 50% of registered voters backed Senate candidate Cal Cunningham, compared to 41% who backed Tillis.
The race is one of several Republican-held Senate seats that are considered tossups.
Other polls shows Democratic challengers ahead in Arizona and Maine and Democrats believe they have strong candidates in Colorado and Montana as well, which could complicate Republican chances of maintaining control of the Senate in November.
Conducted July 14-22, the poll of 882 registered voters in North Carolina has a margin of error of plus or minus four percentage points.
Trump Again Touts 401(k)s (6:25 a.m.)
In his latest use of 401(k)s as a campaign message, Trump said Americans who "stayed with me" when the coronavirus hit are "doing phenomenally."
"I said to people, 'Don't sell, don't sell, just don't sell, because the foundation is so strong, don't sell,'" he said. "But the people that really lost in terms of economic are the people that got out. The people that stayed in, they stayed with me, they're doing great."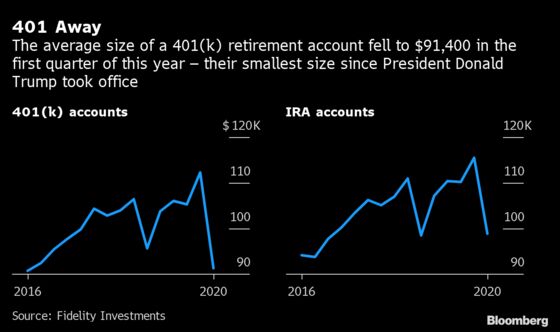 Earlier this month, Trump tweeted that Biden would cause "your 401k's and Stocks" to "disintegrate and disappear" if elected.
Biden Ahead in North Carolina, Poll Shows (6:25 a.m.)
Biden leads Trump by seven points in North Carolina, where voters overwhelmingly say the state was right to push back at on the president's convention plans.
That's a wider margin than other recent polls, which have shown Biden ahead by a few points.
Voters also back state leaders who fought with Trump earlier this summer as his campaign demanded they guarantee that the Republican National Convention in Charlotte could go ahead without limitations due to the coronavirus.
They survey found 60% of voters agree that "the state was right to prioritize its health protocols for large gatherings over the objections of the president." Only 32% said state leaders were wrong.
The poll of 882 registered voters in North Carolina was conducted July 14-22. It has a margin of error of plus-or-minus 4 percentage points.
Trump Ads Hit Back at Biden Over 'Racist' President Remark (6:25 a.m.)
The Trump campaign is running Facebook ads hitting back at Biden for calling him the first "racist" president last week.
In two ads that began running Sunday, the campaign says Trump is "a champion for Black Voices" and refers to two Biden verbal missteps.
"The man who told millions of Americans, 'you ain't black,' and used the term 'Blafrican American,' said that our president is RACIST," the ad says.
In an interview with radio host Charlamagne Tha God in May, Biden said "if you have a problem figuring out whether you're for me or Trump, then you ain't Black." He later apologized.
Biden didn't seem to intentionally say "Blafrican American" when he stumbled over his words during a November primary debate.
Joe and Jill Biden will travel to Washington, D.C., Monday to pay respects to Representative John Lewis at the U.S. Capitol.