Arizona Voters Get More Time to Sign Ballots: Campaign Update
(Bloomberg) -- A federal judge ruled that Arizona voters should have more time if they forget to sign their mail-in ballots. Kanye West is blocked from the Ohio presidential ballot. And the Houston area will have 24-hour voting centers.
There are 54 days until the election.
Arizona Voters Get More Time to Sign Mail Ballots
Arizona voters who forget to sign envelopes for their mail-in ballots should be given as long as five days after Election Day to sign them, a federal judge ruled Thursday in a lawsuit brought by the national Democratic Party.
The decision by U.S. District Judge Douglas L. Rayes in Phoenix is a victory for the the Democratic National Committee and other groups that argued in a June lawsuit that such voters should be given the same opportunity to sign their ballots as people whose signatures are mismatched.
Voters whose signatures are mismatched have were already been given five days after Election Day to resolve the problem, while voters with missing signatures only had until 7 p.m. on Election Day.
Most Arizona voters take advantage of voting early by mail, according to the ruling, and many more are expected to do so this year because of the coronavirus pandemic. The signatures on the ballot envelopes are compared to those on file with election officials, and those that can't be verified by their respective deadlines are tossed out. -- Erik Larson
Kanye West Blocked From Ballot in Battleground Ohio (4 p.m.)
West won't be on the Nov. 3 ballot in Ohio as an independent presidential candidate after the state Supreme Court on Thursday denied the rapper's request to overturn a ruling disqualifying him.
West's candidacy had been rejected on grounds that information and a signature on a nominating petition and statement of candidacy for running mate Michelle Tidball didn't match the paperwork used to gather voter signatures.
The rapper is also suing to overturn decisions keeping him off the ballot in Wisconsin because he filed his petitions after a deadline and in West Virginia for lacking enough valid signatures.
Courts in Arizona and Virginia ruled Sept. 3 that the rapper can't appear on the ballot in those states, though he is appealing the case in Virginia. The Arizona Supreme Court upheld a lower-court ruling on Sept. 8. He has qualified in at least Arkansas, Colorado, Idaho, Iowa, Kentucky, Louisiana, Minnesota, Mississippi, Oklahoma, Tennessee, Utah, and Vermont.

West is spending his own money to run for president, putting up $6.7 million while spending $5.9 million – including $4.1 million to get him on state ballots, according to his campaign's first report to the Federal Election Commission last Friday. -- Mark Niquette
Houston Area Will Have 24-Hour Voting Centers (3:19 p.m.)
The greater Houston area will have several centers open 24 hours where residents can vote ahead of Election Day, an innovation designed to encourage early voting in a key Texas county.
Harris County, Texas, announced Thursday that it will run seven 24-hour voting centers on Thursday, Oct. 29, including at NRG Arena, a medical center and several community centers.
The voting centers are part of a $17 million plan approved by county officials in August that includes drive-thru polling places, an extra week of early voting and thousands of additional election workers.
Los Angeles County experimented with 24-hour voting centers in its March primary.
LA Times Kicks Off Newspaper Endorsement Season (2:05 p.m.)
The Los Angeles Times endorsed Democratic nominee Joe Biden on Thursday, becoming the first major daily newspaper to announce what even the paper's editorial board said was an unsurprising decision.
"Regular readers of this editorial page won't be surprised that we believe that the re-election of this president would be a calamity," the editorial read.
The lack of surprise may hurt the traditional effort by newspaper editorial boards to exert their influence. A 2011 study found that, to the extent that they have an impact, newspaper endorsements mattered when they cut against expectations, as when a board that typically endorses Republicans backs a Democrat.
But that already happened in 2016, as GOP-leaning editorial boards from the Arizona Republic to the Cincinnati Enquirer backed Hillary Clinton over Trump. Of the nation's top 100 newspapers by circulation, only the Las Vegas Review-Journal, owned by Trump donor Sheldon Adelson; the Florida Times-Union in Jacksonville; and the Fort Wayne, Indiana, News-Sentinel, which has since shut down, endorsed Trump in 2016.
More Than a Third of Voters Are Suspicious of Election Result (1:19 p.m.)
More than a third of U.S. voters are not confident the 2020 election will be conducted fairly and accurately, according to a Monmouth University poll released Thursday.
The poll shows that 37% of registered voters say they are either not confident at all or not too confident about the election. By contrast, 61% of voters say they are either very confident or somewhat confident.
President Donald Trump in recent months has increasingly cast doubt on the legitimacy of the election, frequently decrying the practice of vote-by-mail. Democratic presidential nominee Joe Biden has suggested Trump is trying to undermine the vote.
Among those described as firm Biden supporters in the Monmouth poll, 70% are at least somewhat confident in the process, while 57% of firm Trump voters say the same.
Biden leads Trump 51% to 42% nationally among registered voters, down 1 point from August, when Biden had 51% and Trump 41%. Yet despite the Democrat's lead in polls, more registered voters, 48%-43%, said Trump would win the election. The poll was conducted Sept. 3-8 and has a margin of error of 3.6 percentage points. -- Emma Kinery
Biden Campaign to Hit Pause on Ads on 9/11 (12:27 p.m.)
The Biden campaign will pause all its advertising on Friday, the 19th anniversary of the 9/11 terror attacks.
A campaign official said the ads will be taken down for the day.
"On September 11th, Vice President Biden will commemorate the anniversary of the attack on our country and will honor the incredible bravery, tragedy, and loss we experienced on that day," spokesman Mike Gwin said.
Democratic nominee Joe Biden on Friday plans to visit Shanksville, Pennsylvania, where United Flight 93 crashed into a field after being taken over by hijackers. Trump will also visit the site.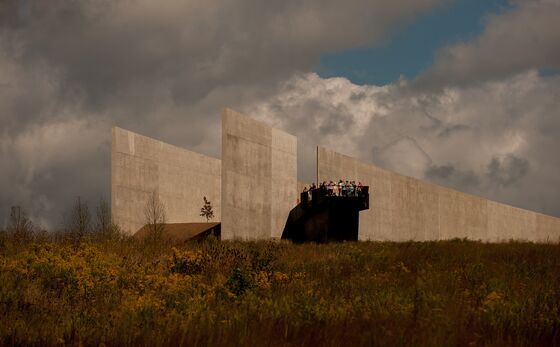 The Trump campaign didn't immediately respond to a question about whether it also planned to halt ads on Friday.
In 2016, the Trump and Hillary Clinton campaigns both pledged not to campaign on the 15th anniversary of the attacks, following precedent set in 2004 and 2008. In 2012, Barack Obama and Mitt Romney each held events commemorating the anniversary. -- Jennifer Epstein and Jordan Fabian
Six in 10 Voters Plan to Vote Early (11:10 a.m.)
About six in 10 registered voters around the country said they plan to vote before Election Day, a dramatic shift from past elections likely caused by fear of the coronavirus.
In a Washington Post-University of Maryland poll released Thursday, 61% of voters said they plan to mail in their ballots, put them in a drop box or vote in-person at an early voting center, while only 39% said they would vote on Election Day.
The share of early voters has increased steadily, more than doubling between 2004 and 2016, according to the U.S. Election Assistance Commission. But the poll indicates a huge jump from 2016, when about four in 10 ballots were cast early.
Amid Trump's repeated attacks on vote-by-mail, the poll showed a partisan gap on early voting as well, with 70% of Democrats and 65% of independents saying they plan to vote before Election Day, compared to just 48% of Republicans.
The survey of 1,672 registered voters was conducted from Aug. 24 to Aug 31 by Ipsos. The margin of error was plus or minus 3 percentage points.
Trump to Visit Nevada After Airport Stop Nixed (7:18 a.m.)
Trump will press ahead with a visit to Nevada after a 5,000-person rally at an airport hangar was canceled due to coronavirus restrictions.
On Wednesday, airport officials notified a private aviation company that plans for a rally Saturday at its hangar at the Reno-Tahoe International Airport would violate state restrictions on big crowds and raise security concerns about protests and counterprotests.
"You are hereby advised that you may not proceed with the proposed gathering," read the letter.
Adam Laxalt, co-chair of Trump's Nevada campaign, called the cancellation "outrageous" and "partisan political retribution" from Democratic Governor Steve Sisolak.
"This is unprecedented," he tweeted. "To cancel an incumbent President's campaign stop inside 60 days of a major contested election in a swing state. This isn't over!"
In a statement, Trump campaign spokesman Tim Murtaugh said that Trump will be traveling to Nevada on the dates planned, with further details to be announced soon.
Earlier this summer, Trump feuded with North Carolina Governor Roy Cooper, a Democrat, over the state's restrictions on large gatherings, threatening to move a key part of the Republican National Convention to Jacksonville, Florida, before scrapping that plan to host speeches in D.C.
Biden's Ads Target Senior Voters
While the daily news cycles have focused on Trump's comments about veterans and the coronavirus, the Biden campaign has been having an entirely different conversation with senior voters.
In ads on Facebook and TV, the campaign is highlighting Biden's plans to lower prescription drug prices and a Trump proposal to cut the payroll tax that funds Social Security.
"Your prescriptions shouldn't empty your wallet," says a Facebook ad that was shown primarily to people over the age of 65.
A TV ad features Biden criticizing an idea Trump floated in August to eliminate the payroll tax, paid by both employers and employees, which funds Social Security and Medicare.
"Social Security is a sacred obligation, a sacred promise made," Biden says in the ad. "The current president is threatening to break that promise. He's proposing to eliminate a tax that pays for almost half the Social Security, without any way of making up for that lost revenue."
Recent polls suggest Trump's support among older voters, which were a key part of his coalition in 2016, has been softening. If Biden wins them, it would be a turnaround. The last Democratic presidential candidate to win the senior vote was Al Gore in 2000.
More Signs Omaha's Single Elector May Be in Play
Trump's daughter-in-law Lara Trump will visit Omaha Thursday, a sign that the area's single elector may be in play in November.
Since 1992, Nebraska has divided its five Electoral College votes by congressional district, but only one Democrat has managed to capture the state's largest urban area to pick up an elector: Barack Obama in 2008.
Lara Trump's visit to a Nebraska Second Congressional District field office Thursday morning comes as forecasters with the University of Virginia's Center for Politics moved the district from a "toss-up" to "leans Democratic" in their Electoral College predictions.
Although it's small, Omaha's elector is getting attention because it tends to play a role in scenarios in which Trump and Biden tie, or one narrowly reaches 270 votes to win the Electoral College.
With the change, the University of Virginia race ratings now have Biden at 269 electors and Trump at 204, with 65 electors as toss-ups.
Trump will deliver remaks from Saginaw County, Michigan, on Thursday.