Trump Says He'll Deliver Prime-Time Address Tuesday on Border 'Crisis'
(Bloomberg) -- President Donald Trump plans to deliver a prime-time televised address on Tuesday before he travels to the U.S.-Mexico border later in the week as he battles Democrats over his proposed border wall.
All the major broadcast networks, as well as Fox News and CNN, plan to air the speech, according to company representatives. Some broadcasters had deliberated on Monday whether to skip the roughly 8-minute address, according to people familiar with the matter who weren't authorized to speak publicly.
Trump will travel to the border on Thursday to meet "with those on the frontlines of the national security and humanitarian crisis," White House Press Secretary Sarah Sanders said in a tweet Monday. The White House didn't say precisely where on the border Trump plans to travel.
Trump has said he's considering declaring a national emergency to circumvent Congress and build the wall.
In a joint statement released Monday night, House Speaker Nancy Pelosi and Senate Minority Leader Chuck Schumer asked that the networks provide time for a Democratic response.
"Now that the television networks have decided to air the president's address, which if his past statements are any indication will be full of malice and misinformation, Democrats must immediately be given equal airtime," the leaders said in the statement.
The dispute over the wall, and Trump's demand for more than $5 billion for its construction, has led to a partial government shutdown that's entering its third week. Hundreds of thousands of federal workers will start to miss their first paychecks on Friday, the day after Trump's planned visit to the border. The longer the standoff continues, the more consequences Trump and Congress will face -- including shuttered courts, trash piling up in national parks, and delayed tax refunds.
Trump has said he's prepared to keep part of the U.S. government shut down for more than a year if necessary to get funding for the border wall he promised during his presidential campaign.
Trump told reporters that his next move may depend on what happens in coming days. He declared a meeting on Sunday chaired by Vice President Mike Pence "productive," even as Democrats said no progress had been made and no further meetings of the group were scheduled.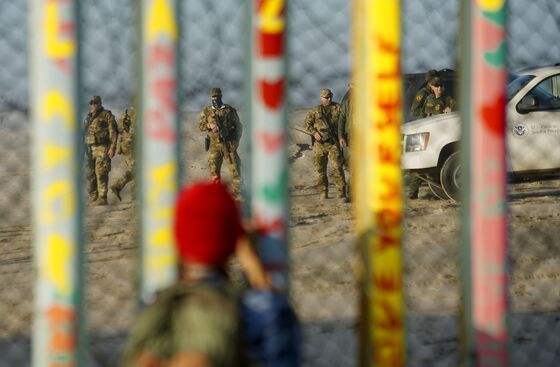 "I may declare a national emergency dependent on what's going to happen over the next few days," Trump told reporters Sunday before departing to the Camp David presidential retreat in Maryland for what he termed "meetings on Border Security and many other topics" with senior White House staff.
After returning from Camp David, Trump told reporters "we're looking at a national emergency because we have a national emergency" and that "we're looking at it very strongly."
Democrats have already threatened a legal fight if Trump tries to declare a national emergency. "He'll face a challenge, I'm sure," Senator Dick Durbin, a Democrat from Illinois, said Sunday on CBS's "Face the Nation."
Republican Senator Richard Shelby of Alabama said on Fox News that Trump has some "inherent powers" to bypass Congress, but that border funding must be done the right way, via legislation.
Trump and Democrats are at an impasse over the president's demands for $5.7 billion to build the wall. While Democrats have offered funding for border security, Pelosi has called a wall "immoral."
Democratic leaders in both chambers are working to put maximum pressure on Republicans in Congress to break with the president.
Pelosi said she will push through her chamber individual appropriations bills reopening shuttered agencies beginning this week. That will create a series of tough votes for House Republicans and force Senate Majority Leader Mitch McConnell to decide whether to ignore spending bills the GOP-led chamber already agreed to last year.
Meanwhile, Schumer is squeezing McConnell with his own maneuvers. A senior Senate Democratic aide said Monday that Schumer has informed all Senate Democrats he will vote to block debate on a package of legislation related to Middle East policy that is slated to be on the floor this week. Instead, the aide said, Schumer wants McConnell to take up the appropriations bills after the House acts.
Senate Democrats are likely to follow his lead, spelling problems for the foreign policy legislation and effectively stalling Senate work. Republicans have 53 seats in the chamber, and 60 votes are needed to advance the legislation.