Trump Visits Community Badly Damaged by California Wildfires 
(Bloomberg) -- President Donald Trump saw for himself on Saturday the ravages of California's deadly wildfires that have killed 76 people and potentially left more than 1,000 missing.
Touring Paradise, a town all but leveled by the Camp Fire in northern California, Trump viewed the charred remains of burned-out homes during a visit accompanied by Governor Jerry Brown and Governor-elect Gavin Newsom.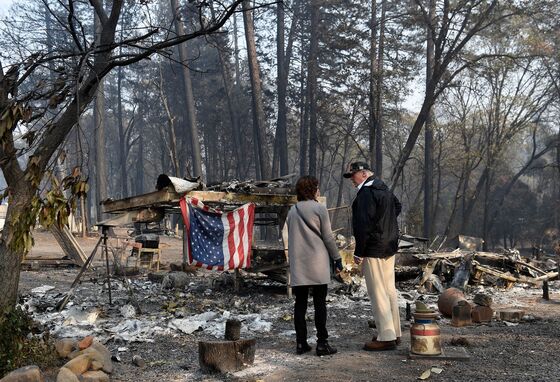 Afterward the president stressed common ground on how to approach the forest-fire problem, marking a change of tone to his previous criticism of the state's Democratic leaders.
"I think we're all on the same path. We do have to do management, maintenance. We'll be working also with environmental groups," Trump told reporters. "I think everybody's seen the light. And I don't think we'll have this again to this extent. We're going to have to work quickly."
The Camp Fire in northern California is now the nation's deadliest wildfire in a century. Eight sets of human remains were found Friday and 1,011 people are unaccounted for in Butte County, a number that's expected to fluctuate, Sheriff Kory Honea said. The fire has burned more than 146,000 acres and was only 50 percent contained as of Friday evening, according to the Butte County Fire Department.
"It's just a big massive cleanup after a terrible tragedy," Brown told reporters. "It's basically the people that are right here -- local people, state people -- that are doing the work. Federal government provides some help and a lot of money and some expertise, and somehow, we'll all pull through it together."
Trump, speaking later on Air Force One, told reporters that he and Brown were not that far apart in their views on the role played by climate change in the fires.
"We're maybe not as different, maybe not as different as people think. Things are happening. Things are changing," the president said. "Most importantly we're doing things about it. We're going to get a lot better. We're going to make it a lot better."
Fires near Los Angeles have killed at least three more people.
Trump has been criticized for his response to the California fires after initially blaming the state's Democratic-led government for mismanaging forests. He threatened to cut off federal funding for firefighting in the state unless its leaders improve forest management.
While he has since expressed sympathy for victims and promised federal aid, Trump again criticized forest management in a "Fox News Sunday" interview, which was taped on Friday.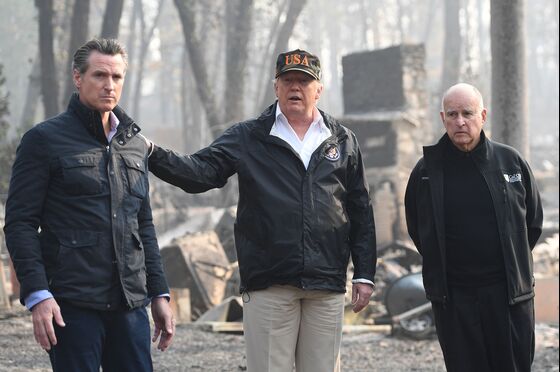 "Maybe it contributes a little bit," Trump said in response to a question from Fox News host Chris Wallace about the role climate change may have played in intensifying California's regular wildfires. "The big problem is management."
An unnamed governor, he told Wallace, had explained to him that in properly tended forests that are "cleaned out," fires can be extinguished "right away."
"And then we leave areas un-maintained, he said 'we'll lose 100,000 acres before you even know it,"' Trump said.
Local officials in California say Trump's statements have been demoralizing to emergency workers risking their lives to fight the fires. His remarks are also misleading. The federal government, not the state, owns 57 percent of California's forests, according to data from the University of California.
Trump proposed cutting the U.S. Forest Service's funding for the national forest system by 19 percent in his latest budget request. Some programs designed to reduce wildfire risk, including restoring forest landscapes, would be eliminated altogether.
Officials are looking at the possible role of electrical equipment owned by PG&E Corp. and Edison International in starting the fires. PG&E shares lost almost two-thirds of their value in the week after the Camp Fire erupted, weighed down by the prospect of billions in potential liabilities.
The company rebounded Friday after state officials indicated that they were reluctant to let the company go bankrupt, though there's been no official action yet.
Under state law, utilities can be held liable if their equipment triggered a fire, even if they were in compliance with safety policies. PG&E still faces about $17 billion in potential liabilities for fires last year, and Citigroup Inc. estimated the potential for this year's blazes at about $15 billion. Within the White House, there's concern about the impact of the fires on the companies and energy markets.
The California Department of Forestry and Fire Protection said Friday that the Hill Fire, the smaller of two major blazes in Southern California, was fully contained, while the Woolsey Fire in Ventura and Los Angeles counties was 69 percent contained after torching 98,000 acres.