Trump Submits Written Responses to Some of Mueller's Questions
(Bloomberg) -- President Donald Trump's legal team submitted written responses Tuesday to some questions from Special Counsel Robert Mueller, rebuffing the prosecutor on queries examining whether the president sought to obstruct justice.
Trump lawyers said the answers only cover events before Trump became president and Russian-related topics. There were no responses to questions related to his time as president or whether Trump tried to impede an investigation into Russian interference in the 2016 election by firing FBI director James Comey.
The president's legal team doesn't expect to answer any additional questions from Mueller beyond a few follow-ups, though they have no assurances from Mueller that he won't pursue further queries, Trump lawyer Rudy Giuliani said.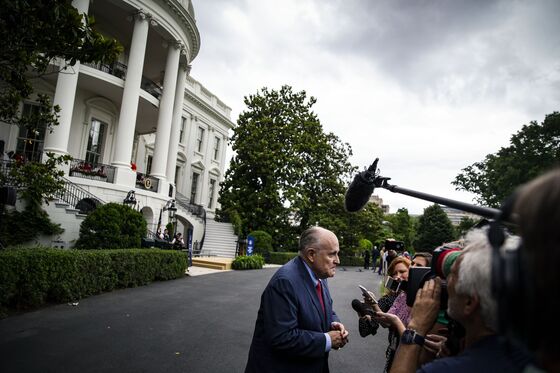 "They have said they would in good faith read these answers and then come back to us and tell us if they need anything more," Giuliani said in an interview Tuesday. "I can't say definitively there are no other questions we would answer, but it is unlikely we will answer any more questions."
Giuliani previously has said Trump won't answer questions on obstruction of justice because of concerns the president could be accused of making false statements if his testimony contradicts Comey's over whether he asked the former FBI chief to go easy on his first national security adviser, Michael Flynn, who had been fired.
The written questions stop short of the wider-ranging, in-person interview Mueller requested almost a year ago. It is unclear whether Mueller will be satisfied with the written answers or will still seek to question the president in person. But for now, the move may avert or delay a legal struggle over whether a prosecutor can force a sitting president to testify -- a politically charged question that might require a Supreme Court ruling
The written answers carry the same legal weight as oral testimony, and intentionally making false statements in the responses would be a crime.
Giuliani declined to elaborate on the number of questions or content of the answers, but said they contain nothing surprising and the responses are in line with the president's public remarks.
He said it probably will take Mueller's team several days to review the answers. The Trump lawyers hope Mueller will now begin to wrap up the portion of his investigation related to the president.
"We have made it clear to them that we think that it would be unfair to the president and even the country if they held up concluding things on the president just because they have questions on other people where right now there is no connection or any evidence the president is connected with that," Giuliani said.
Trump told reporters in the Oval Office Friday he had finished writing the answers and that he -- and not his lawyers -- wrote the responses and that it "didn't take very long to do them."