Trump to Slam Biden's Record on Crime, Immigration, China
(Bloomberg) -- President Donald Trump will paint a picture of two American futures in his acceptance speech Thursday night, a vision of a dark future led by Joe Biden or a hopeful one led by him, campaign spokesman Tim Murtaugh said Thursday.
Trump will criticize the former vice president's 47-year record in Washington, contrasting his positions on crime, immigration, and China with Trump's own.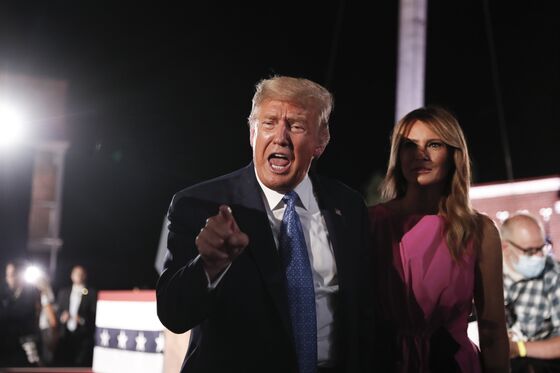 "At no time before have voters faced a clearer choice between two parties, two visions, two philosophies, or two agendas," Trump is expected to say, according to excerpts obtained by Bloomberg News. "We have spent the last four years reversing the damage Joe Biden inflicted over the last 47 years. At the Democrat convention, you barely heard a word about their agenda. But that's not because they don't have one. It's because their agenda is the most extreme set of proposals ever put forward by a major party nominee."
The president will also talk about Hurricane Laura, which slammed into coastal Louisiana overnight as well as "unrest" in U.S. cities stemming from protests of police violence and systemic racism. He will reference a police shooting in Kenosha, Wisconsin that has sparked the latest round of protests, including a strike by NBA players last night.
Murtaugh said Trump will address the unrest in Kenosha "in terms of how the reaction cannot be to escalate violence and that you cannot have Americans continue to harm Americans in our streets," and that police must be allowed to do their jobs.
The protests and violence were set off after a White police officer shot Jacob Blake, who is Black, multiple times in the back in front of his children. Police in Illinois arrested Kyle Rittenhouse, 17, on charges of shooting several protesters.