Trump Picks Pat Cipollone as New White House Counsel, Source Says
(Bloomberg) -- President Donald Trump has selected former Justice Department attorney Pat Cipollone to be the new White House counsel, said a person with direct knowledge of the search.
Cipollone would replace Don McGahn, who was expected to depart the administration following the Senate's confirmation of Brett Kavanaugh to the Supreme Court.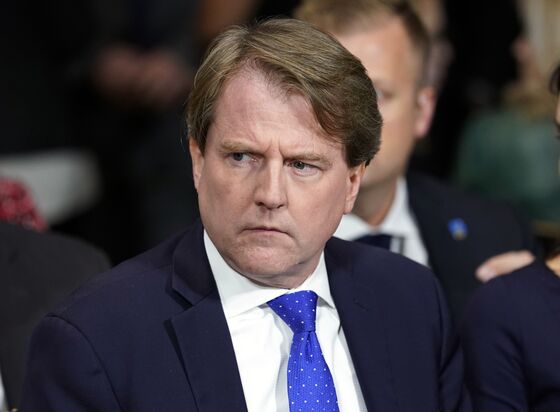 Speaking to reporters at the White House on Saturday, Trump said he hadn't make his final decision yet but called Cipollone "a great guy."
The Washington Post reported in August that Trump had interviewed Cipollone, a partner at the Washington law firm Stein Mitchell Cipollone Beato & Missner who served at the Justice Department during the George H. W. Bush administration. The person with knowledge of the search said Trump liked Cipollone during their interaction.
Axios reported earlier that Cipollone has been chosen, and has begun the process of filling out paperwork for the White House post.
McGahn has had a tumultuous tenure at the White House, marked by questions over his handling of security clearances and his involvement as a key figure in investigations into Russian election interference.
Trump has also considered former Special Counsel Emmet Flood and former Fannie Mae general counsel Brian Brooks to succeed McGahn, according to reports in recent months.