Cuomo Cites Focus on More Tests in Moment of Detente With Trump
(Bloomberg) -- New York Governor Andrew Cuomo said Tuesday that he and President Donald Trump had a "productive" coronavirus discussion at the White House in the latest chapter in an unusual relationship that's included a public exchange of insults and on-again, off-again bonhomie.
"The big issue was testing," Cuomo said in an interview on MSNBC. "That's going to be the next step as we go forward. And how we separate the responsibilities and tasks of testing going forward, vis-a-vis the state and federal government."
The governor, a Democrat, said he used the Oval Office session to lobby for more supplies needed to process coronavirus tests, and to ask for the federal government to address supply-chain issues. He said he also discussed the need for additional federal funds going to states.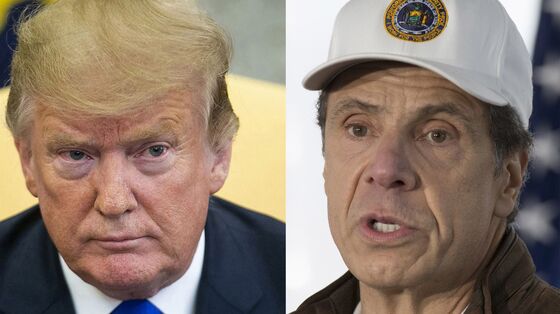 Cuomo said Trump was open to including financial relief for hard-pressed states in a so-called phase four stimulus. The third phase passed the Senate on Tuesday afternoon, without aid for states.
"That's not in the current bill that the Congress is considering, but the states are in desperate shape," Cuomo said. "The president seemed very opening and understanding to that, and said the next piece of legislation that passes, he's going to be open to that."

Cuomo added that he told the president that if they worked together on his request for additional testing supplies, his state could double the number of coronavirus tests from 20,000 a day to 40,000.
Tuesday's meeting grew out of near-daily conversations that Cuomo has held with Trump senior adviser and son-in-law Jared Kushner, according to a White House official.
Kushner has worked as an intermediary for New York political leaders looking to secure supplies to respond to the pandemic, arranging for surgical masks, gowns, and face shields to go to Long Island at the request of GOP Representative Lee Zeldin, and N95 masks to New York City following a conversation with Mayor Bill de Blasio, a Democrat.
Trump last week shifted responsibility to states for reopening their economies and expanding virus testing. Asked about Trump's statements about testing being the states' responsibility, Cuomo said Tuesday: "I get the instinct to distance yourself from it. But it's a situation where you need to understand, who's in a better position to do what."
While the two men have repeatedly criticized each other, they've also stressed their ability to work together to avert a worst-case scenario that threatened to overwhelm the state where Trump grew up and based his business empire.
After the meeting, Cuomo told MSNBC "the tone of the conversation was very functional and effective." Trump didn't lay out a timeline for ending social distancing practices in the state, he added.
The governor's popularity has surged during the outbreak, buoyed by blunt daily press briefings and an ability to quickly secure help from the Trump administration.
The president agreed to dispatch a Navy hospital ship, construct a makeshift hospital at the Javits convention center, and provide personal protective equipment as New York City became the global epicenter of the crisis. About 87% of New Yorkers approving of Cuomo's handling of the crisis in a Siena College Research Institute poll released at the end of March.
That support has led the New York governor to repeatedly praise the president. Trump has basked in the praise and sought to highlight compliments from Cuomo, a lifelong Democrat and the scion of one of the state's most storied political dynasties. That hasn't helped Trump's popularity, which has declined during the crisis, with opinion on his performance deeply split along partisan lines
During a press briefing on Sunday, the president played a clip of Cuomo praising the federal response to the crisis for reporters gathered in the White House briefing room. And on Monday, Trump quoted Cuomo at length when the governor said he agreed that states should take the lead on logistically coordinating the tests.
"We, believe it or not, we get along," Trump said. "Okay? He was very generous yesterday, in particular. Said we did a, 'phenomenal' deal. I don't know if anybody wrote that, but he said that, and I appreciated it."
That marked a dramatic turn from public sniping between the two leaders last week, when Trump had taken aim at Cuomo, saying in a tweet he should "spend more time 'doing' and less time 'complaining.' Get out there and get the job done. Stop talking!"
At a news conference last Tuesday, Cuomo faulted Trump for initially saying the president had the power to force states to end social distancing practices. Trump's assertion triggered a sharp backlash from governors who said he was overstepping his constitutional powers, and the president later reversed course.
After Trump rolled out federal reopening guidelines that gave governors wide latitude but limited support in deciding when and how to reopen their states, Cuomo renewed his criticism.
"Don't give them this massive undertaking that has never been done before and then not give them any resources to do it," Cuomo said, adding that Trump's plan was "passing the buck without passing the bucks."
In another virus-related dispute, Trump has repeatedly criticized Cuomo over a 2015 state report that predicted New York would likely need 15,783 ventilators beyond its current capacity during the peak of a severe flu pandemic. Trump faulted Cuomo for responding to the report by asking his administration to draft rules for how they would distribute the limited supply, rather than attempting to purchase the additional ventilators.
The president told reporters on Monday it was Cuomo's idea to travel to Washington to meet in person, despite federal and state coronavirus guidelines recommending against non-essential travel and business that can be conducted virtually.
But Cuomo has sought to leverage his personal relationship with the president in the past to pursue policy goals -- including funding for the Gateway tunnel under the Hudson River -- during quiet face-to-face meetings at the White House.
Cuomo has spelled out his agenda in recent days.
On Sunday, he said he had been told by coronavirus test manufacturers that they were unable to provide additional chemicals needed to process the diagnostics. He said the state is short of the chemicals, called reagents, because the federal government was diverting them to other states.
"The federal government is saying to Acme pharmaceutical, give X to California, give Y to Chicago, give Z to New York," Cuomo said. "These manufacturers are regulated by the federal government and the federal government clearly has a role in addressing this crisis."
In Tuesday's meeting, Cuomo echoed other governors' concerns about federal funding for states. The National Governor's Association has asked the White House to include at least $500 billion for state budget shortfalls in the "phase four" stimulus bill lawmakers are expected to negotiate after passing a temporary measure replenishing programs to assist small businesses and hospitals. Robert Mujica, Cuomo's budget director, said last week that revenue to New York state would decrease between $9 billion to $15 billion because of the crisis.
"On every level, this is a terrible experience," Cuomo said.