Trump to Invoke Broad Powers in High-Risk Bid to Build His Wall
(Bloomberg) -- Donald Trump is turning to an expansive use of presidential power to build his promised border wall, shifting the fight over funding to uncertain ground in the federal courts rather than risking another politically damaging government shutdown.
Trump plans to unilaterally shift about $7 billion in federal resources to construct physical barriers along the U.S.-Mexico border, a White House official said, a maneuver sure to provoke a legal challenge. The move is expected to come as the president signs a compromise spending package Friday that includes $1.375 billion for border fencing, bringing the total to about $8 billion.
He will invoke an emergency declaration to redirect some of the additional money and ordinary executive authority to tap other funds, all of which has been approved by Congress for other purposes, the official said. The official, who asked not to be identified because the decision hadn't been announced, wouldn't describe the funding sources Trump plans to use.
The gambit is a tacit admission that he was unable to persuade lawmakers of the political imperative of his signature campaign promise despite an eight-week standoff that included a 35-day partial government shutdown, the nation's longest. It leaves the accomplishment of a key goal to the discretion of a federal judiciary he has frequently disparaged.
Democratic leaders indicated in advance that they would challenge the action. "The president is doing an end run around Congress, the power of the purse," House Speaker Nancy Pelosi, a California Democrat, said Thursday at a news conference.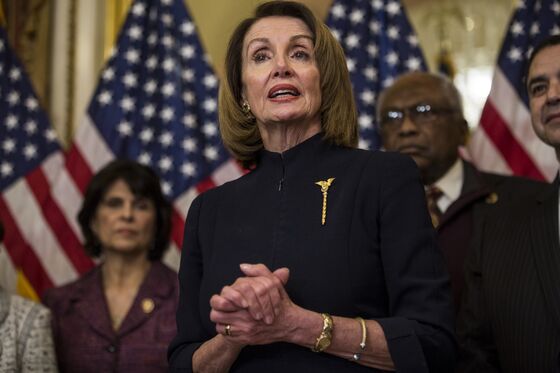 On Thursday night, she added a preview of the Democratic response to the expected emergency declaration: "Where we go from here will be for us all to honor the Constitution, especially Article. I, especially the system of checks and balances."
California Governor Gavin Newsom and that state's attorney general, Xavier Becerra said in a joint statement that "if the president tries to use a made-up emergency to pay for his border wall, then California will see him in court."
The decision to turn the border wall over to the courts didn't come quickly or easily. Even the president's closest allies on Capitol Hill had little idea whether Trump would support the spending package ahead of the congressional votes on Thursday afternoon.
Trump had complained throughout the week that the deal was "stingy" on necessary border security money, and told reporters on Wednesday that his staff was scouring the bill for "landmines." White House staffers were reluctant to even say Trump was inclined to support it.
The uncertainty led to a sense of foreboding on Capitol Hill, with the president's last-minute decision in December to blow up a previous compromise agreement that would have averted the shutdown lingering in lawmakers' minds. Some Republican senators said they wouldn't support the legislation unless Trump provided a clear promise to sign it.
It was only after Senate Majority Leader Mitch McConnell took to the floor of the Senate to report that Trump had told him he would support the legislation that their concerns were assuaged. But the promise seemed to come at a price for the Kentucky Republican. McConnell said he would support the president's decision to declare a national emergency even though he and other members of his party had been signaling for weeks that they hoped to avoid an emergency declaration by Trump.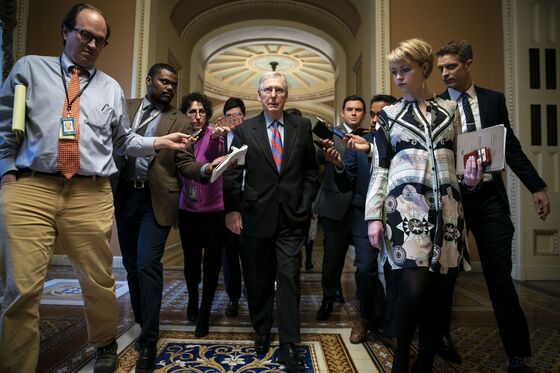 One way Democrats appear ready to challenge the action is by forcing a vote on a "resolution of disapproval."
"I will fully support the enactment of a joint resolution to terminate the president's emergency declaration, in accordance with the process described in the National Emergencies Act, and intend to pursue all other available legal options," House Judiciary Chairman Jerrold Nadler of New York said in a statement Thursday.
Assuming such a measure passed the Democratic-controlled lower chamber, McConnell would be forced to hold a floor vote on the issue. And a number of Republican senators have already said they're concerned that the emergency declaration erodes the power of the legislative branch.
"The Constitution is very clear at trying to separate the powers and if we start naming things as emergency I think very quickly we lose sort of the checks and balances of government," said Senator Rand Paul, the junior senator from Kentucky and also a
Republican.
Pelosi raised that specter herself during a news conference at the Capitol, warning that a future president could declare a national emergency on gun violence.
"Just think what a president with different values can do," Pelosi said. "You want to talk about a national emergency, let's talk about today," the one-year anniversary of the school shooting in Parkland, Florida.
"Why don't you declare that emergency, Mr. President? I wish you would," Pelosi said.
A legal challenge to the action also risks stalling the initiative and giving Trump little to show for the months-long dispute. The nonprofit group Protect Democracy and the Niskanen Center think tank said they would represent local Texas governments and civil rights groups in suing to stop the wall construction.
"America is governed by the rule of law and the separation of powers. President Trump's threat to declare a national emergency would violate both of these," said Kristie De Peña, director of Immigration and senior counsel for the Niskanen Center, in a statement.
White House press secretary Sarah Huckabee Sanders said Thursday the administration was "very prepared" for legal challenges. And she dismissed concerns that the move could create a bad precedent.
"Let's hope we don't have additional national emergency or humanitarian crises" like the border, she told reporters at the White House.
Yet the tactic also risks a public backlash against what is already being portrayed as a presidential power grab.
Two-thirds of Americans -- and more than a quarter of Republicans -- said they opposed wall construction through an emergency declaration in a January poll conducted by Quinnipiac University. A Fox News poll released on Wednesday found that nearly 20 percent of voters who cast a ballot for Trump in 2016 opposed such a move.