Trump Tests Re-Election Ground Game With Blitz on Iowa Caucus
(Bloomberg) -- President Donald Trump's campaign is putting on a show of strength in Iowa this week, rehearsing tactics it hopes will carry the president to re-election in a state he won by a wide margin in 2016.
As the Democrats prepare for their first presidential nominating contest on Monday, the Trump campaign is keeping a packed schedule that is more typical of the closing arguments of a campaign. The aim is to test a years-in-the-making strategy to streamline efforts between the campaign, the Republican National Committee and state and local offices.
The strategy could also serve as a template for key battleground states such as Pennsylvania, Michigan and Ohio that Trump narrowly won in 2016.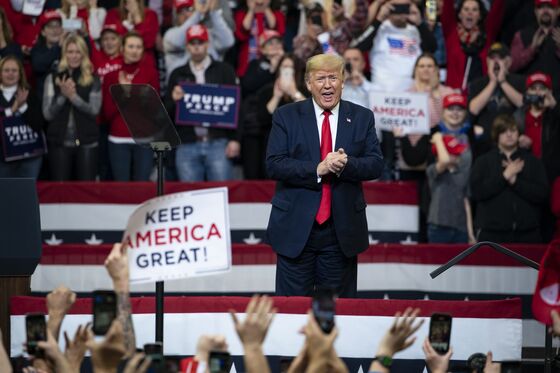 "It's a great scrimmage for what they're going to do on a major level in the fall," said Scott Jennings, a Republican strategist who's worked on four presidential campaigns, including George W. Bush's. "When you have as much money and resources as they have it would be malpractice not to run these sorts of practices in a state like Iowa" where the president enjoys strong support.
The president's campaign is also taking the opportunity to cast a shadow over the Iowa caucuses, the biggest event of the Democratic primary cycle to date, which will take place Monday. Over five days, the president has held a rally in Des Moines, dispatched Vice President Mike Pence on a 200-mile bus trip across the state and set up phone banks.
And the campaign plans more counter-programming for Caucus Day. Trump's children, Donald Trump Jr. and Eric Trump, and about 80 campaign surrogates, including Education Secretary Betsy DeVos and House Minority Leader Kevin McCarthy, are scheduled to appear across the state on Monday.
Trump isn't facing a viable primary threat in Iowa or nationally. Instead, his campaign's aggressive approach is designed to help him shore up support in a state that he carried by 9 percentage points over Hillary Clinton in 2016, and that Barack Obama won in 2008 and 2012.
Polls of Iowa voters show Trump with an edge over the Democratic front-runner, Joe Biden, in a hypothetical head-to-head match-up, though most national surveys show the president either tied or trailing Biden and Senator Bernie Sanders.
Jeff Kaufmann, chairman of the Iowa Republican Party, said that under the Trump Victory plan, he and his staff are in constant contact with the national campaign. That helps prevent duplication in knocking on doors for example, saving time, resources and money. At one point, Trump's regional director in the state shared office space at the Iowa party headquarters, he said.
"We are all operating together," Kaufmann said. "This is really the dry run, here. This is an attempt to see if this coordination works."
Kaufmann said the aim is to stoke the base, collect data and keep Trump voters engaged through November. It also helps local and congressional candidates that will share the ballot with the president in November. In the 2018 midterm elections, Democrats wrested two of Iowa's four House seats from the Republicans, leaving northwestern Iowa's Steve King the state's lone remaining GOP congressman.
Republican officials maintain that the midterm losses were in part due to Trump's absence on ballots.
"I have people that won't vote unless I'm on the ballot. And I wasn't on the ballot," Trump said in a November 2018 Fox News interview.
Iowa Republicans will also hold caucuses on Monday, but they will be low-key affairs to rubber-stamp Trump's renomination. Trump, who has sky-high approval among his party's voters in the state, is facing Joe Walsh, a conservative radio host and former Illinois congressman, and former Massachusetts Governor Bill Weld, neither of whom is projected to garner significant support.
At his rally in Des Moines on Thursday, Trump said the caucuses gave Iowans a "front-row seat to the lunacy and the madness of a totally sick left." He predicted "a historic landslide" in Iowa, though he warned: "If we do not win, your farms are going to hell. I can tell you that right now!"
Biden on Thursday criticized Trump's moves in Iowa. "I never saw another party have so much interest in, in a Democratic caucus," he said. "I wonder why they're all coming. I wonder why they're here."
The Trump campaign didn't immediately respond to requests for comment.
(Disclaimer: Michael Bloomberg is also seeking the Democratic nomination for president. Bloomberg is the founder and majority owner of Bloomberg LP, the parent company of Bloomberg News.)