Trump Says He's Ending Central American Aid Over Migrant Caravan
(Bloomberg) -- President Donald Trump said the U.S. will cut off foreign aid to Guatemala, Honduras and El Salvador as thousands of migrants continued to march from Central America toward the U.S. border.
Trump has sought to escalate undocumented immigration as an issue ahead of pivotal midterm congressional elections on Nov. 6, and he has blamed the so-called "caravan" of Central American migrants on Democrats. "Every time you see a Caravan, or people illegally coming, or attempting to come, into our Country illegally, think of and blame the Democrats for not giving us the votes to change our pathetic Immigration Laws!" he said earlier on Twitter.
Cutting aid isn't as simple as turning off a tap. Much of the money for El Salvador, Guatemala, and Honduras was appropriated by Congress in the form of anti-corruption and good-governance programs. Those initiatives have broad support from lawmakers, who have already promised to put up a fight should Trump try to make good on his threat.
"Fortunately, Congress — not the President — has the power of the purse, and my colleagues and I will not stand idly by as this administration ignores congressional intent," Representative Eliot Engel of New York, the top-ranking Democrat on the House Foreign Affairs Committee, said in a statement emailed to reporters.
The U.S. provided more than $175 million in foreign aid to Honduras in the 2017 fiscal year, according to the U.S. Agency for International Development. Guatemala received $249 million and El Salvador $115 million.
Spending legislation Congress passed last year allows up to 25% of aid to the countries to be withheld if the secretary of State doesn't certify to Congress that they're making progress reducing illegal immigration. Additionally up to 50% of the aid could be withheld if the administration determines the countries have run afoul of anti-corruption provisions.
Trump could cut funding in future budgets, though Congress would again have the final say. More immediately, he could order the State Department and the U.S. Agency for International Development to redirect some money to other countries in the region. There is no indication so far that he's made that request, and the White House didn't immediately respond to requests for comment on any action Trump has taken to prepare for a cut-off of funds.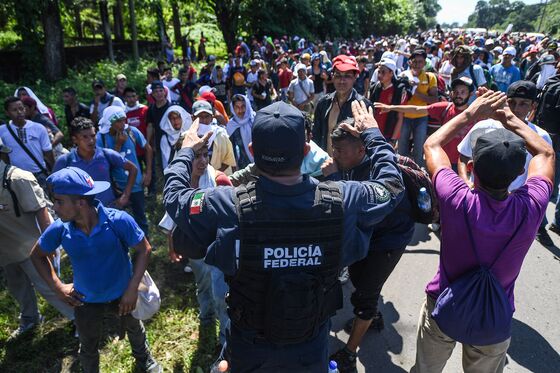 Last week, Trump said the U.S. would cut off "all" foreign aid to the Central American countries if the migrants -- most of them from Honduras -- weren't stopped. He said on Monday that the group includes criminals and "unknown Middle Easterners," without providing evidence for the claim.
Senator Jeff Flake, an Arizona Republican, called Trump's claim "a canard and a fear tactic" at an event hosted by CNN in New York.
Cutting foreign aid, he said, would hurt U.S. efforts to fight drug trafficking, strengthen law enforcement and "programs to help that population stay there."
"Cutting those programs indiscriminately, those benefit us as well, and so that needs to be thoughtfully done," he said.
The migrants began crossing into southern Mexico Saturday, avoiding Mexican migration authorities and federal police by jumping off the border bridge crossing the Suchiate river or by crossing the river in makeshift rafts made of tires and boards, according to images from El Financiero Bloomberg TV. Federal police focused on preventing the migrants from crossing the bridge rather than stopping them from circumventing it.
On the Mexican side, at a city park in Ciudad Hidalgo, residents greeted the migrants with food, water and live music. Men and women danced to the sounds of marimba music, celebrating having arrived to Mexico. Others sought rest at a nearby shelter, while some started to walk north on the Pan-American highway, toward the city of Tapachula.
Speaking on Sunday in Tuxtla Gutierrez, the capital of Chiapas, Mexican President-elect Andres Manuel Lopez Obrador repeated his call for the U.S. and Mexico to face the migration challenge by investing together in development projects in Central America, saying that people who leave their homes do so out of necessity.
The press offices of Mexican President Enrique Pena Nieto and Foreign Minister Luis Videgaray on Monday declined to comment on the progress of the caravan or Mexican efforts to halt it. Pena Nieto's office referred to a statement from the Foreign Ministry on Friday that Mexican authorities will deal with the situation on the Guatemala border with respect for human rights.
Trump said Monday that he had alerted the U.S. military that the caravan represented a national emergency. A Pentagon spokesman, Lieutenant Colonel Jamie Davis, said Monday that the Defense Department hadn't been asked to provide additional support to border enforcement beyond National Guard troops deployed earlier this year under the command of border-state governors.
There are currently 2,100 National Guard performing support jobs that help to free up Department of Homeland Security personnel to patrol the border, Davis said.
Michael J. Bars, a spokesman for the U.S. Citizenship and Immigration Services, said Congress should raise the "credible fear" threshold for migrants who say that they are afraid of returning to their homes countries.
"The reality is that our asylum system is being exploited by those simply seeking economic opportunity, not those fleeing persecution, exacerbating crisis after crisis at our southern border and keeping those who truly need asylum in the back of the line," Bars said in an email.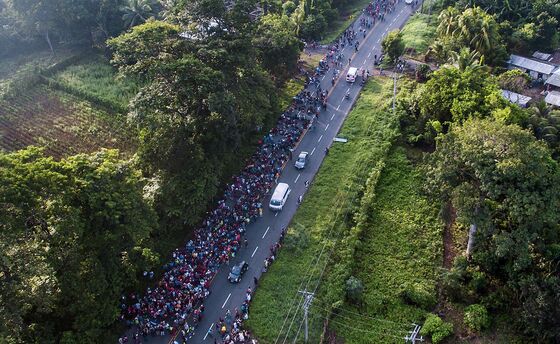 Trump's tweets on Monday came after Fox News broadcast several images of the caravan, saying that the group of migrants had grown to 7,000.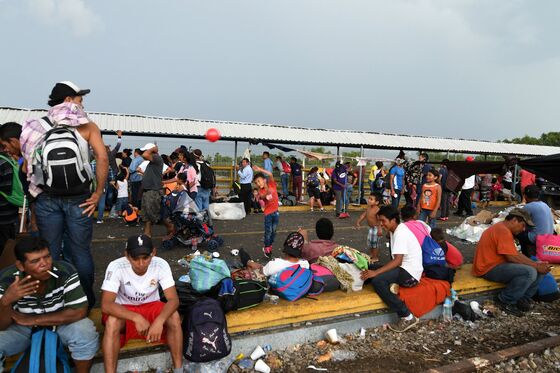 Much of the U.S. aid goes to counter-narcotics and security, and critics of Trump's approach have said cutting off aid would damage the nations' economies, creating even more refugees.
The three countries have a relationship of such total dependence on the U.S. in terms of trade, foreign assistance and remittances, that they are "willing to take a rhetorical beating" if that's what it takes to keep remittances and aid flowing, said Eric Farnsworth, vice president of the business group Council of the Americas.
Honduras and El Salvador have some of the highest homicide rates in the world, according to data from the United Nations Office on Drugs and Crime. Many migrants from the countries apply for asylum in the U.S. claiming they are fleeing violence or threats.
U.S. aid to the countries amounts to about 0.3 percent to 0.5 percent of their gross domestic product and was already expected to fall in 2019, according to Eurasia Group Latin America analyst Risa Grais-Targow. Cutting the aid wouldn't have a huge impact on their economies, she said, but would represent "additional headwinds" on top of Trump's broad immigration policies and his attempt to cancel a special immigration status for tens of thousands of Hondurans and El Salvadorans already in the U.S.
"Cutting assistance doesn't give leverage in terms of changing policies, and actually undermines the existing U.S. efforts to tamp down what we know to be the drivers of migration," said Jeremy Konyndyk of the Center for Global Development. "So it's wrong-headed on both fronts."
It's also unclear whether Trump will make good on his Twitter threat.
"We've seen this movie before," Konyndyk said. "We've seen the White House put out something really inflammatory that doesn't translate into policy outcome."