Trump Tells Anti-Abortion Rally He's Strong Defender of Unborn
(Bloomberg) -- Donald Trump, making the first in-person address by a U.S. president at a major anti-abortion rally in Washington, called himself a strong defender of the unborn and blasted Democrats for their "radical and extreme" positions.
Trump spoke Friday at the March for Life event as he tries to consolidate support for his re-election. Trump's administration touts him as the biggest "pro-life" advocate in the presidency's history, though he previously described himself as "very pro-choice."
"Unborn children have never had a stronger defender in the White House," Trump said at the rally on the National Mall, the 47th since the U.S. legalized some forms of abortion. "When it comes to abortion, Democrats have embraced the most radical and extreme positions."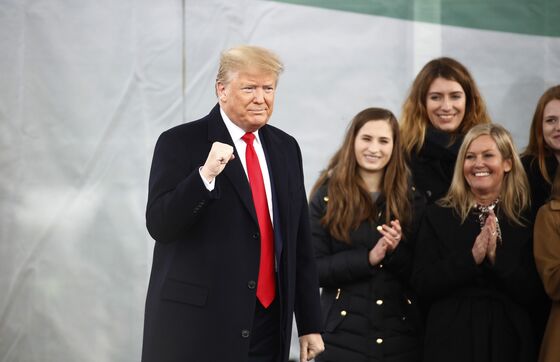 Organizers said they were deeply honored by Trump's attendance, and applauded his record of appointing judges who oppose abortion. "We are so excited for him to experience in person how passionate our marchers are about life and protecting the unborn," March for Life President Jeanne Mancini said this week in a statement.
Trump has twice addressed the event by video from the White House Rose Garden. Protesters visit the capital each year to mark the anniversary of the Supreme Court's landmark 1973 Roe v. Wade decision that protected the right to an abortion. Trump in 2018 told the crowd he would veto any bill that "weakens the protection of human life."
The Trump administration this month asked the Supreme Court to back curbs on abortion, in relation to a Louisiana case set for argument March 4. The court is likely to rule in late June, in the middle of the election campaign. Earlier this month, 207 members of Congress, nearly all Republican, asked the court to reconsider Roe v. Wade.
A Trump spokesman has declined to say whether Trump will seek to overturn Roe v. Wade. "It's going to be very clear where he stands," spokesman Hogan Gidley said ahead of Friday's speech. But he added: "There is no conversation, there is no litmus test, there is no dealing with incoming judges on that matter." Trump routinely touts his record of appointing conservative judges, including two on the Supreme Court.
In a statement, Planned Parenthood said Trump is distancing himself from the views of a majority of Americans. It cited a 2019 Pew Research Center survey that found 70% of Americans oppose overturning Roe v. Wade, and 61% say abortion should be legal in all or most cases.