Trump Backers to Renew Detroit Protests After Ballot Count Ends
(Bloomberg) -- Supporters of President Donald Trump planned new protests against the absentee-ballot counting process at the TCF Center in Detroit after a state court judge on Thursday blocked an effort by his campaign to stop tallying votes.
Brandon Straka, a liberal-turned-conservative activist who founded the Walk Away Campaign in 2017 to encourage liberals to support Trump, put out a call to his 643,000 Twitter followers to come to Detroit on Friday morning to protest what he called a "stolen election." Other conservative activists echoed the call on social-media with ready-made websites.
A Michigan state judge declined to stop the vote after the Trump campaign argued in a Thursday hearing to delay the counting. Judge Cynthia Stephens said the counting was already over and the campaign didn't show evidence that would support an "extraordinary and extraordinarily expensive relief."
Michigan Secretary of State Jocelyn Benson announced late Wednesday that the tallying of ballots had been completed. "I am proud to confirm that all valid ballots, and only valid ballots, have been counted, securely and accurately, and that our election results reflect the will of the people," said Benson.
Anger over the vote count became so heated that the state's attorney general, Dana Nessel, asked people to stop making threatening calls to her staff.
It's unclear if the Trump campaign will demand a recount, as it has said it would in Wisconsin. But Michigan's recount standard requires only "a good-faith belief that but for fraud or mistake, the candidate would have had a reasonable chance of winning the election."
Democrat Joe Biden won Michigan with 50.6% of the vote, compared with Trump's 47.9%, according to figures posted on the Michigan Secretary of State website.
On Wednesday, protesters poured into the TCF Center in Detroit, where absentee ballots were being tallied, and chanted, "Stop the count!" They didn't disrupt the counting.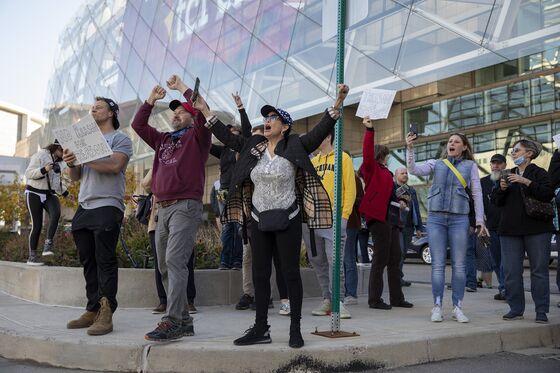 One of the Republican ballot challengers, Penny Crider, said they were outnumbered by Democrats, that non-partisan watchers were sympathetic to Democrats and that many of her ballot challenges were overruled. And cardboard bins of ballots were inappropriately handled, she said in an interview on Wednesday.
"We've got people opening those up, they're taking the ballots out, they've got a pen in their hand, and they're doing stuff," she said.
Crider, a Republican volunteer from Livonia, Michigan, said she answered a call for additional monitors that went out Wednesday morning across email and Facebook.
Lawrence Garcia, the Detroit city attorney and an election commissioner, said there were about 225 Republican, 250 Democrat and around 70 independent challengers at the TCF Center, though some of the partisan members had been obtaining independent credentials to enter.
Election officials stopped admitting people because they accidentally had allowed the number of challengers to exceed the 134-person maximum, he said. "Those are the rules," he said. "We have to play by them."
Mark Brewster, a volunteer poll challenger with the Democratic Party who was in the TCF counting room starting at 6 a.m. Wednesday, said he never saw any of the practices Crider described.
"None of the Democrats in there are trying to disqualify a ballot or disqualify a voter, we're just observing the process and frankly keeping an eye on the Republicans," he said. "Their goal is to disrupt and slow down and disenfranchise voters, so we're actually spending more time watching them than these workers" who are counting ballots.
Michigan allows any registered voter to observe the count, as long as they don't interfere in the process. They cannot challenge votes. A vote challenger has to be appointed by a political party or other qualified interest group, and can challenge votes and election inspectors.
"We will not allow ANYONE to distract us from the job at hand," Janice Winfrey, Detroit's city clerk, said in a statement. "Our charge is to remain calm, focused and deliberate as we continue the task at hand."
YouTuber Steven Crowder, who is popular with Trump supporters, tweeted pictures and video from the TCF Center that he alleged might be examples of voter fraud, including workers covering up some windows with foam sheets.