Trump Suggests Nascar's Bubba Wallace Apologize for Noose Incident
(Bloomberg) -- President Donald Trump suggested Nascar's only Black full-time driver should apologize after a rope fashioned like a noose was found in his garage, calling the episode a "HOAX."
In a Monday morning tweet, Trump asked whether Bubba Wallace had apologized after an FBI investigation found the rope had been installed months earlier to pull down the garage door. The rope was found by the crew in the garage assigned to Wallace, not by the driver himself. Wallace has not been accused of any involvement.
Wallace responded on Twitter, calling the president's words hateful.
"Always deal with the hate being thrown at you with LOVE! Love over hate every day. Love should come naturally as people are TAUGHT to hate. Even when it's HATE from the POTUS," he wrote.
Pressed repeatedly on the president's comments, White House Press Secretary Kayleigh McEnany did not explain what the president wanted Wallace to apologize for.
"The intent of the tweet was to stand up for the men and women of Nascar and the fans, and those who have gone in this rush to judgment of the media to call something a hate crime, when in fact the FBI report concluded this was not an intentional racist act," she said.
In the same tweet, Trump said the racing circuit's decision to ban the Confederate flag is hurting its ratings. Nascar announced the ban last month because the flag "runs contrary to our commitment to providing a welcoming and inclusive environment."
When asked whether Trump believed that Nascar made a mistake by banning the Confederate flag, McEnany said the president "was not making a judgment one way or the other."
The incident with Wallace had sparked a show of solidarity across the racing world. An FBI investigation found that the rope had been placed there at least months before, with Nascar concluding it wasn't a hate crime aimed at Wallace specifically. Nascar acknowledged the rope was fashioned like a noose.
"Yeah, that's the best of America," McEnany told reporters on Monday. "Is coming around -- when the media alleged a hate crime -- coming around and supporting Bubba Wallace, as they should have done. But I think it's important that we point out the fact that there was no hate crime. The FBI concluded that and President Trump was merely saying that Mr. Wallace should agree with that consensus."
McEnany also defended Trump's tweets during an interview with FOX News on Monday, where she likened it to the situation involving actor Jussie Smollett, who allegedly hired two men to stage an attack on him.
"The president's merely pointing out that we've got to let facts come out before we rush to judgment, and there was no hate crime committed against Bubba Wallace, as determined by the FBI," McEnany said.
It's the latest in a series of racially charged statements by the president, who eight days ago tweeted a video that included a supporter shouting "white power." He later deleted that post, and the White House said he hadn't heard the phrase.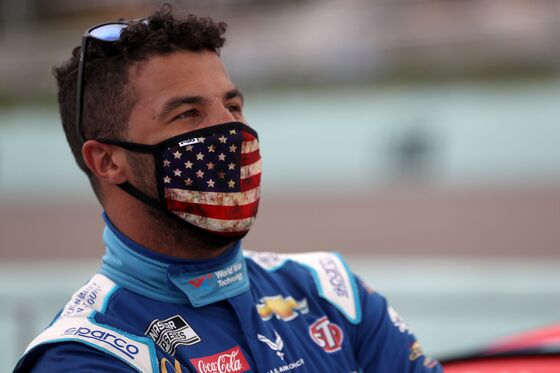 Trump has dismissed many racial-justice protests as riots, and has called "Black Lives Matter" a "symbol of hate." He's lamented a New York City plan to paint the phrase on the street outside Trump Tower. Trump has been stoking racial tensions and culture wars lately, criticizing the tearing down of statues and threatening to veto any law that would strip Confederate generals' names off of military bases.
In a June 25 interview with Bloomberg QuickTake, Wallace said he believes the rope was installed as some kind of bad joke.
"It was relief that I wasn't a target of that, but still, someone out there has created that and they'll have to live with that," Wallace said. He praised Nascar for its response to the discovery, including scouring facilities for any other similar ropes. He said the FBI told him that "100%, this is a noose," though not a functioning one.
"Just because people don't understand and don't want to listen to the facts, they just see it as a fake, and as a hoax," Wallace said. "But, you know, now that all the facts are delivered out there, the more research that Nascar did through all 29 tracks -- if that's not enough for people, then that just shows how much further we have to go in the world to get peace."
A spokeswoman for Richard Petty Motorsports, which Wallace drives for, said the team is aware of Trump's tweet but has no further comment.