Trump-Style Foreign Policy Tantalizing Idea for Broke Brazil
(Bloomberg) -- Brazil's next government wants an assertive, Trump-style foreign policy. It's just not entirely sure how.
In an interview with Bloomberg News, a senior member of President-elect Jair Bolsonaro's transition government sketched out lofty intentions to cut Brazil's dependency on China, boost its role in the Middle East and pressure the increasingly authoritarian government in Caracas. In comments that echoed some of President Donald Trump's own talking points, the person criticized China's unfair trade advantages and pledged a tougher line on Venezuela.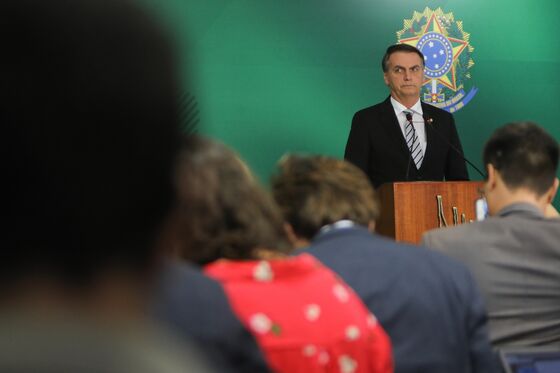 But there are a few obstacles to those ambitions. China is Brazil's top trading partner. Venezuela's crisis offers no easy answers. And deepening ties with Israel, by moving Brazil's embassy from Tel Aviv to Jerusalem as Bolsonaro has proposed, risks jeopardizing Brazil's relationship with Arab countries and the huge trade surplus that comes with it.
With just over one month to go until the new government takes office, the future administration has yet to set out in detail how it intends to implement its foreign policy proposals. But the senior adviser said the next government will seek more opportunities for trade deals, particularly on a bilateral rather than multilateral basis. Under Bolsonaro, who won election on a hard-right platform, Brazil's foreign office will also champion Christian values, the person said. Here are some of the thoughts being aired in the corridors of the transition government:
Brazil should note that China is not a democracy, and does not have freedom of speech or enterprise. The Bolsonaro administration should reduce Brazil's dependency on the Asian giant.
Bolsonaro intends to move Brazil's embassy in Israel from Tel Aviv to Jerusalem, bearing in mind that Israel is the Holy Land for millions of Evangelical Brazilians.
Saudi Arabia's attitude to Israel is admirable. There is a link between a decrease in terrorism in the West and new Trump-driven pro-Saudi approach.
Brazil should toughen its stance on Venezuela and condemn China and Russia's role in supporting the administration of President Nicolas Maduro