Trump Spoke With China's Xi on Trade, Says Talks Going 'Nicely'
(Bloomberg) -- Donald Trump and Xi Jinping expressed optimism ahead of meeting later this month in Argentina, with the U.S. leader saying his Chinese counterpart wants to make a deal to end an escalating trade war.
The leaders of the world's two largest economies made the remarks after their first publicly disclosed telephone conversation in almost six months. Both sides reported constructive discussions on North Korea and the trade, with Chinese state media saying that Trump supported "frequent, direct communication" between the presidents and "joint efforts to prepare for" the planned meeting on the sidelines of the Group of 20 summit.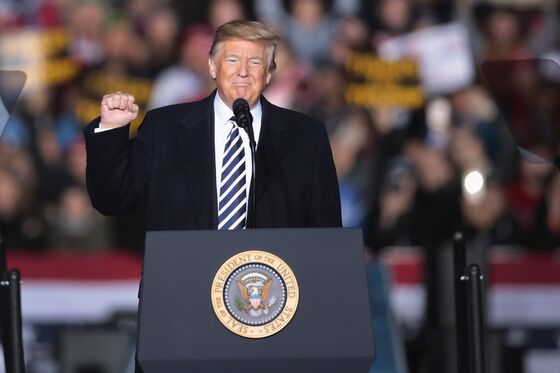 "Those discussions are moving along nicely," Trump wrote on Twitter Thursday. At a campaign rally in Columbia, Missouri, he later said "they want to make a deal."
"He wants to do it," Trump said of Xi. "They all want to do it."
Meanwhile, White House economic adviser Larry Kudlow said at an event in Washington that Trump and Xi might be able to break the logjam on issues during the Nov. 30-Dec. 1 summit. But Kudlow cautioned that Trump would "aggressively" pursue his agenda against China, if no deals were reached on intellectual property theft, cybersecurity and tariffs on commodities, among other issues.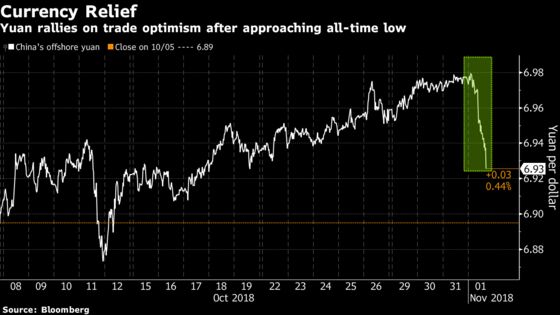 Trump's posture toward China has been closely watched by investors, who are looking for the possibility of tensions cooling in their market-shaking trade war. Trump points to stock prices as a barometer for his administration's economic success -- blaming the Federal Reserve and Democrats for declines.
News signaling improvements in U.S.-China ties, in turn buoying the markets, would provide the president a chance to vie for support in midterm elections Tuesday that will decide whether the Republicans keep control of Congress. Asian stocks built on the best weekly rally since September on Friday, with South Korean and Japanese stocks leading the advance.
China's official Xinhua News Agency said that Xi accepted the call at Trump's invitation. "Xi said both he and Trump have good visions for a healthy, stable development of the China-U.S. relations as well as expanding economic and trade cooperation, and they should make efforts to realize the wishes," Xinhua said.
Chinese state media said Trump also expressed support for a conference in Shanghai next week that Xi is using to promote the country as an import destination. A U.S. Embassy spokesperson said Thursday in Beijing that the Trump administration had no plans to send a high-level representative to the expo, adding that China needed to make the necessary reforms to end what the U.S. says are unfair trade practices.
Both the U.S. and China have sought to portray the personal relations between the two leaders as a source of stability in the relationship, and they have refrained from direct criticism of each other. After their last publicly reported phone call in May, Trump rekindled trade talks by easing sanctions on Chinese telecom equipment maker ZTE Corp., only for negotiations to break down days later.
The U.S. is preparing to announce by early December tariffs on all remaining Chinese imports if talks between Trump and Xi fail to ease the trade war, three people familiar with the matter said. An early-December announcement of a new product list could make the effective date -- after a 60-day public comment period -- coincide with China's Lunar New Year holiday in early February.
The U.S. this year has already imposed tariffs on $250 billion in trade with China. Ten percent tariffs on $200 billion in imports that took effect in September are due to increase to 25 percent on Jan. 1. Trump has also threatened to impose tariffs on all remaining goods imports from China, which last year were worth $505 billion.
A key point of contention for the U.S. has been its allegations that China has engaged in widespread intellectual property theft. Attorney General Jeff Sessions will announce a new initiative in response, according to a Justice Department official. That will be led by the agency's National Security Division head, John Demers, and will increase the use of Justice Department tools to counter China's activities, the official said.
"Xi noted in the conversation that China has repeatedly made clear its stance on bilateral ties, and hopes that both countries will promote a healthy, stable development of bilateral ties," Xinhua said of the call.