Giuliani Ally Plans to Aid Congress' Probe: Impeachment Update
(Bloomberg) -- House committees investigating President Donald Trump started releasing transcripts from their closed-door depositions. The link to former U.S. Ambassador to Ukraine Marie Yovanovitch's transcript is here and here; the transcript of Michael McKinley, former senior adviser to the secretary of state, is here.
The panels were scheduled to hear from four witnesses but they don't plan to appear, according to two people familiar with the matter.
Here are the latest developments:
Giuliani Ally Parnas to Aid Congressional Inquiry (8:30 p.m)
A Ukrainian-American associate of Rudy Giuliani who was involved in helping Trump's personal lawyer urge the Ukrainian government to investigate the actions of former Vice President Joe Biden and his son Hunter has agreed to cooperate with a congressional subpoena, his lawyer said.
Lev Parnas initially was expected not to cooperate, a former Trump lawyer who was representing him said in early October. That was shortly before Parnas was arrested and charged with violating U.S. campaign finance laws. On Monday, his new attorney, Joseph Bondy, said Parnas will comply with requests for records and testimony, while asserting his rights not to answer certain questions.
"Mr. Parnas will comply with the committee's subpoena, subject to invoking privilege where appropriate to protect his interests in his ongoing criminal proceeding," Bondy said, confirming an earlier report by Reuters.
Rand Paul Demands Hunter Biden Subpoena at Trump Rally (8:15 p.m.)
Senator Rand Paul issued a fiery demand at Trump's campaign rally in Lexington, Kentucky, that more of his Republican congressional colleagues rise to the president's defense, and said Hunter Biden should be subpoenaed.
Trump "faces down the fake media every day," Paul said, and "Congress needs to step up and have equal courage to defend the president."
Many congressional Republicans have shown reluctance to defend Trump's actions in Ukraine as acceptable, instead focusing their criticism on congressional Democrat's impeachment procedures.
"Hunter Biden made $50,000 a month. That's the definition of corruption," Paul said. "The whistle-blower needs to come before Congress as a material witness because he worked for Joe Biden at the same time Hunter Biden was getting money from corrupt oligarchs."
Paul said the name of the whistle-blower who first raised alarms about Trump's call with Ukrainian President Volodymyr Zelenskiy is known to media organizations and demanded: "Do your job and print his name."
Trump clearly enjoyed the remarks, smiling and patting Paul on the arm. "Wow, that was excellent, whoa," he said. "He's a warrior. I've always said it."
Key Aide Gets Streamlined Court Schedule (4:13 p.m.)
Trump's former deputy national security adviser obtained a federal judge's order that may more quickly resolve whether he must obey a congressional subpoena for his testimony or White House orders forbidding him to speak.
U.S. District Judge Richard Leon on Monday ordered lawyers for former NSC official Charles Kupperman, the White House and House Democrats to be ready to argue all issues in the case at a hearing he previously scheduled for Dec. 10.
Kupperman's attorneys told the judge in a letter earlier Monday that there was no need to leave any issues to be resolved in further proceedings after the December hearing. Final briefs are due Dec. 4.
Kupperman's lawyer, Charles Cooper, is also representing former National Security Adviser John Bolton, who has been invited to testify to the impeachment committees this week. As of Monday, Bolton hadn't been subpoenaed.
Yovanovitch Describes Advice to Praise Trump (1:03 p.m.)
Yovanovitch testified that after she learned that Trump had criticized her in his call with Ukraine's president, Ambassador to the European Union Gordon Sondland advised her to give Trump some public praise.

"He may not have used the words 'support President Trump,' but he said: You know the president. Well, maybe you don't know him personally, but you know, you know, the sorts of things that he likes. You know, go out there battling aggressively and, you know, praise him or support him," Yovanovitch said, according to the transcript.
"The advice took me aback," Yovanovitch said. -- Billy House and Steven T. Dennis
Sondland, Volker Transcripts to Be Released (12:49 p.m.)
Transcripts of impeachment inquiry interviews with former special envoy Kurt Volker and Ambassador to the European Union Gordon Sondland will be released on Tuesday, House Intelligence Chairman Adam Schiff said.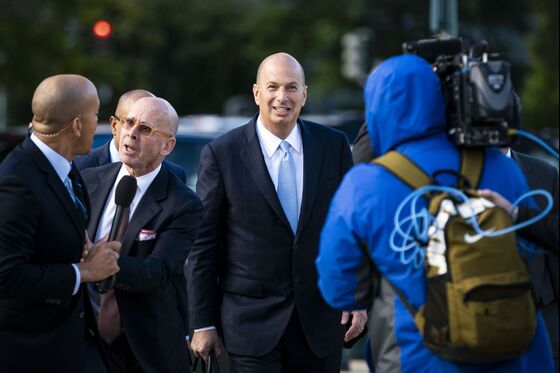 Other witness transcripts also will be released over the coming days, Schiff said.
Schiff also said the committee won't delay its work to force the testimony of former Trump National Security Adviser John Bolton or his top aide, Charles Kupperman. Bolton has been invited to answer questions on Thursday, but Kupperman is asking a federal court to decide whether he must appear before Congress or follow White House directives that he not cooperate.
Schiff said Kupperman's suit "is, on its face, without merit."
The Justice Department, in a new legal opinion Monday, argued that the House committees can't force officials from executive branch agencies to testify about matters that might involve protected information without government lawyers present.
Pompeo Aide Quit Over Envoy's Treatment (12:20 p.m.)
McKinley, a senior adviser to Secretary of State Michael Pompeo, said he resigned over concerns about how Yovanovitch was treated, as well as "the emerging information on the engagement of our missions to procure negative political information for domestic purposes."
McKinley told Congress he had never seen efforts before in 37 years in the State Department to dig up dirt on a political opponent.
McKinley also proposed sending out a statement of support for Yovanovitch after the release of the call transcript.
"It shouldn't be difficult to put out a short statement that's not political, stating clearly that we respect the professionalism, the tenure of Ambassador Yovanovitch in the Ukraine," McKinley said. Others in the State Department supported the idea, but Pompeo declined to do so.
McKinley said he told Pompeo "this situation isn't acceptable" when he spoke with Pompeo about his resignation but Pompeo did not respond.
McKinley also discussed a memo alleging "intimidation and bullying" at the State
Department and questions of accuracy about a letter Pompeo sent to Congress from Deputy Assistant Secretary of State George Kent. McKinley said he forwarded the memo to others at the State Department.
The memo raised the question of whether the State Department had put "lies in statements," McKinley said. -- Steven T. Dennis
Yovanovitch Was Told to Watch Her Back (12:14 pm.)
Former U.S. Ambassador to Ukraine Marie Yovanovitch told the committees on Oct. 11 that she first learned of Rudy Giuliani's efforts in Ukraine sometime in November or December 2018, when Ukrainian officials alerted her to Giuliani's communications with former Ukrainian Prosecutor General Yuriy Lutsenko. Giuliani is Trump's personal lawyer.
She said that by February 2019, Ukrainian Interior Minister Arsen Avakov warned her to "watch my back." She said Avakov described the relationship between Giuliani and his associates Igor Fruman and Lev Parnas, including help that Fruman and Parnas provided in setting up meetings between Giuliani and Lutsenko.
Yovanovitch said Avakov went on to say that Fruman and Parnas "were interested in having a different ambassador at post, I guess for -- because they wanted to have business dealings in Ukraine, or additional" business dealings."
She testified, "I didn't understand that because nobody at the embassy had ever met those two individuals." -- Billy House
Transcripts From Private Hearings Released (11:53 a.m.)
House committees released their first two transcripts on Monday from closed-door depositions of former U.S. Ambassador to Ukraine Marie Yovanovitch and Michael McKinley, former senior adviser to the secretary of state.
"The American public will begin to see for themselves the evidence that the committees have collected," the Democratic committee chairmen said in a statement. "With each new interview, we learn more about the president's attempt to manipulate the levers of power to his personal political benefit."
Trump Administration Witnesses Won't Appear (8:34 a.m.)
None of the four Trump administration witnesses scheduled to be deposed Monday by House impeachment investigators are planning to appear, according to the people, who asked for anonymity to discuss a matter not yet public.
House panels had asked to hear from National Security Council attorney John Eisenberg; Robert Blair, an aide to White House acting Chief of Staff Mick Mulvaney; Michael Ellis, deputy legal adviser to the NSC; and Brian McCormack, an associate director at the Office of Management and Budget.
The White House has been fighting House investigators' efforts to depose current -- and even former -- members of the administration.
Monday's crop of planned witnesses are among a larger group scheduled or invited for the continued closed-door questioning, prior to the start of public hearings, which the House authorized last week. The list also includes former National Security Adviser John Bolton, who has not yet agreed to testify. Energy Secretary Rick Perry already said through a spokesman than he won't appear, as requested, to testify on Wednesday.
The House committee issued subpoenas to all four witnesses due to testify Monday and in cover letters to two of those notices, the chairmen of three committees conducting the inquiry called the White House's challenge to the House deposition rules "frivolous" and said they "contradict decades of precedent in which Republicans and Democrats have used exactly the same procedures to depose Executive Branch officials without agency counsel present, including some of the most senior aides to multiple previous Presidents."
"These are the same deposition procedures that were supported by Acting White House Chief of Staff Mick Mulvaney when he served as a member of the Oversight Committee and Secretary of State Mike Pompeo when he served as a Member of the Benghazi Select Committee," Intelligence Chairman Adam Schiff, Foreign Affairs Chairman Eliot Engel, and Oversight and Reform Acting Chairwoman Carolyn Maloney write in the letters.
"In fact, some of the same Members and staff currently conducting depositions as part of the present impeachment inquiry participated directly in depositions without agency counsel during the Clinton, Bush and Obama Administrations," they add. "There should not be a different standard now because Donald Trump is in the White House." -- Billy House
Trump Snubs Whistle-Blower Offer for Answers (8:07 a.m.)
The Whistle-blower "must be brought forward to testify. Written answers not acceptable!" President Trump said in a tweet Monday.
The lawyer for the whistle-blower behind the report that sparked a House impeachment inquiry on Sunday offered Republicans the chance to question his client directly -- but only in writing.
Mark S. Zaid said on Twitter Sunday that he's extended an offer to Representative Devin Nunes, the top Republican on the the House Intelligence Committee, to submit questions that the whistle-blower would respond to under oath and the penalty of perjury. But the identity of the whistle-blower would remain a secret.
Trump has previously insisted that written answers are fine -- when he has been under investigation. He frustrated former Special Counsel Robert Mueller's investigators by repeatedly refusing requests to sit for an interview, then submitting written answers to questions in which he repeatedly said he was unable to remember key events. -- Elizabeth Wasserman
Public hearings are expected to begin later this month, House Speaker Nancy Pelosi told Bloomberg reporters and editors Friday. She said there's no deadline to finish the investigation and that any case to impeach the president "has to be ironclad."
Wells Griffith, senior director for international energy and environment at the NSC, is set to testify on Tuesday. OMB Associate Director for National Security Programs Michael Duffey was subpoenaed to appear on Tuesday, though he isn't expected to show. It's unclear whether State Department counselor T. Ulrich Brechbuhl will testify on Wednesday in response to a subpoena.
Former National Security Adviser John Bolton has been invited to testify on Thursday. He would be a key witness about the administration's interactions with the government in Ukraine. He hasn't said whether he will appear.