Biden Makes a Play for Florida's Seniors: Campaign Update
(Bloomberg) -- Democratic presidential nominee Joe Biden appealed to seniors in Florida. Former President Barack Obama will hit the campaign trail soon for his former vice president. And Senator Mitt Romney is upset about President Donald Trump and YouTube pundit Keith Olbermann.
There are 21 days until the election and 63 days until the Electoral College meets.
Biden Seeks to Woo Florida Seniors
Biden on Tuesday made a play for one of Trump's core demographics: Florida seniors.
Speaking to a small crowd in a community center in Pembroke Pines, Biden ticked off what he views as Trump's failures in handling the coronavirus pandemic, which has proved particularly lethal for older patients, who account for the vast majority of the more than 210,000 U.S. deaths from the virus.
"You deserve security, you deserve respect, you deserve peace of mind," Biden said. "To Donald Trump you're expendable, you're forgettable, you're a nobody."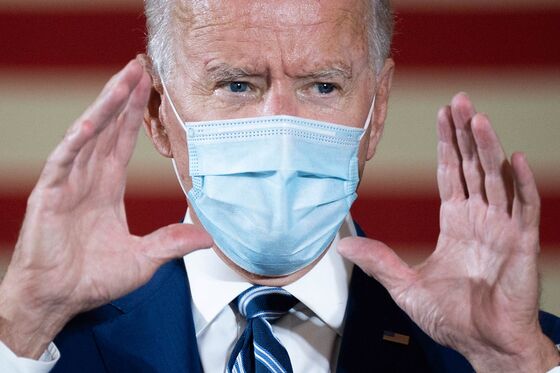 Biden is ahead by 3.7 percentage points overall in Florida, according to the RealClearPolitics average of polls, in part thanks to a shift away from Trump by older voters.
People 65 and older accounted for 30% of Florida's vote in 2016, when they supported Trump by a 17-point margin, helping him carry the state. A Quinnipiac University poll released Oct. 7 showed Biden winning Florida seniors by 15 points, 55% to 40%, up from a 3-point lead in early September. -- Tyler Pager
Obama to Hit the Campaign Trail Soon for Biden (2:08 p.m.)
Former President Barack Obama will hit the campaign trail soon for his vice president, according to a person familiar with his plans.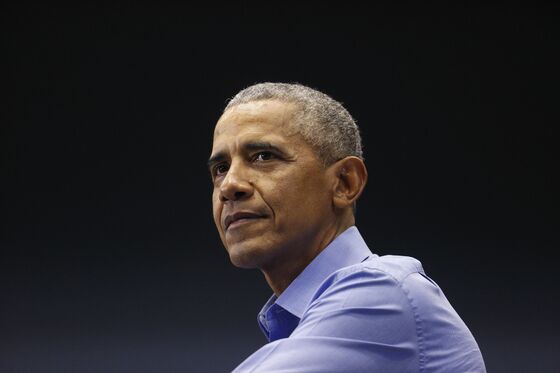 Obama has been active in Democratic nominee Joe Biden's campaign, filming a conversation with him and how-to-vote guides, hosting a virtual fundraiser, giving a speech at the Democratic National Convention and releasing a phone number where Americans can text him.
But Obama, who remains popular with Democratic voters and showed chops at campaigning during his two runs for president, has not been on the stump for Biden as the election much until now.
Speaking to reporters Tuesday morning, Biden said he was happy with what Obama's done so far.
"He's doing enough for our campaign and he'll be out on the trail," Biden said. -- Tyler Pager and Gregory Korte
Romney Is Upset About Trump, Olbermann Ahead of Election (12:50 p.m.)
Romney raised concerns about recent comments by Trump and liberal YouTube pundit Keith Olbermann and something Speaker Nancy Pelosi did in February.
In a short essay posted on social media, the Utah senator and former Republican presidential nominee said he was "troubled by our politics."
Trump called for the Department of Justice to arrest Barack Obama
Trump called Senator Kamala Harris a "monster"
Trump regularly calls Pelosi "crazy"
Trump attacked the governor of Michigan after a plot to kidnap her was foiled
Pelosi ripped up Trump's State of the Union speech in February
Olbermann, whose MSNBC show ended in 2011, called Trump a "terrorist" in a recent YouTube video
Romney, who has said he won't vote for Trump, noted that while "Democrats launch blistering attacks of their own," Biden "refuses to stoop as low as others."
Griffin and Schwarzman Give Big to Help Collins in Maine (12:11 p.m.)
Kenneth Griffin of Citadel and Stephen Schwarzman of Blackstone Group Inc. have written big checks to help Republican Senator Susan Collins of Maine in her tough battle for re-election.
The two billionaires each gave $500,000 to the 1820 PAC in the third quarter, according to its latest filing with the Federal Election Commission. The super PAC raised $4.4 million, spent $4.6 million and ended September with $1.4 million cash on hand.
Other big donors include Las Vegas Golden Knights owner William Foley, investment banker Warren Stephens and Home Depot co-founder Bernard Marcus, who each gave $250,000.
State House Speaker Sara Gideon has a financial edge over the incumbent, fueled in part by a fundraising effort that began in 2018, sparked by Collins voting to confirm Brett Kavanaugh to the Supreme Court. Through June, Gideon raised $24 million, more than the $16.7 million for Collins. Campaigns for House and Senate seats are due to report their third-quarter fundraising to the FEC on Thursday.
The RealClearPolitics polling average shows Gideon with a 3.7 point lead over Collins, who has represented Maine in the Senate since 1997. -- Bill Allison
Race Remains Tight in North Carolina (11:38 a.m.)
Democratic nominee Joe Biden is narrowly ahead of President Donald Trump in North Carolina, but within the margin of error, in a race that will come down to turnout.
In a Monmouth University poll released Tuesday, 49% of registered voters backed Biden and 46% supported Trump. In a high-turnout model, Biden support increases to 50%, while in a low-turnout model, the two are essentially tied. The poll had a margin of error of 4.4 percentage points.
In the past month, Biden has gained in 22 counties where the vote margins were closest in the 2016 election. In swing counties where Hillary Clinton won by a single percentage point, Biden leads Trump 59% to 38%.
But Biden's gains were offset by Trump's base solidifying his support in counties he won in 2016, where the incumbent now leads 61% to 35%.
Despite the news of his extramarital affair, Senate Democratic challenger Cal Cunningham gained ground over Republican Senator Thom Tillis. Cunningham now leads 48% to 44% compared to 46% to 45% a month ago.
The poll of 500 registered voters in North Carolina was conducted Oct. 8-11. -- Emma Kinery
Trump Ad Features General Without His Consent (10:46 a.m.)
Another Trump ad features a government official who did not consent to being used in advertising, according to reports.
After facing criticism for using Dr. Anthony Fauci in an ad, the Trump campaign is running an online ad that shows Joint Chiefs Chairman General Mark Milley and Vice President Mike Pence in the Situation Room.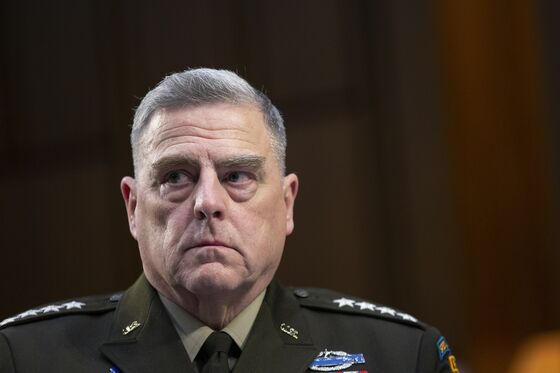 "President Trump wants you to request your ballot," the ad copy says.
The campaign did not get permission from Milley to use his image in the ad, according to a Politico story citing an unnamed official. The military has strict rules about uniformed servicemembers in political advertising.
In June, Milley apologized for taking part in a photo op with the president in front of a church near the White House after law enforcement officers violently cleared peaceful protesters out of Lafayette Square.
Both Georgia Senate Races Are Now 'Toss-ups' (10:17 a.m.)
The race for the U.S. Senate seat from Georgia now held by Republican Kelly Loeffler was moved to "toss-up" status Tuesday by The Cook Political Report, a non-partisan election handicapper, putting both of the state's seats up for grabs this year.
Cook also moved the re-election races of GOP senators John Cornyn of Texas and Dan Sullivan of Alaska from "likely Republican" to "lean Republican," as the wider electorate moves to the left.
In Georgia, conservative Representative Doug Collins has complicated Loeffler's path to re-election by waging an aggressive intra-party challenge in what will likely end in a run-off. The leading Democrat in the race is Raphael Warnock, senior pastor of the Ebenezer Baptist Church in Atlanta.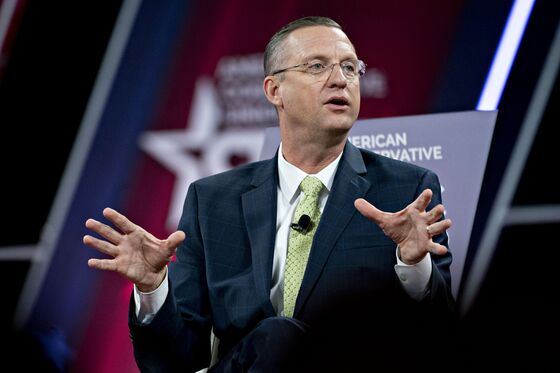 The rating shift followed Cook's earlier decision to shift the other Georgia Senate seat, now held by Republican David Perdue, to toss up. He is facing a challenge from Democrat Jon Ossoff and a Libertarian candidate.
Georgia has sent Republicans to the Senate for nearly two decades and hasn't gone for a Democratic presidential candidate since 1992.
Ordinarily, a state does not have both seats up for grabs in a single year, but Loeffler was appointed in December to fill Republican Johnny Isakson's seat after he retired early, and so faces a special election to finish the term. She is fighting a crowded field in the special election. State rules require that if no candidate gets at least 50.1% in the Nov, 3 election, the top-two finishers will go to a run-off on Jan. 5. If majority control of the Senate is close, there is a chance the country could be waiting for the outcome of that vote to learn who controls the chamber. -- Billy House
Biden Ad Highlights Trump's Coronavirus Diagnosis (7:36 a.m.)
The Biden campaign briefly suspended negative ads when Trump came down with coronavirus. Now they're using the president's handling of his diagnosis in a negative spot.
In a minute-long ad called "My Mom," a Pennsylvania woman recounts her mother's death from coronavirus and her reaction to Trump's experience with it.
"When I heard that President Trump had contracted Covid, I instantly thought maybe he would take it seriously," the woman says.
The ad then shows clips of Trump riding past supporters while he was a patient at Walter Reed National Military Medical Center, telling Americans not to let the virus "dominate" their lives and removing his mask before entering the White House.
"It is so disrespectful as an American who lost my mom to Covid to watch him downplay the virus, to see the president get top-notch medical care and not encourage a mask," she says. "It's heartbreaking."
Trump Skips Voter Fraud Claims at First Rally Since Getting Sick (6:47 a.m.)
Trump, in his first big post-virus rally, rolled out the greatest hits like a band on a reunion tour.
From "abolish the suburbs" to "fracking in Pennsylvania," Trump hit all the usual notes during an hour-long speech in Sanford, Florida -- with one exception.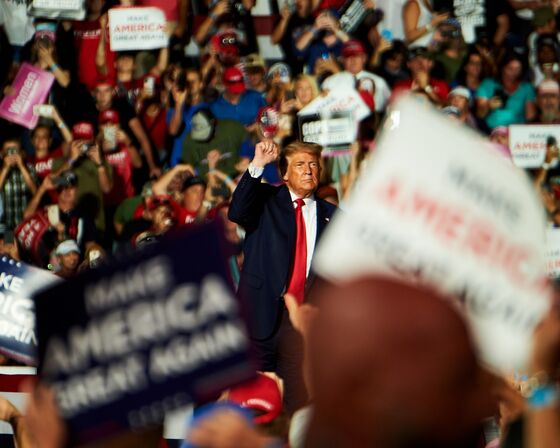 Trump didn't resurface his false claims about widespread fraud in vote-by-mail. Instead, he made only a brief allusion to the issue while encouraging his supporters to get out the vote.
"So get out there and vote. Send in your absentee ballot if you've requested one. Be very careful, a lot of shenanigans going on. You see what's happening. Every day, you're reading it," he said. "In-person early voting begins next week. So get your friends, get your family, get your neighbors and get out and vote."
One reason for the omission may be that mail-in voting is underway in the Sunshine State, where state Republicans have lost ground to Democrats in requests for mail-in ballots.
Nearly 1.7 million voters in Florida have already cast a mail-in ballot, with 51% coming from Democrats and 29% from Republicans, according to data collected by the U.S. Elections Project at the University of Florida. -- Jordan Fabian
First Day of Early Voting Sees Hours-Long Lines in Georgia
The first day of early voting in Georgia brought long lines, yet another sign of intense voter interest -- as well as potential problems.
As during the state's troubled primary in June, malfunctioning equipment led to delays, including at Atlanta's State Farm Arena, where hundreds of voting machines have been set up.
But in other areas, state elections officials said the lines this time were due to the high number of voters who showed up.
Although it hasn't been among the top presidential battlegrounds, Georgia is one of the closest states nationally, with Trump ahead by less than half a percentage point in the RealClearPolitics average of polls.
The state also has two Senate races on the ballot.
Biden Ad Features 'Star Trek' Actress Who Inadvertently Boosted Obama
The Biden campaign is running a Facebook ad featuring "Star Trek: Voyager" actress Jeri Ryan, who may, in a small way, have helped Biden become vice president in the first place.
Ryan, who played the character Seven of Nine in the sci-fi series, had a small but consequential role in Barack Obama's 2004 Senate race when records from her divorce from Republican Senate candidate Jack Ryan were unsealed.
Although he denied the allegations in the divorce filing of attempting to pressure her to go to sex clubs, Jack Ryan withdrew from the race four days later. Obama then faced former diplomat Alan Keyes, a much weaker candidate, who he trounced. Obama went on to win the presidency four years later.
Ryan is one of 19 actors from various "Star Trek" shows who are hosting a fundraiser for Biden on Oct. 13. Others include George Takei, Patrick Stewart and LeVar Burton.