Trump Set to Meet South Korea's Moon as Doubts Shroud Kim Summit
(Bloomberg) -- South Korean President Moon Jae-in, a champion of talks between the U.S. and North Korea, will look to restore momentum for an unprecedented summit between the foes in a White House visit on Tuesday.
Optimism for next month's meeting in Singapore between President Donald Trump and leader Kim Jong Un was punctured last week by a North Korean threat to walk away if the U.S. makes a "one-sided demand" for the regime to surrender its nuclear weapons. The New York Times reported that Trump was "surprised and angered" by that statement, and indicated he could pull out.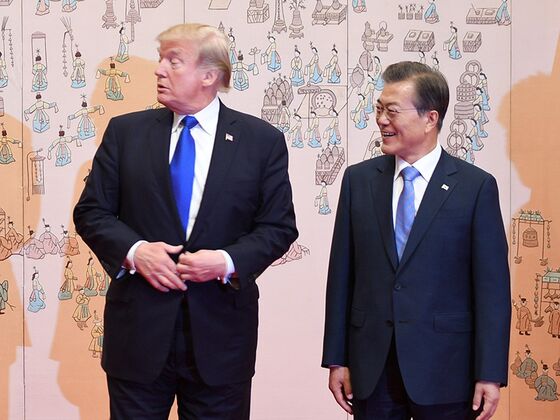 Just weeks after Kim declared a "new history" and an "era of peace" at an April summit with Moon, Pyongyang abruptly canceled high-level talks with Seoul. The regime cited long-planned U.S.-South Korea military exercises and lambasted John Bolton, Trump's national security adviser, who has advocated a speedy timeframe for North Korea to give up its nuclear arsenal.
Moon, long an advocate of engagement with North Korea, must try to convince Trump that it's worth proceeding with the Kim summit. The biggest sticking point appears to be the definition of denuclearization: U.S. officials have repeatedly said they expect North Korea to accept "complete, verifiable, irreversible disarmament," while Pyongyang is seeking a phased process that could include a reduced U.S. military presence in the region.
"Moon could appeal to Trump that he can see the completion of North Korea's denuclearization within his term," said Yoo Hoyeol, who teaches North Korean studies at Korea University in South Korea. "Moon would try to propose a compromise plan between the U.S. and North Korea as the latter, unlike its initial promise, appears intent on delaying its denuclearization process and slicing it into several steps."
Moon Chung-in, a special adviser to the South Korean president, said Moon may serve as a mediator between Trump and Kim.
"President Moon intends to make a fine-tuning of a road map to North Korea's denuclearization with President Trump," Moon Chung-in, a professor at Yonsei University's Institute of Unification Studies, said by email. "His objective is to narrow the gap, if any, on the scope, contents, methods, and timing of denuclearizing North Korea" between Trump and Kim, he said.
The meeting comes as reporters travel by plane from Beijing to North Korea to witness the dismantling of the Punggye-ri nuclear test site, which North Korea has said will take place between May 23 and 25. No journalists from South Korea will travel north -- a decision that Seoul said was regrettable -- and no outside nuclear experts or inspectors are attending.
North Korea's state-run Minju Joson newspaper issued a fresh attack on the U.S. and South Korea in a commentary Tuesday, again pointing to the ongoing Max Thunder air exercises. "If the U.S. and the South Korean authorities persist in the confrontation policy and war moves against the DPRK, oblivious of this fact, they will be held wholly accountable for all the ensuing consequences," it said.
North Korea has also been angered by U.S. officials advocating a "Libya model" of arms control, under which the late dictator Moammar Qaddafi surrendered his nuclear program in exchange for an easing of economic sanctions. Two years later, Qaddafi was overthrown by rebels who hunted down and killed him in the streets, providing an alternative definition of the model that Kim would rather not be associated with.
While Bolton has long called for this approach, Trump told reporters last week he didn't think it was appropriate. Even so, Vice President Mike Pence raised Libya again in a serious of tweets Monday.
"As @POTUS Trump made clear, this will only end like the Libya model ended if Kim Jong-un doesn't make a deal," Pence wrote. "It would be a great mistake for Kim Jong-Un to think he could play @POTUS Trump."
Moon's top national security adviser Chung Eui-yong said that the two presidents are expected to meet Tuesday alone without aides. He told reporters on the flight to Washington that South Korea was trying to digest North Korea's recent change in attitude, but struck an optimistic tone on the Trump-Kim summit.
"We're 99.9 percent sure that the Singapore summit will take place, but we should be prepared for various possibilities," he said.