Trump Sees 'Good Signs' Ahead of Saturday Dinner With China's Xi
(Bloomberg) -- President Donald Trump said he sees "some good signs" ahead of his highly anticipated dinner Saturday with China's Xi Jinping as the two nations seek to avert an escalating trade war.
"We've already spoken and we're working very hard," Trump told reporters Friday in Buenos Aires, when asked about his upcoming meeting with the Chinese president. "If we can make a deal, that would be good. I think they want to and I think we'd like to so we'll see."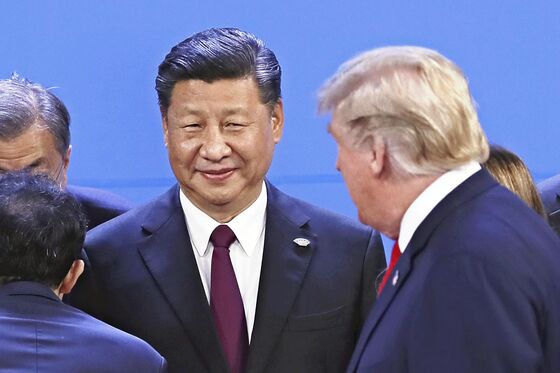 U.S. and Chinese officials have been working for weeks on the contours of a possible deal for the two leaders to be announced following their dinner on Saturday on the sidelines of the Group of 20 summit in Argentina and a road map for talks to follow.
Wang Xiaolong, a Chinese Foreign Ministry official, said Friday that talks with the U.S. were still ongoing and added that the two sides were finding more common ground.
"The points of consensus are continuously increasing, there are also disagreements," Wang, the director general of the department of international economic affairs, said in an interview. "Let's see the final result."
Those discussions, according to people familiar with them, have centered on the possibility of a truce in which the U.S. would delay ramping up tariffs on China in exchange for Chinese concessions. The two leaders would also agree on a "framework" for further talks, U.S. officials such as Commerce Secretary Wilbur Ross have said publicly.
Trump said that Larry Kudlow, his top economic adviser, and Kudlow's staff are "dealing with them on a constant basis."
"There's some good signs," Trump added. "We'll see what happens."
Earlier in the day, though, Trump reminded the world about his concerns on another area of contention with Beijing: currency manipulation, something he has repeatedly accused China of practicing.
As he prepared to sign what he called a "model" trade agreement with the presidents of Mexico and Canada, Trump noted that the new North American deal "dramatically raised standards for combating unfair trade practices confronting massive subsidies for state owned enterprises and currency manipulation that hurt workers in all three of our countries."
"The currency manipulation from some countries is so intense, so bad," Trump said at the signing, without naming China specifically.
Trump has repeatedly criticized China as a currency manipulator in tweets. But U.S. Treasury Secretary Steven Mnuchin has refrained from officially designating the nation as a manipulator. In October he issued a report declaring that the U.S. is "closely watching" Beijing for its lack of currency transparency amid a depreciation of the yuan. Treasury's semi-annual report was interpreted as a final warning shot at China.
The trade conflict between the world's two largest economies has seen a 6 percent slump in the onshore yuan against the greenback this year, raising speculation that China has deliberately weakened its currency and drawing Trump's ire. A weaker yuan lessens the impact of U.S. tariffs on Chinese exporters.