Trump Sees a Meeting With North Korea's Kim as Soon as January
(Bloomberg) -- U.S. President Donald Trump said he expects to hold a second summit with North Korea Leader Kim Jong Un as soon as next month and that three locations are being considered.
"I think we're going to do one, fairly, into January, February," Trump told reporters aboard Air Force One as he returned late Saturday from the Group of 20 summit in Argentina. "We're getting along very well. We have a good relationship."
He didn't specify which sites were under consideration, saying they hadn't been determined yet.
Trump also said that "at some point" he would invite Kim to visit the U.S., though he gave no indication of when. Earlier Saturday, Trump met with Chinese President Xi Jinping, who threw his support behind further meetings between Trump and the North Korean leader.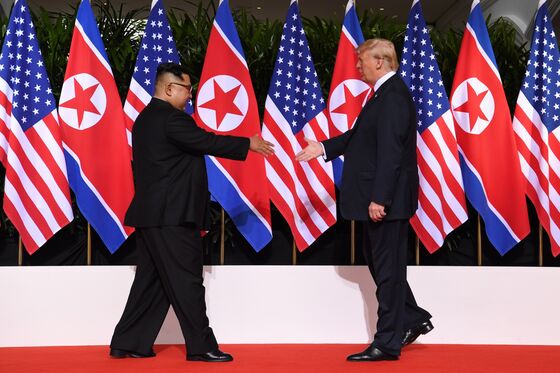 Trump and Kim met in June in a historic summit in Singapore aimed at curbing Pyongyang's nuclear and ballistic missile programs. Yet progress in further steps toward complete denuclearization of North Korea has been a struggle.
Last month, a planned meeting between U.S. Secretary of State Michael Pompeo and North Korean official Kim Yong Chol to discuss details of a potential second summit was called off. The postponement stirred concerns that nuclear talks between the U.S. and North Korea had again bogged down, as Kim's regime seeks sanctions relief before taking key disarmament steps.
Kim isn't necessarily seeking sanctions relief before taking key disarmament steps, South Korean President Moon Jae-in told reporters on his plane on Saturday following his meeting with Trump in Buenos Aires. The "corresponding measures" from the U.S. could also mean reducing or postponing joint military exercises between South Korea and America, humanitarian assistance, or other exchanges, he said.
The second U.S.-North Korea summit should have more details on when the two countries would implement the agreement they made in their first summit in Singapore, Moon added.
Moon also expressed optimism about the pace of improvement in inter-Korean relations and close coordination between the U.S. and Seoul. Moon said his talks with Trump had "completely" eliminated his concerns that it would be a burden to host Kim for a fourth inter-Korean summit ahead of any next North Korean summit with Trump.
"President Trump asked me to send messages to Kim if he visits Seoul this year," Moon said, including that Trump thinks very positively of the North Korean leader, wishes to implement the remaining agreements with him, and can help Kim achieve what he wants. Moon didn't say whether Trump had elaborated.
Whether Kim visits Seoul this year "depends on Kim's determination," Moon said.