Trump Says U.S. Attendance Uncertain at Saudi Investment Meeting
(Bloomberg) -- President Donald Trump said he's uncertain whether his administration will participate in a Saudi investment conference as CNN said the kingdom is preparing a report saying Jamal Khashoggi died as the result of an interrogation that went wrong.
Treasury Secretary Steven Mnuchin, who was scheduled to attend the Riyadh conference, will decide by Friday whether to participate, Trump told reporters on Monday.
As recently as Friday, Mnuchin said he still planned to attend, despite an exodus of sponsors and participants. Executives including JPMorgan Chase & Co. Chief Executive Officer Jamie Dimon and Uber Technologies Inc.'s Dara Khosrowshahi have dropped out of the conference. Blackstone Chief Executive Officer Steve Schwarzman and BlackRock CEO Larry Fink also have canceled plans to attend, said people with knowledge of the matter.
"We haven't made a decision about going yet," Trump said. He added that Mnuchin is "going to make that decision some time prior to Friday."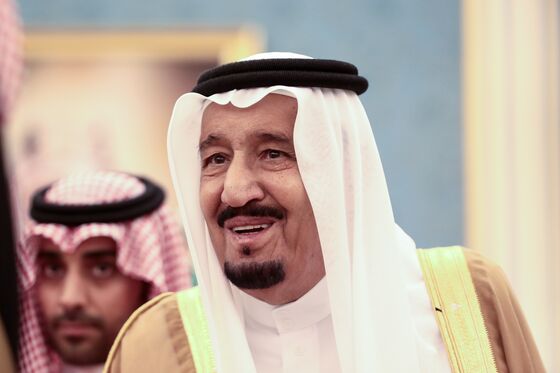 Trump earlier in the day announced that he dispatched Secretary of State Michael Pompeo to Saudi Arabia to meet with King Salman bin Abdulaziz and suggested that "rogue killers" might be behind Khashoggi's disappearance in Turkey.
The decision to dispatch Pompeo and the public signal the U.S. may withdraw from a marquee Saudi event underscores how much the crisis is threatening to damage U.S.-Saudi relations. Khashoggi was a Saudi citizen and U.S. resident who wrote critically of the kingdom's leaders.
Turkish officials say Khashoggi was murdered in the kingdom's Istanbul consulate after he arrived Oct. 2 to retrieve a document for his upcoming wedding. Saudi officials say Khashoggi left the building unharmed, but have provided no evidence for the claim.
Trump said Monday morning that the king, in a 20-minute phone call, offered him a "flat denial" that the Saudi government was behind Khashoggi's disappearance and possible murder. A Saudi official said the kingdom has begun an investigation ordered by the king and could hold people accountable if evidence warrants it. The probe is separate from a joint investigation being undertaken with Turkish officials.
"His denial to me could not have been stronger," Trump told reporters, referring to the king. "I don't want to get into his mind, but it sounded to me like maybe these could have been rogue killers. Who knows? We're going to try getting to the bottom of it very soon."
Trump said King Salman added that Crown Prince Mohammed bin Salman also "had no knowledge" about Khashoggi's fate. The crown prince said in an interview with Bloomberg News a day after Khashoggi's disappearance that he believed the journalist had left Saudi Arabia's consulate in Istanbul alive after entering on Oct. 2.
CNN, citing two people it didn't identify, said the Saudis are now preparing a report that will say that Khashoggi died as the result of an interrogation that went wrong. The interrogation was intended to lead to the journalist's abduction from Turkey, according to the report.
Trump said he was aware of the CNN report but that it wasn't clear if the network relied on official sources.
Khashoggi's family issued a statement on Monday urging an "independent and impartial international commission" to look into his disappearance, the Washington Post reported. "Our family is traumatized, and yearns to be together during this painful time," the report cited the statement as saying.
Trump has built his Middle East policy around his close alliance with Saudi Arabia, the first foreign country he visited after taking office in 2017. Crown Prince Mohammed has twice visited the president in the Oval Office, most recently in March to kick off a glitzy investment tour of the U.S. that included stops on Wall Street and Hollywood. The prince has developed a rapport with Jared Kushner, the president's son-in-law and senior adviser.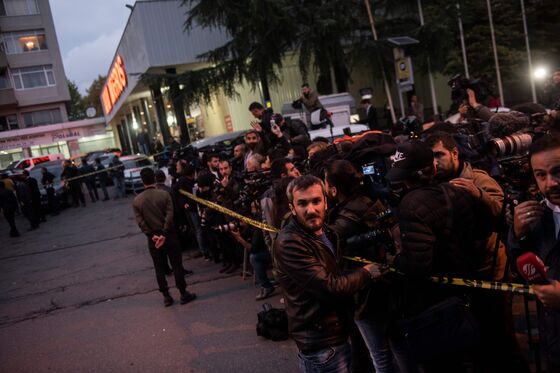 Despite increasing pressure from Congress, Trump said he's reluctant to cancel multibillion-dollar arms sales to the kingdom out of concern the U.S. ally will turn to Russia or China instead.
"Determining what happened to Jamal Khashoggi is something of great importance to the president," State Department spokeswoman Heather Nauert said on Monday as Pompeo prepared to depart Washington. He was joined on the plane by David Hale, the under secretary for political affairs, and Tim Lenderking, a deputy assistant secretary for Arabian Gulf affairs, among others.
The U.S. administration regards Saudi Arabia's denial of any involvement of Khashoggi's disappearance as untenable, and Trump and his aides are increasingly convinced that the Washington Post columnist died after entering the Saudi consulate to pick up a document for his wedding, said three U.S. officials who asked not to be identified because of the sensitivity of the matter.
"All I can do is report what he told me," Trump told reporters on Monday, adding that he warned the Saudi king that "the world is watching."
Saudi Arabia, the world's biggest oil exporter, said on Sunday it would retaliate against any punitive measures with even "stronger ones," according to a statement carried by the official Saudi Press Agency. In a reference to the kingdom's oil wealth, the statement noted how the Saudi economy "has an influential and vital role in the global economy."
The Saudi ambassador left Washington last week to return to Riyadh, and one U.S. official said he was instructed by Pompeo and National Security Adviser John Bolton to return to the U.S. with answers about Khashoggi's disappearance.
Trump is under mounting pressure from Congress. Several Republicans have said arms sales should be curtailed, and Senator Bob Corker of Tennessee, the Republican chairman of the Foreign Relations Committee, said last week that he had warned the Saudis that their relationship with the U.S. risked collapsing.