Trump Says 'No Involvement' in Pence's Stay at His Irish Resort
(Bloomberg) -- Donald Trump said he never spoke with Mike Pence about staying at his Ireland golf resort during an official trip this week, contradicting the vice president's chief of staff.
"I had no involvement, other than it's a great place, it's Doonbeg, I own it, it's in Ireland, it's beautiful, it's wonderful, and he had -- his family lives there, which is really amazing," Trump told reporters on Wednesday.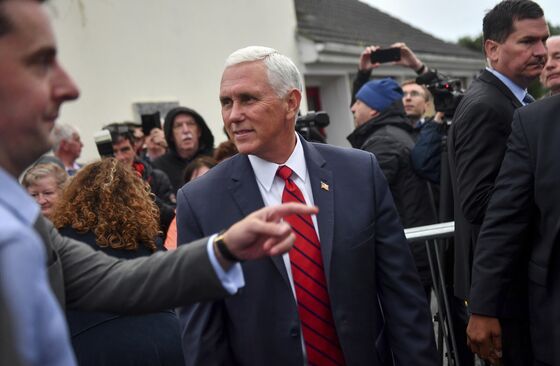 Pence stayed at Trump's Doonbeg, Ireland resort on Monday and Tuesday, as he met with the country's officials in Dublin -- about 125 miles away. After criticism that the vice president had steered taxpayer dollars to Trump's pockets with his choice of accommodations, his chief of staff Marc Short told reporters traveling with Pence that Trump mentioned staying at his Doonbeg hotel as "a suggestion."
Earlier on Wednesday, Pence's office walked back Short's account and said the vice president had made the decision to stay at the resort.
"I don't suggest anything," Trump told reporters at the White House. "I have a lot of hotels all over the place, and people use them because they're the best, I mean, you know, they're the best."
"People like my product, what can I tell you," he added. "Can't help it."
Trump said he "never spoke" with Pence about staying at Doonbeg, and that he also didn't know in advance that Attorney General William Barr had booked space in Trump's Washington, D.C. hotel for a Christmas party.
"I know the attorney general is using it because I read it in the paper, and to this day I haven't spoken to him about it, but he's using the hotels," Trump said.
The Washington Post reported last month on Barr's plans. Trump's opponents frequently charge that he inappropriately steers business from Republicans and foreign government officials to his properties, while the president maintains that serving in office has cost him billions of dollars.
Trump's business has sought to counter criticism by donating profit from foreign leaders' visits to the U.S. Treasury, which his critics say is an unenforceable commitment that doesn't resolve the issue.
Trump has proposed hosting next year's Group of Seven summit at his golf resort in Doral, Florida.