Trump Says Mexican Troops 'Unable or Unwilling' to Stop Migrants
(Bloomberg) -- President Donald Trump maintained his focus on immigration Wednesday, saying Central American migrants in at least two caravans moving north toward the U.S. border include "tough fighters" and criticizing the Mexican military for being "unable or unwilling" to deter them.
"The Caravans are made up of some very tough fighters and people," Trump said on Twitter. "Fought back hard and viciously against Mexico at Northern Border before breaking through. Mexican soldiers hurt, were unable, or unwilling to stop Caravan. Should stop them before they reach our Border, but won't!"
It was unclear exactly what Trump was referring to in the tweet.
U.S. Secretary of State Michael Pompeo said Oct. 19 that four Mexican police officers were injured in a standoff at the Mexican border, in which an undetermined number of migrants were also injured, according to CNN.
In a separate incident on Sunday, migrants tore down a chain-link fence erected by Guatemalan authorities to block access to a bridge over the river at its border with Mexico, according to the Los Angeles Times. Another clash left one migrant dead and dozens wounded in a confrontation between the immigrants and authorities, the paper said.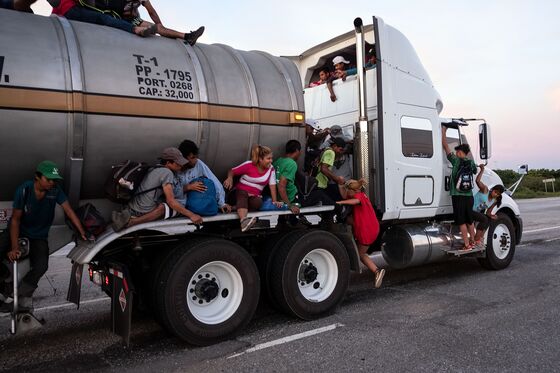 Trump's administration plans to send about 5,200 U.S. troops to the southern border by the end of the week. Customs and Border Patrol Commissioner Kevin McAleenan estimated the caravan at around 3,500 people, as well as another group between Guatemala and Mexico of about 3,000 people.
In a second tweet Wednesday, Trump implied that even more U.S. troops may be ordered to the border.
"Our military is being mobilized at the Southern Border. Many more troops coming," he wrote.
Trump has ratcheted up the focus on illegal immigration with the U.S. midterm elections less than a week away.
In excerpts of an interview with Axios made public yesterday, the president said he plans to sign an executive order ending birthright citizenship for babies of non-citizens and unauthorized immigrants born on U.S. soil. Opponents and many legal experts say Trump doesn't have the power to revoke birthright citizenship unilaterally.