Trump Says McGahn to Leave White House After Kavanaugh Vote
(Bloomberg) -- White House counsel Don McGahn will leave his job this fall, as strains between President Donald Trump and the Justice Department intensify over the Russia investigation and legal risks to the president rise.
McGahn will step down after the Senate votes on the confirmation of Brett Kavanaugh for the Supreme Court, Trump said Wednesday on Twitter. McGahn has been widely praised by Republicans as the architect of Trump's success confirming dozens of conservative judges.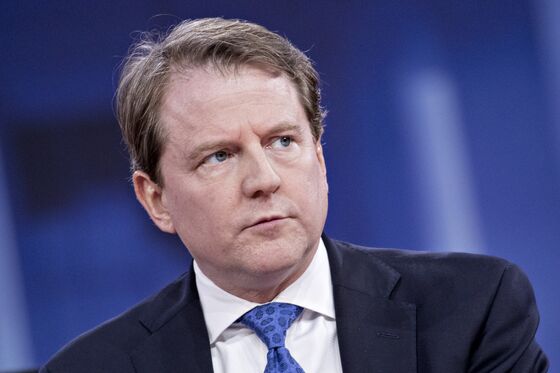 Some of Trump's allies are promoting Makan Delrahim, the top antitrust official at the Justice Department, as a potential replacement for either McGahn or Attorney General Jeff Sessions, according to two people familiar with the matter.
They have also recommended Bobby Burchfield, a prominent Republican lawyer at King & Spalding in Washington, for the same jobs, the people said. The Trump Organization hired Burchfield to help it navigate potential conflicts of interest before Trump's inauguration.
During his time as White House counsel, McGahn repeatedly butted heads with Trump and occupied a position rife with conflicts. He has met extensively with Special Counsel Robert Mueller's team in its investigation of Russian interference in the 2016 election, and is an important potential witness regarding whether Trump obstructed justice when he fired FBI Director James Comey.
McGahn fell out of favor with Trump in May 2017 over his handling of Mueller's appointment and Sessions' recusal from the Russia probe, a person familiar with the situation said. Since then, McGahn and Trump have had a tense relationship and talk infrequently, according to the person.
Still, McGahn's actions with respect to the Russia investigation were offset by his success in getting Trump's judicial picks through the Senate. After successfully leading the process that put Neil Gorsuch on the Supreme Court, Trump agreed to keep McGahn on through Kavanaugh's confirmation, the person said.
McGahn "will be leaving his position in the fall, shortly after the confirmation (hopefully) of Judge Brett Kavanaugh to the United States Supreme Court," Trump said Wednesday. "I have worked with Don for a long time and truly appreciate his service!"
Republican leaders expressed dismay at the announcement. Senate Majority Leader Mitch McConnell said McGahn's departure is "sad news for our country."
"Don is the most impressive White House counsel during my time in Washington, and I've known them all," McConnell said in a statement. "Don's significance to the judiciary, the White House and the nation cannot be overstated."
Senate Judiciary Chairman Chuck Grassley, also weighed in with a tweet to the president: "I hope it's not true McGahn is leaving WhiteHouse Counsel. U can't let that happen."
One of McGahn's deputies, Stefan Passantino, is departing the White House, according to two people familiar with the matter. His last day is Thursday, the people said.
White House press officials did not respond to questions about Delrahim, Burchfield or Passantino. Delrahim didn't immediately respond to a request for comment.
McGahn has garnered the respect of many conservatives outside the White House for his work pushing Trump's judicial nominees through the Senate. Trump has already won the confirmation of 60 judges to the courts — including 33 district court judges, 26 appeals court judges and Gorsuch. Kavanaugh's confirmation hearings begin Sept. 4.
The announcement of McGahn's departure comes on the heels of one of the worst legal blows yet for the president. On the same day last week, Trump's former campaign chairman Paul Manafort was convicted on fraud charges, and his former personal lawyer Michael Cohen said Trump had directed him to break campaign finance law.
Because he's a witness in the Russia investigation, McGahn has had little involvement in the White House's response to the probe since at least August 2017, when lawyer Ty Cobb was brought into the West Wing to work directly with investigators. Lawyer Emmet Flood replaced Cobb earlier this year and could move into McGahn's job.
Flood is "super well-respected," White House Press Secretary Sarah Sanders said, adding that "there's not a plan locked in place at this point" for replacing McGahn.
McGahn also came under fire earlier this year for his office's handling of a security clearance for former White House Staff Secretary Rob Porter, who was accused of domestic abuse by two ex-wives.
McGahn was thrust into the Russia investigation early in the administration. Then-Acting Attorney General Sally Yates approached McGahn when she wanted to warn the White House that then-National Security Adviser Michael Flynn could be compromised by the Russians.
Yates met with McGahn days after Trump's inauguration to tell him that the Justice Department was concerned Flynn could be blackmailed because the Russians knew he had misled Vice President Mike Pence about his communications with the Russian ambassador. McGahn took the information from Yates and passed it on to Trump.
Yates said she remembered McGahn asking her in the meeting whether Flynn should be fired, to which she responded that wasn't her call.
He was also directed by Trump to try to stop Sessions from recusing himself from the Russia investigation, said a person familiar with the situation. Sessions ultimately decided to follow the advice of ethics officials, who said he shouldn't have any involvement in the investigation since he was a Trump campaign adviser.
Sessions has been a persistent target for Trump ever since his recusal, and the president's ire toward the attorney general has recently appeared to ratchet upward.
Three people said Wednesday there is no indication Trump plans to replace Sessions before midterm elections in November -- unless the attorney general somehow crosses the president.
The New York Times reported that McGahn threatened to quit after Trump ordered him to fire Mueller. Trump backed down from the idea, the paper said.