Poland Offers 'Fort Trump' as Name If U.S. Builds Military Base
(Bloomberg) -- President Donald Trump said the U.S. is looking "very seriously" at establishing a permanent military base in Poland -- and Polish President Andrzej Duda, eager to secure a deal, suggested it be named "Fort Trump."
Trump raised the possibility of a new U.S. base in Poland in a meeting with Duda in the Oval Office on Tuesday. He said at a news conference with the Polish leader that Duda had offered to pay more than $2 billion toward construction.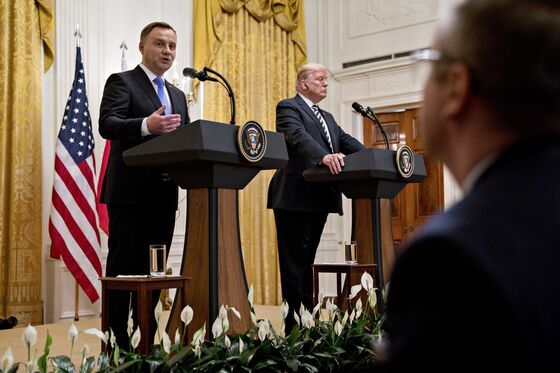 "Poland is willing to make a very major contribution to the United States to come in and have a presence in Poland," Trump said in the Oval Office. "If they're willing to do that, it's something we will certainly talk about."
Duda, whose country is wary of Russian aggression in neighboring Ukraine, suggested during the news conference that a base could be named after Trump. The U.S. president said he is increasingly interested in basing U.S. troops in countries willing to pay for their presence.
Wealthy countries with U.S. bases, Trump said, are "only taking advantage of us."
"When a country is very wealthy and when the United States has been protecting them for many years at tremendous cost," he said, "it's time that they helped with burden-sharing."
He said the U.S. is "in discussions with numerous countries" about paying for American military bases, without naming any. He has complained publicly and privately about the cost of the U.S. military presence in Germany and South Korea.
After Russia seized Crimea from Ukraine during President Barack Obama's administration, the U.S. and NATO allies established a constant, but fluctuating, rotation of troops in Poland. Poland has argued for a permanent, costlier plan, including a headquarters.
The construction of a base would risk provoking Russian President Vladimir Putin even as Trump has gone to lengths to improve relations with the Kremlin.
"Russia has acted aggressively," Trump said at the news conference. "They respect force, they respect strength, as anyone does."
The idea of permanently basing U.S. troops in Poland may also meet opposition among European allies chagrined by the country's turn toward autocracy, including a revamping of the judiciary that critics say will remove judges who won't take orders from politicians.
Poland says it already meets the NATO goal of spending 2 percent of its gross domestic product on defense, a target that Trump has criticized other European allies for failing to meet. Trump complimented Duda on Tuesday for meeting the goal.