Trump Says Kim Must Do Something 'Meaningful' to End Sanctions
(Bloomberg) -- Donald Trump said Kim Jong Un must do something "meaningful" to escape U.S. sanctions on his country, in comments ahead of the president's second summit with the North Korean leader.
Trump will travel to Hanoi to meet with Kim next week and discuss further steps toward Pyongyang giving up its nuclear arsenal. The president told reporters in the Oval Office on Wednesday that it remains a question whether Kim is willing to denuclearize, but that he thinks the North Korean leader wants to "do something."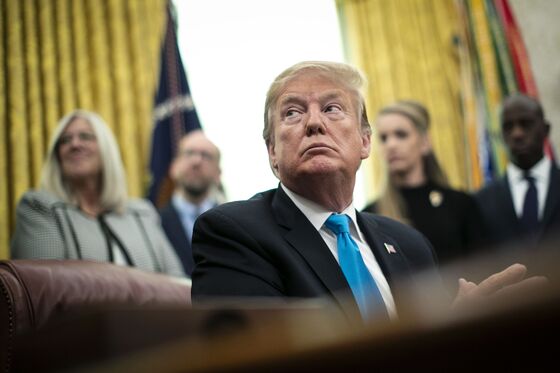 "I'd love to be able to" lift U.S. sanctions on North Korea, Trump said. "But in order to do that we have to do something that's meaningful on the other side."
"I wouldn't be surprised to see something work out," Trump added. "We've made a lot of progress."
Trump said he doesn't think the Hanoi summit will be his last meeting with Kim, and he said "I don't think they're reluctant" to give up their nuclear weapons. He said he thinks Kim understands that North Korea has "tremendous potential for economic well-being long term" if it does so.
That's at odds with U.S. intelligence agencies. In presenting their annual global threat assessment to a Senate panel last month, Director of National Intelligence Dan Coats said the agencies believe Kim is unlikely to disarm because "North Korean leaders view nuclear arms as critical to regime survival."
Moon Chung-in, a special adviser to South Korea's president, told Bloomberg last week that Kim had agreed to close the Yongbyon Nuclear Scientific Research Center in the mountains north of Pyongyang and allow inspections of the site. A deal to shutter the complex would represent Trump's first tangible victory toward reducing North Korea's nuclear capabilities, though the country has made similar promises, and broken them, in the past.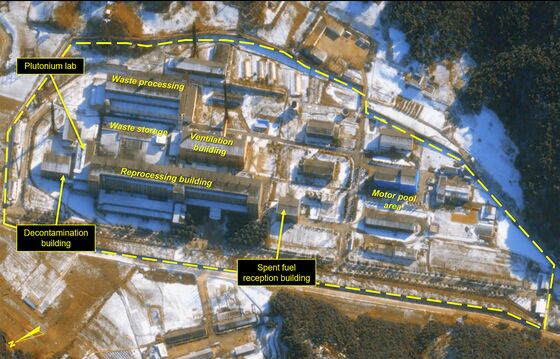 Arms control experts say Kim probably has at least one other secret plant that can produce enough uranium to make as many as six nuclear bombs a year. The full scale of the insular country's nuclear arsenal and its production capabilities is unknown.