Trump Says Kim Jong Un Sent Him 'Extraordinary Letter' This Week
(Bloomberg) -- President Donald Trump revealed during a meeting Wednesday with Japanese Prime Minister Shinzo Abe that he had received an "extraordinary" new letter from North Korean leader Kim Jong Un, whom he says he will meet soon for a second time.
Trump brandished the letter before reporters during the meeting with Abe on the sidelines of the United Nations General Assembly in New York. He said he received an "extraordinary letter just yesterday" from Kim but did not say what the dictator had written.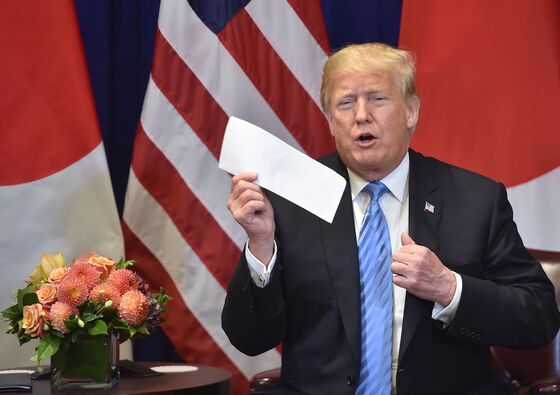 It wasn't clear when Trump received the letter. He met with South Korean Leader Moon Jae-in on Tuesday, and Secretary of State Mike Pompeo met with his North Korean counterpart earlier on Wednesday.
Pompeo will travel to Pyongyang next month to discuss preparations for a second summit between Trump and Kim, the State Department said after his surprise meeting with North Korean Foreign Minister Ri Yong Ho. The U.S. seeks to persuade Kim and his regime to abandon North Korea's nuclear arsenal
Pompeo's meeting appeared to take place while Trump was chairing a UN Security Council meeting on nuclear nonproliferation. Pompeo left his seat in the meeting room and returned about a half-hour later.