Trump Says He Wrote Answers to Mueller's Questions, Hasn't Sent Them
(Bloomberg) -- President Donald Trump said that he has just finished writing answers to questions from Special Counsel Robert Mueller but hasn't submitted them yet.
He told reporters in the Oval Office Friday that he -- and not his lawyers -- wrote the answers and that it "didn't take very long to do them."
"I was asked a series of questions. I answered them very easily," he said. "You always have to be careful when you answer questions from people who probably have bad intentions."
Trump said his lawyers will review the answers before they're sent to Mueller.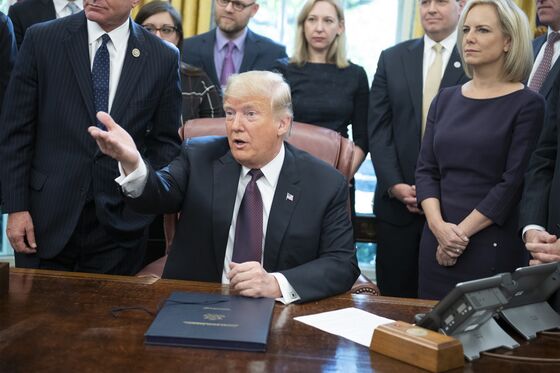 Rudy Giuliani, Trump's personal attorney, said in an interview last month that the president's legal team had prepared written responses to several dozen questions from Mueller. He said the answers related only to whether Trump colluded with Russia during his presidential campaign. He said then that the legal team was still unwilling to answer any questions concerning obstruction of justice by the president.
On Thursday, Trump blasted Mueller's probe in a Twitter tirade, renewing his longstanding accusations that Mueller's team is biased.
"The inner workings of the Mueller investigation are a total mess. They have found no collusion and have gone absolutely nuts," Trump tweeted. "They are screaming and shouting at people, horribly threatening them to come up with the answers they want."
Trump provided no examples.
Trump also accused Mueller by name of being "highly conflicted" and said he worked for former President Barack Obama "for 8 years." Mueller was appointed as FBI director by former President George W. Bush and Obama later extended his original 10-year-term by two years until 2013.
On Friday, Trump said his tweets didn't indicate that he's "agitated" by Mueller's probe. "I imagine it's ending now," he said. "From what I hear it's ending."
In a two-paragraph legal filing on Wednesday, Mueller offered a rare glimpse into the status of the probe and noted that former Trump presidential campaign aide Rick Gates is cooperating with prosecutors in several ongoing investigations.