Trump Says He's Open to Closing Government Over Wall Money
(Bloomberg) -- President Donald Trump on Sunday again floated the idea shutting down the government if he doesn't get his way on immigration measures, including funding for a wall on the U.S. border with Mexico.
Trump tweeted he "would be willing to 'shut down' government if the Democrats do not give us the votes for Border Security, which includes the Wall!" Trump over the past year has extolled the benefits of a "good" government shutdown to achieve as much as $25 billion in border-wall funding.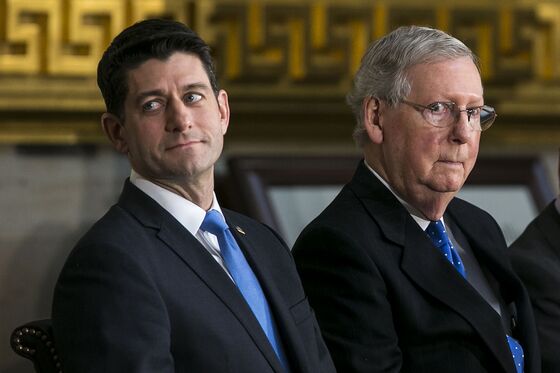 The president's tweet came after House Speaker Paul Ryan and Senate Majority Leader Mitch McConnell met with Trump at the White House on July 25 to discuss the ongoing appropriation process and how to avoid a politically damaging government shutdown on Oct. 1, a month before elections that will determine control of Congress.
McConnell said in a Friday radio interview that a shutdown is "not going to happen," and that action on funding for a border wall would "probably" wait until after the midterm elections.
Asked about Trump's renewed shutdown threat on Sunday, Representative Steve Stivers, chairman of the National Republican Congressional Committee, also said he doesn't think it will happen.
"I don't think we're going to shut down the government," Stivers said on ABC's "This Week" on Sunday. "I think we're going to make sure we keep the government open, but we're going to get better policies on immigration."
In his tweet on Sunday, Trump also repeated his calls for an end to immigration lottery and "Catch & Release," and for the U.S. to "finally go to system of Immigration based on MERIT!"
"Please understand, there are consequences when people cross our Border illegally, whether they have children or not - and many are just using children for their own sinister purposes," Trump said in an earlier Twitter message.