Trump Meets With Christie as He Continues Chief of Staff Search
(Bloomberg) -- Donald Trump met with former New Jersey Governor Chris Christie Thursday evening at the White House, people familiar with the matter said, as the president continues to consider a replacement for outgoing Chief of Staff John Kelly.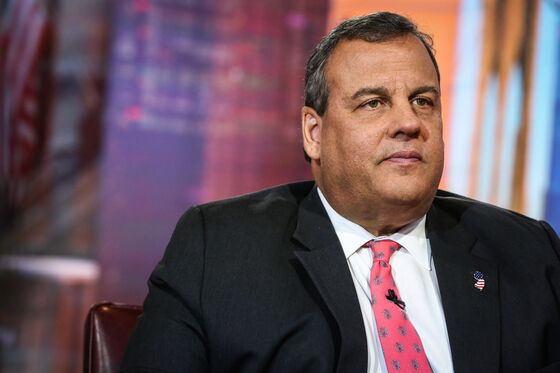 The Trump and Christie meeting occurred on the same night that the president and First Lady Melania Trump welcomed guests, including former aides and campaign donors, to a White House Christmas reception. Christie, who stepped down as New Jersey's governor early this year after two terms, endorsed Trump in 2016 after his own campaign didn't gain traction in the Republican primaries. Since the election, his name has been floated for a number of administration posts.
Earlier Thursday, Treasury Secretary Steven Mnuchin indicated he'd serve as White House chief of staff if Trump wants but said he's happy in his current job.
"I'm happy where I am," Mnuchin said Thursday in a brief interview at the Capitol, but added: "Whatever the president wants."
Trump said Thursday that he's weighing five candidates to succeed Kelly after eliminating Representative Mark Meadows, a North Carolina Republican, from consideration.
"Five people, really good ones," Trump told reporters at the White House after he was asked about the status of his search. "Terrific people, mostly well known, but terrific people." He didn't elaborate.
Trump indicated he was considering a larger group of people in an interview on Tuesday with Reuters, saying he had "at least 10, 12 -- 12 people that want it badly. I'm making a decision." He added that he was "in no rush."
Trump tried to replace Kelly with Vice President Mike Pence's top aide, Nick Ayers, over the weekend, but Ayers turned down the job and said he'd leave the White House at the end of the year. Kelly will remain in his job until at least Jan. 2, Kellyanne Conway, a top aide to Trump, said on Fox News on Tuesday.
Jared Kushner, the president's son-in-law and a senior adviser, isn't a contender for chief of staff, two White House aides said.
David Bossie, Trump's former deputy campaign manager, has been discussed as a possible Kelly successor, people familiar with the matter said. Bossie, who has a lunch with Trump scheduled on Friday, was seen in the West Wing on Thursday.
Some White House aides have said Conway would be a good choice, though others said Trump is highly unlikely to pick her, partly because her husband, George, is a public critic of the president. Trump is still considering Acting Attorney General Matthew Whitaker, a person familiar with the matter said Thursday. U.S. Trade Representative Robert Lighthizer has also been discussed.
Former House Speaker Newt Gingrich and his wife, Callista, visited the White House Wednesday, stirring speculation one of them might be a candidate. But two White House officials said neither is a contender.
John James, a Michigan businessman who unsuccessfully ran for the Senate as a Republican this year, visited the White House earlier in the week, according to people familiar with the matter. It's unknown if he's a candidate for chief of staff or any other job.
The White House said Wednesday that Trump had told Meadows, chairman of the conservative House Freedom Caucus, that he wants him to remain in Congress.