Pelosi Says Trump Hiring Whitaker Undercuts U.S. Constitution 
(Bloomberg) -- Nancy Pelosi said naming Matthew Whitaker as acting attorney general undermines the U.S. Constitution, and that Whitaker should recuse himself from reviewing Robert Mueller's probe into Russian interference in the 2016 election based on his past statements.
The House Democratic Leader told CBS that Whitaker shouldn't have been appointed by President Donald Trump to take over from Jeff Sessions.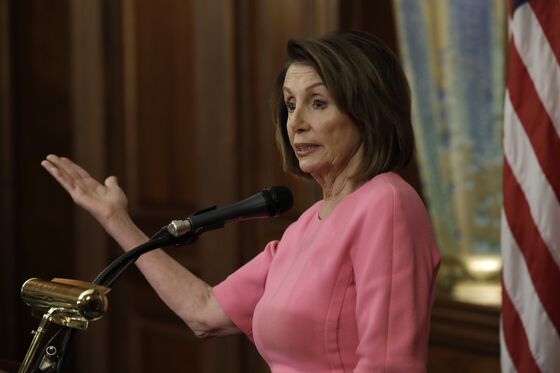 "It does violence to the Constitution and the vision of our founders to appoint such a person in such a manner to be the chief legal officer in our country. And that's bipartisan," Pelosi said in an excerpt of an interview that will run Sunday on "Face the Nation."
Trump forced Sessions to resign on Nov. 7 and installed Whitaker, Sessions' chief of staff since September 2017, on an interim basis. Whitaker's taken over responsibility for the work from Deputy Attorney General Rod Rosenstein even though he's publicly criticized the investigation in the media.
In one CNN appearance in 2017 Whitaker suggested that cutting funding to the investigation would be a way to hobble Mueller. In August 2017 he wrote a commentary for CNN under the headline, "Mueller's Investigation of Trump is Going Too Far."
"It does not take a lawyer or even a former federal prosecutor like myself to conclude that investigating Donald Trump's finances or his family's finances falls completely outside of the realm of his 2016 campaign and allegations that the campaign coordinated with the Russian government or anyone else," Whitaker wrote.
Trump said on Friday that he hasn't spoken with Whitaker about how to handle Mueller's investigation.
"I didn't speak to Matt Whitaker about it," the president told reporters as he departed the White House on Friday for the commemoration of the 100th anniversary of the end of World War I in France.
Removing Sessions was Trump's first notable move after the Nov. 6 midterm elections, which saw the Republican Party lose its majority in the House but widen its majority in the Senate.
Sessions was one of Trump's earliest supporters, but president never forgave the former Alabama senator for recusing himself from supervising Mueller's probe.
Trump appeared to distance himself from Whitaker, 49, after he was asked about reports that the former U.S. attorney from Iowa had sat on the board of a company shut down by the Federal Trade Commission over fraud allegations.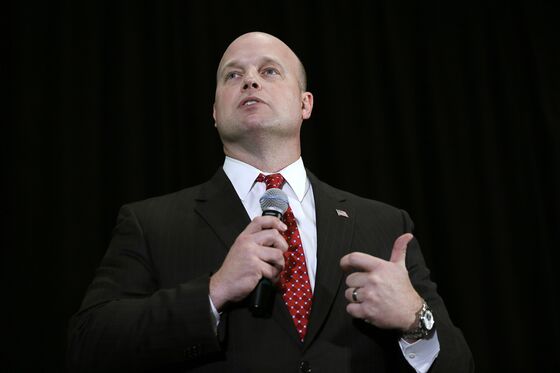 "I don't know Matt Whitaker," Trump said. "Matt Whitaker has a great reputation and that's what I wanted. He worked for Jeff Sessions. He's a highly respected man, especially by law enforcement, and I think he's going to do a great job."
Trump echoed those thoughts in tweets late Friday night, saying that Whitaker was "very highly thought of" by Joni Ernst and Chuck Grassley, Iowa's two senators; Terry Branstad, the state's former governor and now the U.S. ambassador to China; and Leonard Leo, the former vice president of the Federalist Society who's advised the administration on judicial nominations.
Despite saying Friday he didn't know the appointee, Trump said in an Oct. 11 interview on Fox News that "Matt Whitaker's a great guy. I mean, I know Matt Whitaker."
Whitaker's a Trump loyalist and a favorite in the White House. His appointment has been criticized by Democrats and by George Conway, a Republican lawyer who is White House adviser Kellyanne Conway's husband. Asked about an op-ed George Conway published in the New York Times this week calling Whitaker's appointment unconstitutional, Trump referred reporters to his wife.
"You mean Mr. Kellyanne Conway," Trump said. "He's just trying to get publicity for himself. Why don't you do this -- why don't you ask Kellyanne that question. She might know him better than me."
The Federal Bureau of Investigation is conducting a criminal investigation of a Florida company accused of scamming millions of dollars from customers during the period that Whitaker served as a paid advisory-board member, the Wall Street Journal reported on Friday.
World Patent Marketing shut down last year after being accused by the Federal Trade Commission of scamming customers out of $26 million, the newspaper reported, citing interviews with an alleged victim who was contacted by the FBI and other people familiar with the matter.
Whitaker, for now, oversees the FBI.