Trump Says Grasso Opened NYSE the Day After 9/11. He Didn't.
(Bloomberg) -- President Donald Trump justified going ahead with a campaign rally, hours after 11 people were shot to death in a Pittsburgh synagogue, by erroneously saying the New York Stock Exchange reopened the day after the Sept. 11, 2001, terrorist attacks.
"Remember the New York Stock Exchange," Trump said in Murphysboro, Illinois, saying former NYSE chairman Dick Grasso overcame huge obstacles to open the NYSE "the following day" after the city was devastated.
In fact, with Manhattan in lockdown after the collapse of the World Trade Center twin towers, the NYSE and the Nasdaq exchanges were closed until Monday, September 17, the longest shutdown since 1933. When markets reopened, U.S. stocks suffered several days of steep losses.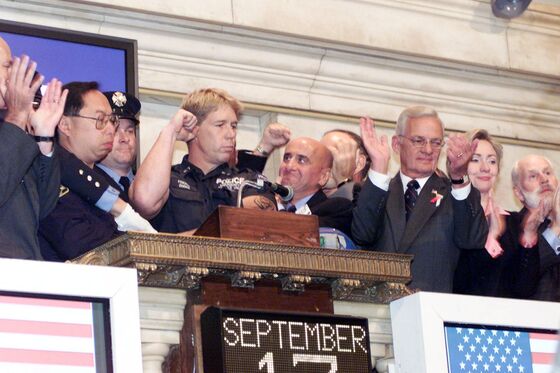 Trump made comments earlier Saturday, during a speech in Indianapolis, on the general theme that he wouldn't let the perpetrator of the synagogue shooting dictate his schedule. "You can't let these people change your life, your schedules, anything."
"We have our lives. We have our schedules. And nobody's going to change it. So we're here. And let's have a good time," Trump said at the rally.
Seeking to "renew the bonds of love and loyalty that sustain us as Americans," the president offered to "tone it down just a little bit." That elicited cries of "Noooo" from some in the crowd, who later started the oft-repeated rally chant of "lock her up" after a mention of Hillary Clinton.