Trump Met With State Department Spokeswoman for UN Job, Sources Say
(Bloomberg) -- President Donald Trump met Monday with State Department spokeswoman Heather Nauert on Monday as he searches for a new United Nations ambassador to replace Nikki Haley when she steps down later this year, according to two people familiar with the matter.
The president spoke to Jamie McCourt, his ambassador to France, about the job last Friday. Nauert didn't return phone calls and text messages seeking comment on Monday.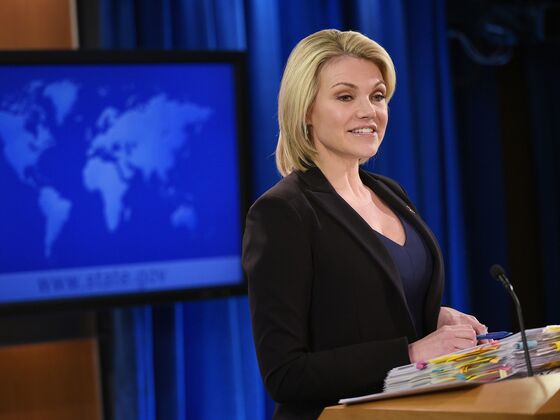 Haley surprised White House officials earlier this month when she said she would resign by the end of year, citing the need for a break after two terms as South Carolina's governor and two years at the UN. Other candidates Trump has considered since Haley's announcement include Richard Grenell, the U.S. ambassador to Germany, former White House aide Dina Powell and the U.S. ambassador to Canada, Kelly Craft.
Nauert, 48, would be an unorthodox choice for the UN role given that she had little experience in government or foreign policy before joining the administration in April 2017 after several years as an anchor and correspondent for Fox News.
Nonetheless, Nauert has gained Secretary of State Michael Pompeo's trust after being excluded from the inner circle of his predecessor, Rex Tillerson. She is also closely aligned with Trump's daughter, Ivanka Trump, and her husband Jared Kushner. In keeping with broader administration practice, Nauert has cut back State Department briefings from almost every day to, at most, twice a week.