Russia Says Trump's War on Huawei Risks 'Destroying' Tech World
(Bloomberg) -- The Trump administration's fight against China's Huawei Technologies Co. justifies Russia's decision to build a "sovereign internet" to protect its domestic network from external threats, according to Russian Deputy Prime Minister Maxim Akimov.
"What the U.S. is doing now -- they're destroying this world," Akimov, who oversees telecom, transport and digital economy infrastructure in Russia, said in a June 7 interview at the St. Petersburg International Economic Forum. "But the shrapnel will hurt everyone," he said.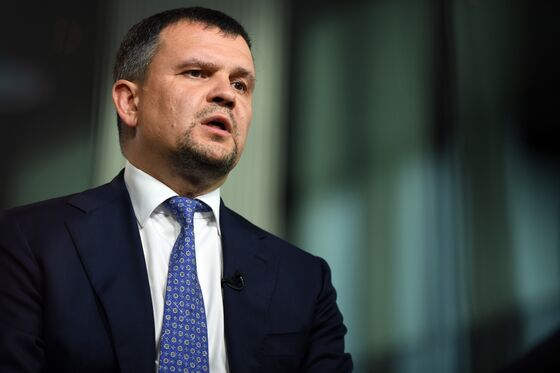 The assault on Huawei showed "one-sided unfriendly actions of countries can have fatal consequences," said Akimov. The sovereign internet was about "preventing chaos" if Russia's network is cut off from abroad, and not an attempt to isolate the country from the outside world, he said.
U.S. President Donald Trump has blacklisted Huawei, cutting off the supply of American components that China's largest technology company needs to make its smartphones and networking gear. The U.S. administration is also pressing allies including France and the U.K. to exclude Huawei from their 5G networks, branding it a national security threat over spying concerns.
By contrast, Kremlin leader Vladimir Putin and Chinese President Xi Jinping oversaw the signing last week of an accord between Huawei and the largest Russian wireless carrier, Mobile TeleSystems PJSC, to start 5G pilot zones in Russia.
While the U.S. regards China as a security risk, Russia views it "not as a threat but a great opportunity," Akimov said. Huawei will be involved in Russia's 5G communications network that may cost 500 billion rubles ($7.7 billion) and take two years to build, he said. The 5G network should be shared by all four major mobile providers in Russia and not controlled by one company, he said.
Russia's "sovereign internet" law that came into force last month sparked fierce criticism including from some normally loyal legislators, who warned it was an attempt to emulate China's "Great Firewall" and restrict access to information. Critics accused the Kremlin of seeking to censor opposition activism online as public trust in Putin declines amid deepening economic hardship.
Advocates argued the measure ensures the domestic internet network continues to function if the country is cut off from foreign root servers at a time of escalating tensions between Russia and the U.S. Akimov said it may cost tens of billions of rubles to install Deep Packet Inspection (DPI) devices in Russia's networks, allowing regulators to selectively block or reroute certain types of traffic in real time.
Another risk the government wants to avoid is any harm to Yandex NV, Akimov said. Russia's largest tech company last week pushed back against Federal Security Service demands to turn over encryption keys that would allow the authorities to monitor all users' private data.
"The government will welcome any compromise," Akimov said. Yandex is an extremely valuable Russian company and there's "neither the wish, nor the intention to tear down this business and expose it to some risk," he said.
The battle between telecom watchdog Roskomnadzor and Pavel Durov, the founder of the Telegram secure messenger service, remains Russia's most controversial conflict over control of the internet. State efforts last year to ban access to Telegram in Russia for refusing to hand over encryption keys to the security services resulted in thousands of other web pages being blocked as collateral damage.
The conflict with Durov, who has lived outside Russia since 2014, has been "painful" for the Russian telecom industry, Akimov said. "Maybe, in this story, the search for balance went wrong," he said.