Trump Offers Muted Ukraine Response, Punting the Problem to Europe
(Bloomberg) -- The Trump administration's expressions of frustration with Russia over its latest conflict with Ukraine did little to mask a conviction that the flare-up in Crimea is largely Europe's problem to solve.
After almost a day of silence from the White House and State Department, Ambassador Nikki Haley went to the United Nations Security Council on Monday to condemn Russian forces for firing on Ukrainian ships near Crimea. But she also made clear that the U.S. would refrain from further action and would instead play a supporting role to European efforts to ease tensions.
Though Ukraine warned of a potential new Russian invasion and imposed martial law in some areas of the country for 30 days, Haley's muted response reflected President Donald Trump's inclination to distance himself from a conflict that he's long blamed on predecessor Barack Obama. Trump says Obama failed to stop Russia from annexing Ukraine's Crimea region in 2015.
Obama "allowed a very large part of Ukraine to be taken," Trump said at a news conference this month. As a presidential candidate, Trump tweeted in 2016: "Russia took Crimea during the so-called Obama years. Who wouldn't know this and why does Obama get a free pass?"
That the U.S. was so slow to condemn the incident suggested that the administration was wrestling with how to best to navigate the president's ambivalence.
While Trump's administration has provided Ukraine with anti-tank missiles, a step beyond the "non-lethal" goods Obama was willing to supply, analysts said the delay in reacting to the latest crisis was telling. It also reflected Trump's frequent refrain that U.S. allies in Europe must do more to defend themselves and police their backyards.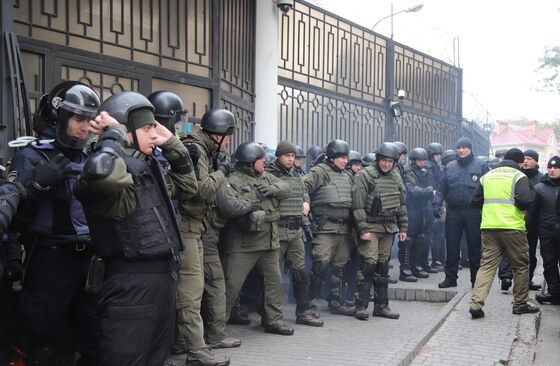 "To me, this reinforces the idea that President Trump thinks he shouldn't been seen as responsible for the continued inability to resolve the conflict and that Ukraine shouldn't be an impediment to better U.S.-Russia ties because it didn't happen on his watch," said Mark Simakovsky, a non-resident senior fellow with the Atlantic Council's Eurasia Center in Washington.
Asked about the confrontation hours after Haley spoke, Trump told reporters that he's "not happy," but he also appeared eager not to take sides.
"We don't like what's happening," Trump said. "And hopefully it'll get straightened out. I know Europe is not -- they are not thrilled. They are working on it too. We're all working on it together."
Haley appeared to acknowledge the administration's delay, saying in her remarks that she had spoken earlier in the day with Trump and Secretary of State Michael Pompeo, emphasizing that her comments reflected "concern at the highest level."
"As President Trump said many times, the United States would welcome a normal relationship with Russia but outlaw actions like this one continue to make that impossible," Haley said.
Like the Obama administration, Haley reiterated support for the so-called Normandy format, in which Germany, France, Ukraine and Russia work to ease tensions. But neither she nor Pompeo, who issued his own statement later, indicated the U.S. was prepared to press Russia further or inject fresh momentum into a process that has struggled to show progress.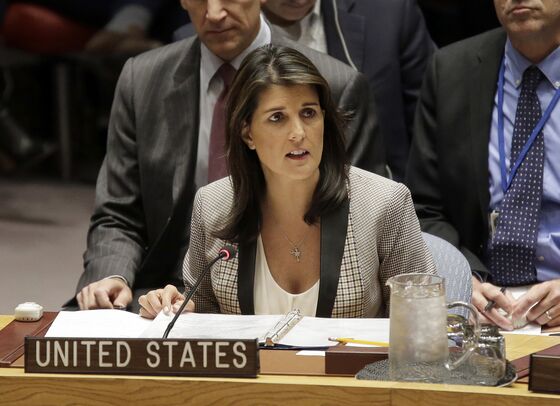 Details of what happened in the strait remained hazy Monday -- one reason the U.S. may have been slow to respond. Several Ukrainian sailors were wounded in the clash, and Russia detained Ukrainian ships as well.
Condemnation of Russia's actions flowed in from the UN Security Council as well as other nations. German Chancellor Angela Merkel's government has "grave questions" about the Russian action, Germany's Foreign Ministry said. At the same time, Estonia and Poland were among only a few countries other that called for new sanctions on Russia.
Nonetheless, the ruble and Russian stocks slid the most in emerging markets and borrowing costs jumped. The ruble weakened as much as 1.7 percent against the dollar on a day of strong gains for most emerging-market currencies. Analysts at Nomura Holdings Inc. said the drop could extend further, erasing recent gains that were spurred by bets that harsh U.S. sanctions will be delayed.
Russia remained defiant. Its deputy ambassador to the UN, Dmitry Polyansky, called the incident a "mythical Russian act of aggression" and said it was Ukraine that had violated Russia's sovereignty, not the other way around. He said Russia had to stop the vessels because "Ukrainian radicals" had vowed to blow up a new bridge connecting Russia and Crimea.
Polyansky said Ukraine President Petro Poroshenko, whose popularity has plunged, was looking for an excuse to scrap presidential elections set for March, and accused his government, in cahoots with western powers, of trying to brainwash average Ukrainians.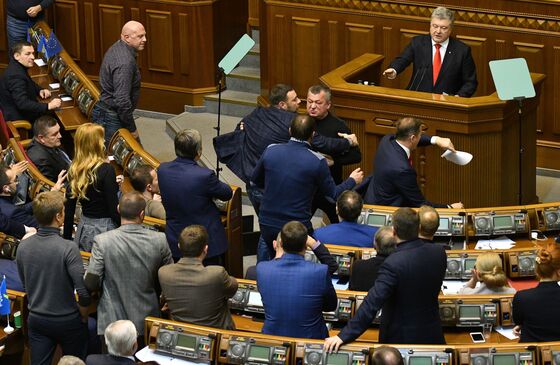 "This provocation was pre-planned, that's obvious, and it was in full connivance with western states," Polyansky said.
The military action comes just before Trump and Russian President Vladimir Putin are scheduled to meet at the Group of 20 meeting in Buenos Aires this week. It will be their first formal meeting since a summit in Helsinki in July, where Trump was widely criticized for failing to call Putin to account over interfering in the 2016 election.
The meeting that's only days away may have figured in Trump's decision to slow-walk his administration's initial response to the new Crimea confrontation, according to Steven Pifer, a retired U.S. foreign service officer who's a senior fellow and arms control expert at the Brookings Institution in Washington.
"Actually the silence and what I interpret as his reluctance to be critical of Putin or Russia policy -- he may be doing this with the expectation that it may be helpful to him when he sits down with Putin," he said.