Ex-Envoy Says He Didn't Realize Trump Was Seeking Probe of Biden
(Bloomberg) -- President Donald Trump's former special envoy to Ukraine said he only realized after the fact that the president and a few close advisers were putting "unacceptable" pressure on Ukraine to launch a politically motivated investigation.
Kurt Volker, the former special envoy, said at a House Intelligence Committee impeachment hearing that he wasn't initially aware of attempts to prod Ukrainian authorities into investigating former Vice President Joe Biden, a potential 2020 challenger to Trump.
But he added that he came to realize that the anti-corruption efforts being demanded by the administration meant probes aimed at entangling Biden in a potential scandal.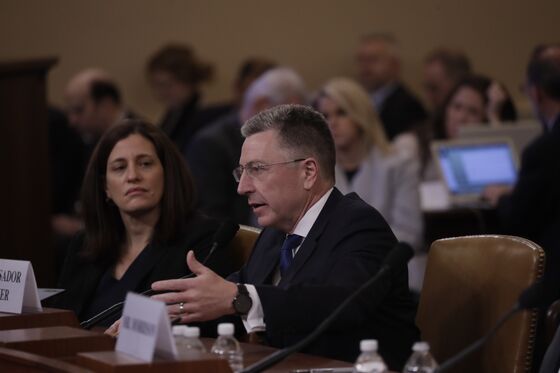 "I did not know that President Trump or others had raised Vice President Biden with the Ukrainians, or had conflated the investigation of possible Ukrainian corruption, with investigation of the former vice president," Volker said. "In retrospect, I should have seen that connection differently, and had I done so, I would have raised my own objections."
Volker was one of four witnesses in a marathon day of testimony in the impeachment inquiry being conducted by the Intelligence Committee. All four bolstered some of the key allegations being made by Democrats. But Republicans were able to elicit testimony disputing the idea that Trump acted illegally.
The testimony will put a more intense spotlight on U.S. Ambassador to the European Union Gordon Sondland, who is scheduled to appear on Wednesday.
Sondland, a Trump donor who had a direct line to the president, has been at the center of interactions with Ukraine at the same time that the administration was holding up military aid and a White House visit being sought by Ukrainian President Volodymyr Zelenskiy.
Volker amended the testimony he gave during a closed-door session of the impeachment inquiry, saying he now remembers a statement made by Sondland at a July 10 meeting with Ukrainian officials in then-National Security Adviser John Bolton's White House office.

Volker said Tuesday that Sondland made a "generic comment about investigations" during the meeting that everyone present thought it was inappropriate. He said testimony by another witness about the meeting had "jogged my memory," though he hadn't noted it at the time.
Volker said he didn't believe foreign governments should be asked to investigate a U.S. official. "I have learned many things that I did not know at the time of the events in question," he added.
Volker had a role in multiple events in U.S.-Ukraine events, including serving as a contact point for Rudy Giuliani, Trump's personal lawyer, who was pushing the Ukrainians to investigate Biden as well as unsubstantiated theories about Ukraine's involvement in 2016 election interference in the U.S.
Another witness at Tuesday's public hearing, National Security Council official Timothy Morrison, recounted a warning about Sondland he had received from Fiona Hill, who was Bolton's deputy.
"Among the discussions I had with Dr. Hill were about Ambassador Sondland. And I think she might have pointed out 'the Gordon Problem' and I decided to keep track of what Ambassador Sondland was doing," Morrison said.
Morrison testified that Sondland told him on Sept. 1 that he had advised a top Ukrainian official that the release of nearly $400 million in U.S. military aid was being linked to an announcement by Ukrainians of a commitment to investigations of the Bidens and the 2016 election.
Then, on Sept. 7, Sondland told him that Trump himself had instructed that Zelenskiy, specifically, would have to make such an announcement, not that country's prosecutor general -- and that that instruction had come directly to him from Trump.
Volker and Morrison are two of the three witnesses Republicans had sought. The third, David Hale, the third-ranking official at the State Department, is scheduled to answer questions on Wednesday.
Morrison and two other witnesses on Tuesday were on the July 25 telephone call between Trump and Zelenskiy, which is key in the Democrats' impeachment inquiry.
During the call, Trump made reference to the conspiracy theory about Ukrainian involvement in the 2016 election and asked Zelenskiy to "look into" whether Biden had stopped an anti-corruption investigation of Burisma Holdings, a Ukrainian company where his son Hunter Biden served on the board.
Morrison said he was disappointed in Trump's handling of the call, though he didn't see anything illegal in Trump's mentions of Biden and his son.
"I was hoping for a more full-throated statement of support from the president" on Zelenskiy's pro-reform agenda, he said.
But Morrison said he didn't hear Trump making "any sort of demand" on Zelenskiy.
Asked by Republican Representative John Ratcliffe of Texas whether anyone on the National Security Council expressed concern after the call that a crime such as bribery or extortion had occurred, Morrison said, "No, sir."
But earlier on Tuesday, a decorated U.S Army officer who works at the White House and a State Department official both said Trump's conversation with Ukraine's leader was an unusual and inappropriate attempt to get another nation to initiate a politically motivated investigation.
Lieutenant Colonel Alexander Vindman said the Trump-Zelenskiy call so alarmed him that he reported it through the administration's legal channels.
"Without hesitation, I knew that I had to report this to the White House counsel," Vindman testified.
Jennifer Williams, a State Department employee assigned to Vice President Mike Pence's office, said she found Trump's conversation unusual "because, in contrast to other presidential calls I had observed, it involved discussion of what appeared to be a domestic political matter."
The day's testimony offered details for both sides to latch onto.
Republicans pointed to Volker saying he had no knowledge of a quid pro quo of the idea of releasing aid in exchange for a promise to investigate the Biden family and the events of 2016.
"I was never involved in anything I considered to be bribery at all, or extortion," Volker said in response to questions.
GOP lawmakers on the committee also keyed in on Morrison's statement that he saw nothing illegal in Trump's July 25 call. And White House Press Secretary Stephanie Grisham said in a statement on Tuesday evening that "with the Democrats' poll-tested
'quid-pro-quo' and 'bribery' narratives in shambles, the American public should not be forced to endure this charade for one more second."
Yet Volker also denied a central Republican talking point of the impeachment inquiry, arguing that there was no merit to claims that Biden did anything wrong in relation to Ukraine and its former prosecutor.
"I've known former Vice President Biden for some time," Volker said. "I know how he respects the duties of higher office" and he would not operate outside of U.S. interests.
He may provoke some incredulity though with his contention that he never drew a link between demands that Ukraine investigate Burisma and concerns about the Biden family, even though Giuliani mentioned the allegations against the former vice president during a July 19 meeting.
Giuliani raised "the conspiracy theory that Vice President Biden would have been influenced in his duties as Vice President by money paid to his son," Volker said, adding that he rejected the notion.
Throughout the day, Republicans attacked the process and the witnesses as prejudiced against the president.
"The Democrats have called a parade of government officials who don't like President Trump's Ukraine policy, even though they all acknowledge he provided Ukraine with lethal military aid after the Obama administration refused to do so," said Representative Devin Nunes of California, the top Republican on the Intelligence panel.
"They don't seem to understand that the president alone is constitutionally vested with the authority to set the policy. The American people elect a president, not an inter-agency consensus," he said.