Trump's Top Lawman Cut Teeth With Partisan Attacks, TV Spots
(Bloomberg) -- Matthew Whitaker's plan to get noticed as a Trump defender worked out better than expected.
Whitaker was waiting off-set at CNN in June 2017 when he and another guest struck up a conversation. The two men, both former Justice Department officials, talked about work and family. The fellow guest, St. John's University law professor John Q. Barrett, recalls asking Whitaker what had prompted him to go on television to discuss Special Counsel Robert Mueller's investigation of Russian election meddling.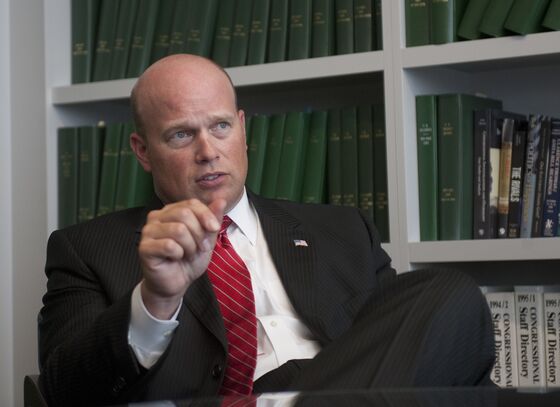 "I hope this will help me get noticed," Barrett recalled Whitaker telling him. In comments around that time, Whitaker said Mueller's probe had gone too far, and on one CNN appearance he suggested that cutting funding to the investigation could hobble Mueller. Barrett, in an interview and in remarks on Twitter, recalled Whitaker saying that he hoped his appearances would generate attention so that the President Donald Trump would appoint him a federal judge in his home state of Iowa.
Instead, Whitaker was named a few months later as chief of staff to then-Attorney General Jeff Sessions. When Sessions exited on Wednesday, Trump tapped Whitaker to take over as the nation's top law enforcement officer. Now, as acting attorney general, Whitaker oversees the same investigation he criticized in the media.
It was a swift rise for a onetime University of Iowa football player and lawyer who cut his teeth as a U.S. attorney in Des Moines overseeing gun, immigration and other cases. While Whitaker's CNN airtime didn't hurt -- Trump enjoyed watching him, the New York Times has reported -- his pathway to the job also ran through a partisan watchdog group where he paired personal ambition with conservative politics.
In the years before he ascended to his Justice Department perch, Whitaker was the executive director of a nonprofit called the Foundation for Accountability and Civic Trust, or FACT. Financed by a conservative megafund whose donors are undisclosed, FACT hired right-leaning firms for publicity and legal services. At the group, Whitaker oversaw attacks on several of Trump's favorite targets, including Democrats Hillary Clinton, Elizabeth Warren and Kamala Harris.
"He has a bona fide history of being part of this highly partisan use of political power and Justice Department resources," said Matt McCoy, an exiting Iowa state senator who Whitaker unsuccessfully prosecuted more than a decade ago when McCoy was a rising Democrat.
Parlaying an overtly partisan job into a top law-enforcement position is a hard departure from tradition at the Justice Department, where career officials pride themselves at applying the law equally to all. It's even more unprecedented to get there without scrutiny from the U.S. Senate. Because Trump appointed Whitaker in an acting capacity, he has started work without Senate confirmation. Some legal experts are questioning whether such an appointment is constitutional.
Whitaker's criticisms of the Russia probe have led Democratic lawmakers to call for his recusal, but he doesn't intend to step aside. Whitaker also chaired the unsuccessful U.S. Senate campaign of an Iowa politician, Sam Clovis, who went on to join Trump's election team and has reportedly been a subject of interest in Mueller's probe.
The Justice Department declined to comment.
Whitaker, 49, was a standout high school and college football star who earned a bachelor's degree, MBA and law degree from the University of Iowa, according to his LinkedIn profile. He waded into Republican politics, running unsuccessfully for Iowa state treasurer in 2002.
As U.S. attorney for the Southern District of Iowa from 2004 to 2009, he prosecuted child pornography and oversaw a crackdown on a Swift & Co. meatpacking plant, ultimately securing convictions of about 30 workers for identity theft and immigration violations.
His tenure was marked by controversy. He prosecuted McCoy, a Democrat and openly gay lawmaker, on a federal charge of trying to extort a business partner of $2,000. Critics asked at the time why Whitaker would bring charges over such a small amount. Jurors deliberated for less than two hours before acquitting McCoy.
McCoy said the jury's swift dismissal of the matter underscores his belief that Whitaker unfairly prosecuted him, using what he called the "politics of prosecutorial discretion."
In 2014, after an unsuccessful run for the U.S. Senate, Whitaker became the executive director of the newly formed FACT, which its website says is dedicated to "exposing unethical behavior, changing the culture of politics and restoring faith in public officials."
Like other partisan actors across the spectrum, FACT uses lawsuits and administrative complaints to challenge opposing candidates and judges. Before the 2016 election, it filed complaints with the Federal Election Commission against more than a dozen Democratic House candidates, the Democratic Congressional Campaign Committee and Clinton's presidential campaign. FACT said the DCCC made illegal, excessive contributions to Clinton in running ads that attacked Trump. Congressional ethics investigators have taken up some of the matters.
In a statement, FACT said it was a non-partisan ethics watchdog that has challenged Democrats and Republicans. "Since 2014, FACT has filed over 80 complaints, over 60 of which were filed under Mr. Whitaker's leadership," the group said.
FACT's funding has come almost entirely from the Donors Trust, a donor-advised fund that supports conservative causes, according to tax filings by the two organizations. That organization took in $90 million in 2016, according to federal filings, which don't require it to disclose the source of funding. Mother Jones in 2013 described Donors Trust as "the dark-money ATM of the conservative movement" that has bankrolled fights by conservatives against unions, public schools and climate scientists.
Lawson Bader, president and chief executive officer of Donors Trust, said the dark-money label is "part of a larger effort by progressive activists to generate political support by casting dispersion on the idea of private giving." Bader said the trust makes donations to thousands of charities at the recommendation of its clients but has no involvement with its grantees' activities, noting that public charities in the U.S. are under no obligation to disclose the identity of their donors.
Whitaker was paid $63,000 in 2014 by FACT, $252,000 in 2015 and $402,000 in 2016, according to its tax filings. Among those FACT paid for services was Cooper & Kirk, a law firm that represented the National Rifle Association in an action brought by the FEC alleging campaign contribution violations. The firm didn't return calls seeking comment.
Under Whitaker, FACT also made payments to Creative Response Concepts, a public relations firm, according to its tax filings. The firm is known for its work with conservative groups, including helping to devise the Swift Boat Veterans for Truth campaign that attacked John Kerry's Vietnam record in the 2004 presidential campaign, according to the New York Times. The group, now known as CRC Public Relations, didn't immediately return a call seeking comment.
Whitaker's work with FACT brought him into contact with other influential conservative activists. As of 2016, along with Whitaker, one of FACT's three directors was Neil Corkery, who also serves as the treasurer. Corkery is the sole officer a separate group, the Wellspring Committee, which donated $31 million in 2016 to conservative causes, according to its tax filing. That included $23.5 million to the Judicial Crisis Network, a group that backs conservative judges and attorneys general. Corkery, who has served as an officer of the Judicial Crisis Network as well, couldn't immediately be reached for comment.
While working with FACT, Whitaker was on the advisory board of a Florida firm accused by customers of lying about how it would help them patent, manufacture and market inventions. Last year, the Federal Trade Commission sued World Patent Marketing, which was later ordered to pay almost $26 million.
In 2015, Whitaker emailed a lawyer for a client who threatened to go to the Better Business Bureau. Whitaker, who cited his tenure as a U.S. attorney in Iowa, wrote: "Your emails and message from today seem to be an apparent attempt at possible blackmail or extortion." The lawyer, he threatened, could face "serious civil and criminal consequences" if he complained and sought to "smear World Patent Marketing's reputation online."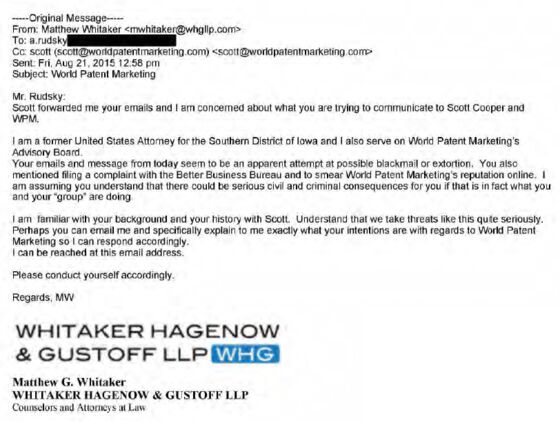 Trump distanced himself from Whitaker in comments to reporters on Friday, saying he hadn't talked to him about the Mueller investigation.
"I don't know Matt Whitaker," Trump said. "Matt Whitaker has a great reputation. When Sessions left, very simply, I took a man who worked for Jeff Sessions. He's a highly respected man, particularly by law enforcement."