Trump's Tariff War Scrambles Agricultural Trade Routes
(Bloomberg) -- U.S. President Donald Trump's trade war isn't only rattling global soybean markets. It's also shifting the flow of crops within the U.S., changing pricing patterns and boosting how much of this season's bumper crop needs to be stored.
Traders shipping soybeans through the Pacific Northwest, a key export hub to China, are now diverting supply from that route south to the Gulf of Mexico, where the product can be shipped to countries including Iran and the European Union. Corn flows are also changing, with some elevator owners shipping more of the grain to make space for soybeans.
"A very big part of the soybean supply that typically moves out of the U.S. to China comes off the West Coast, and that's just not happening now," Soren Schroder, chief executive officer of Bunge Ltd., said in a Wednesday interview. "But that doesn't mean that there are no bids for soybeans, it just means that they are most likely directed toward crushing plants in the domestic market or export channels that take the flows to the Gulf."
Still, Schroder said, "it's building up a historically high level of soybean stocks that will carry through this year, and into next."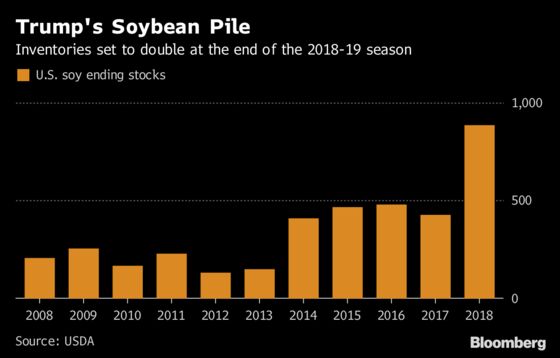 Soybeans that usually get sent by rail to the Pacific Northwest ports for export are now moving by train to areas near the Mississippi river, where they get put on a barge to the Gulf, according to Jim Sutter, CEO of the U.S. Soybean Export Council. St. Louis is one of the common spots for that, he said.
The Pacific Northwest is also getting more corn at the start of the season as some grain elevators seek to make storage room for higher-priced soybeans. All of that is creating dislocation and price gaps that traders with domestic assets can benefit from.
"In the short term, dislocations caused by tariffs create arbitrage opportunities that well-positioned merchants and shippers can benefit from," Corey Jorgenson, president of the grain unit of The Andersons Inc. "Long term, the trade war is bad for our business and is really bad for U.S. farmers."
The trade war already created a merry-go-round of sorts in international trade, with Argentina and Canada buying U.S. soybeans for local processing while exporting their own produce. It's now doing the same within the U.S., creating local-price arbitrages and reshaping the way crops flow.
Growers in the Dakotas, Minnesota and Nebraska, more northern states whose crops used to flow west, have sold at discounts as wide as $1.80 a bushel against the futures price in Chicago. Farmers in some southern poultry-producing regions get more.
Monte Peterson, who farms both corn and soybeans on 4,500 acres in Valley City, an hour away from Fargo in North Dakota, says his local elevator is sending corn by rail to the Pacific Northwest instead of the usual soybeans, which can sell for two to three times more. Sutter says some are piling weather-resistant corn on the ground and storing the oilseed.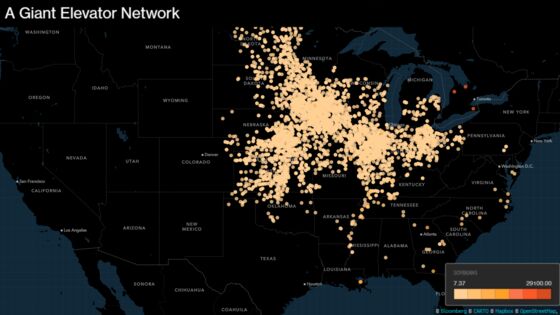 "There are sales for corn and the opportunity to ship corn to the Pacific Northwest, at least in these nearby months," Peterson said. "So that's the only salvation, I guess."
Despite the record size of this year's soybean crop, "the country has enough space" to store it, said Corey of The Andersons. "It's just an element of displacement that things need to move to non-traditional places."
Meanwhile, Sutter said his export group is bringing trade delegations from countries other than China to try to persuade them to buy from the Pacific Northwest, or the PNW as it's referred to within the industry.
"We've been bringing trade teams" in to visit the Pacific Northwest, or PNW, and the states that usually supply that region so they can learn about the trade route and the quality of U.S. soy, Sutter said. That includes groups from Taiwan, South Korea, Japan, Thailand, Vietnam and Indonesia. And they've already scored a win with a memorandum of understanding with Taiwan.
"We saw Taiwan buy soybeans off the PNW for the first time in 15 years," he said.