Trump's Syrian Detente With Erdogan Masks Rot That Runs Deep
(Bloomberg) -- After a diplomatic snub, a string of conflicting messages and a threatening tweet, President Donald Trump and Turkey's Recep Tayyip Erdogan are trying to smooth over their differences.
A phone call this week allowed the two leaders to ease their enmity -- Erdogan told lawmakers that he and Trump had reached a common understanding on Syria. But the public reconciliation leaves outstanding divergences on issues from ties with Iran to a missile defense system, while opposing attitudes to Kurdish fighters in Syria look hard to resolve.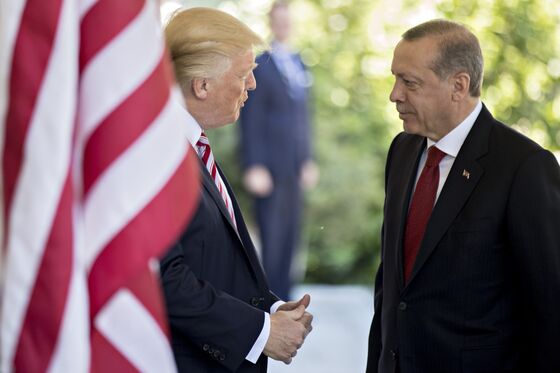 The NATO partners, boasting the two largest militaries in the trans-Atlantic alliance, have sparred repeatedly over the war in Turkey's southern neighbor, Syria. Some Turkish officials are now questioning the point of their six-decades-old alliance with the U.S. as a result.
"Turkey-U.S. relations have not improved, and will not improve," said Bill Park, a senior lecturer specializing in Turkish foreign and security policy at King's College in London. "There are too many differences between them," he said, citing the "risks of profound disagreement" in Syria among other factors.
Trump's abrupt decision to exit Syria -- apparently made during a call with Erdogan -- stunned most U.S. allies, but was welcomed in Turkey. Yet repeated public calls by Trump's Secretary of State Mike Pompeo and National Security Adviser John Bolton not to attack "Kurds" ate away at the new-found optimism. Bolton was snubbed earlier this month when Erdogan rebuffed a proposed meeting in Ankara, though the national security adviser dismissed the move as just local politics ahead of Turkish elections in March.
A suicide attack claimed by Islamic State on American soldiers and their Kurdish allies in the Syrian town of Manbij Wednesday may further complicate Trump's plans to pull out, adding to strains on the relationship. U.S. support for Kurdish YPG fighters in Manbij has been at the heart of a dispute with Turkey that has regularly flared in recent months.
While the U.S. is in theory an ally of Turkey, it has consistently refused to act like one since it began arming the Kurdish militants that Turkey sees as terrorists, according to a senior Turkish official familiar with Erdogan's thinking, who asked not to be named to discuss the matter frankly. Trump's pledge in a tweet late Sunday night to "devastate" Turkey's economy if Erdogan went after Kurdish fighters in Syria helped to bolster that argument.
"Messages from Trump's social media accounts have saddened me and my friends," Erdogan said in a speech to lawmakers from his ruling AK Party in parliament in Ankara on Tuesday. He said that Turkey and the U.S. agreed to prevent policy differences from overshadowing their collaboration in Syria. Trump, in a tweet on Monday, said he'd informed Erdogan of "where we stand on all matters," including fighting Islamic State in Syria.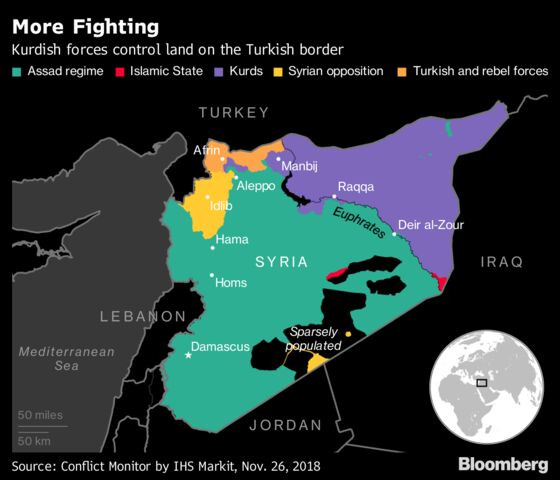 Erdogan's relationship with the U.S. was on a downward trajectory well before Trump took office. His drift toward authoritarianism increasingly outweighed his leadership of a key NATO ally in American eyes during the Obama administration, where he was increasingly shunned even on U.S. visits. But that dynamic looked poised to change after Trump's election.
At a White House meeting in May 2017, the new U.S. president said that it was an honor to host Erdogan, who reciprocated by praising Trump's "legendary victory" in 2016 and calling him "my dear friend." But last year the U.S. president focused on Turkey's detainment of an American evangelical pastor and followed up with sanctions on key Erdogan aides -- in addition to ramping up tariffs on Turkish steel.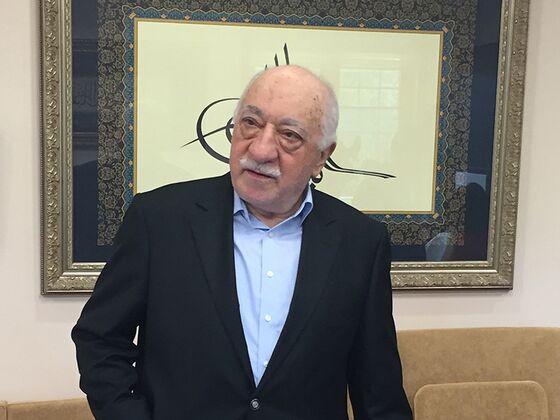 While the pastor was eventually freed, the tariffs remain and the mutual distrust hasn't abated. Now, the criticism among Turkish officials -- one which is gaining currency -- is that the latest twist in American foreign policy was more than just a misstep by a president whose rash decisions have wrong-footed U.S. allies around the world. Many officials in Ankara contend that Trump's Twitter threat marked a pattern of growing estrangement, as successive American governments distance themselves from Turkey's most critical national security concerns.
Take Iran, another neighbor of Turkey, where the Trump administration is applying sanctions in an effort to stop what it sees as Tehran's meddling in regional conflicts. Pompeo, who discussed Iran's activities in Yemen and Syria with Saudi officials during a tour of the Middle East that wrapped up Monday, told traveling reporters that "the root of the challenge stems from the revolutionary nature of the Islamic regime and their efforts abroad."
That hasn't stopped Turkey from pursuing economic and political ties with Iran. Turkey was Iran's fourth-biggest trading partner in 2017 after China, the U.A.E. and India, with a total trade volume of some $10.7 billion. That economic reality ensures Erdogan has little incentive to join the U.S. in tightening the noose on the Persian Gulf state.
What's more, Turkey was one of eight nations granted six-month waivers on buying Iranian oil, and those waivers will not be extended, according to Brian Hook, the State Department's special representative for Iran. "We want to deny the Iranian regime the revenue that it uses to destabilize the Middle East," Hook said in an interview.
The fate of Fethullah Gulen is another stumbling block. Turkey has repeatedly asked the U.S. to extradite Gulen, a cleric whom it accuses of masterminding a failed military putsch targeting Erdogan's elected government in 2016. The U.S. is adamant that the judicial bar for extraditing suspects is difficult to meet and that the evidence provided by the Turkish side has so far fallen far short.
Sinan Ulgen, chairman of the Istanbul think tank Edam, said that Ankara has begun defining national interests around strengthening its role as a regional power broker. That's an about-turn from the Cold War, when Turkey's foreign policy was focused on cementing its place within NATO -- the ultimate defense against the powerful Soviet threat. As a result, today Moscow is more of an enabler of regional policies than an existential threat to Turkey.
Trump's unpredictability and U-turns on decisions such as his abrupt announcement of pulling troops out of Syria have compounded tensions, rendering the U.S.-Turkey relationship "dysfunctional," Ulgen said.
Yet for a while, Trump's decision to exit Syria was a source of optimism to Turkish officials who have lobbied Washington since 2015 to overturn the Obama administration's move to arm and train a Kurdish militant group called the YPG. While doing so saved the Americans from deploying more troops on the ground to attack Islamic State, it infuriated Turkey, which says the YPG is simply the Syrian branch of domestic terrorists it's been fighting for over three decades.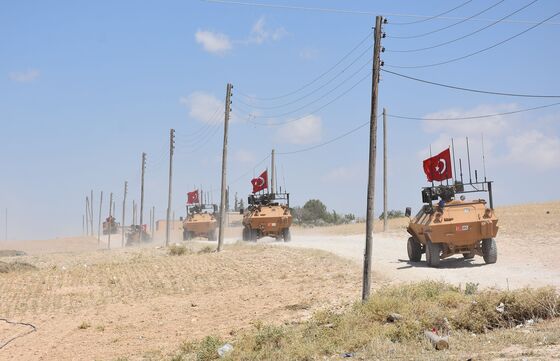 That's why Trump's decision last month to pull troops out of Syria was welcomed in Ankara as a sign of an end to that relationship. It signaled a detente that encouraged Turkey's government to toy with the idea of buying U.S.-made Patriot missiles. Washington is offering its advanced air defense systems to dissuade Turkey from purchasing Russian-made S400 missiles -- a deal that could trigger sanctions against Ankara if it goes through.
The back and forth between officials in both countries underscores the lack of a grand strategy behind Trump's decision on Syria, according to Sam Heller, a senior analyst at International Crisis Group.
"President Trump said the U.S. would withdraw from Syria, but apparently spontaneously, without prior planning or coordination inside the U.S. government or with Turkey," Heller said. "That's why we've seen such confusion since."