Trump's Speech Misrepresents Biden's Positions, Economic Facts
(Bloomberg) -- President Donald Trump's 70-minute speech accepting the Republican nomination for a second term misrepresented the positions of Democratic nominee Joe Biden and cherry-picked data on the coronavirus and jobs.
In his speech from the White House, Trump painted Biden, long known as a moderate Democrat, as a "Trojan Horse" who would unleash socialist policies. Those claims misstated the Democrat's positions on a number of issues including energy and immigration.
Trump also minimized the still-raging pandemic and suggested the U.S. was far better off both in terms of public health and the economy.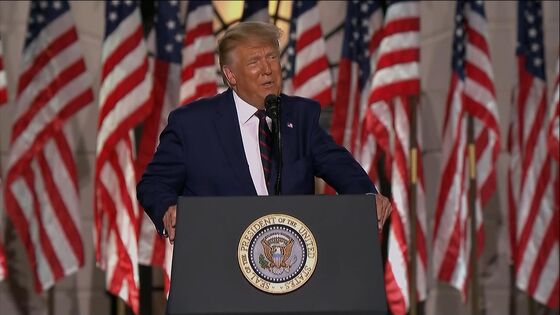 Trump: "Thanks to our Paycheck Protection Program, we have saved or supported more than 50 million American jobs," he said. "Over the past three months, we have gained over 9 million jobs, a new record."
Fact Check: Trump is correct that the U.S. has regained a record 9 million jobs, but those gains follow even bigger record losses. More than 1 million people are filing initial claims for unemployment each week. Of the 9 million jobs added in the past three months touted by Trump, almost half were from leisure and hospitality businesses such as restaurants, which reopened after shutting earlier in the year.
About 1 million Americans each week are still filing for initial state unemployment benefits and as many as 27 million are continuing to claim benefits each week.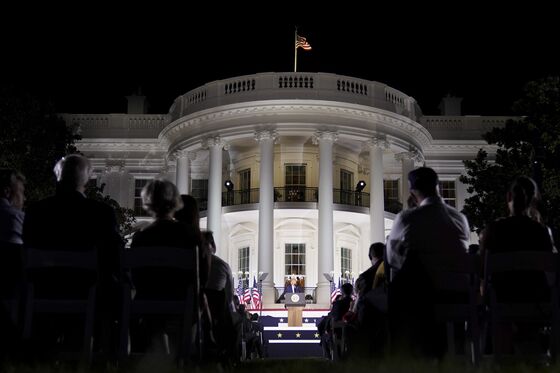 He claimed that the Paycheck Protection Program saved 50 million jobs, but that number includes every worker for every company that received a federal loan, whether or not the job was actually in jeopardy. A Federal Reserve study put the actual number of saved jobs at 2.3 million as of June.
Trump: "We have seen the smallest economic contraction of any major Western nation, and we are recovering much faster."
Fact Check: That's probably true but it's not much to boast about, and partly reflects the fact that America didn't shut down as thoroughly and swiftly as other nations. The U.S. economy contracted 9.1% in the second quarter from the prior period, compared with 9.7% in Germany, 20.4% in the U.K., 13.8% in France and 12.4% in Italy.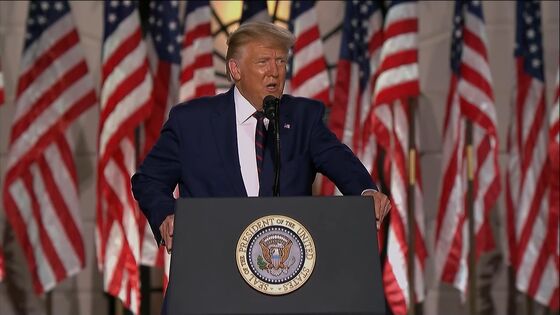 Trump: "Biden has promised to abolish the production of American oil, coal, shale, and natural gas – laying waste to the economies of Pennsylvania, Ohio, Texas, North Dakota, Oklahoma, Colorado, and New Mexico. Millions of jobs will be lost, and energy prices will soar. These same policies led to crippling power outages in California just last week. How can Joe Biden claim to be an 'ally of the light' when his own party can't even keep the lights on?"
Fact Check: Biden has called for a moratorium on oil and gas drilling on federal lands, but does not support a national ban on fracking or traditional drilling on private property. He would, however, return to the climate policies of the Obama administration, which put limits on carbon emissions on new and existing power plants. The Obama administration's cost-benefit analysis found that lower emissions would have economic benefits from decreased pollution and more green energy jobs — a conclusion the Trump administration has rejected.
While energy experts say an over-reliance of renewable energy sources is partly to blame for the California power outages, obsolete transmission systems and a spike in demand from unusually high heat were also factors.
Biden's Immigration Policy
Trump: "Joe Biden's campaign has even published a 110-page policy platform co-authored with far-left Senator Bernie Sanders. The Biden-Bernie Manifesto calls for suspending all removals of illegal aliens, implementing nationwide catch-and-release; and providing illegal aliens with free taxpayer-funded lawyers. Joe Biden recently raised his hand on the debate stage and promised to give away your health care dollars to illegal immigrants. He also supports deadly sanctuary cities that protect criminal aliens. He promised to end national security travel bans from Jihadist nations, and he pledged to increase refugee admissions by 700%. The Biden Plan would eliminate America's borders in the middle of a global pandemic."
Fact Check: Trump distorted the report produced by allies of Biden and Sanders, a 110-page document that only provided recommendations to Biden and the Democratic Party in crafting its platform. Neither Biden nor the document call "for suspending all removals of illegal aliens." Biden has advocated for a 100-day moratorium on deportations and then a focus on deporting felons. Biden also has not called for eliminating America's borders nor tearing down walls at the country's southern border.
Trump: "We developed a wide array of effective treatments, including a powerful antibody treatment known as convalescent plasma that will save thousands of lives. Thanks to advances we have pioneered, the fatality rate has been reduced by 80% since April. The United States has among the lowest case fatality rates of any major country in the world. The European Union's case fatality rate is nearly three times higher than ours. Altogether, the nations of Europe have experienced a 30% greater increase in excess mortality than the United States."
Fact Check: Trump has continued to rely on a statistic that looks at Covid deaths as a percentage of coronavirus cases, which paints a more flattering picture. But as Trump himself repeatedly points out, the number of confirmed cases in the U.S. is higher because of more widespread testing. After controlling for testing rates and demographic factors, it's unclear whether treatment is more effective in the U.S. And even using Trump's formula, Johns Hopkins University estimates that the U.S. case-fatality rate ranks 115th best in the in the world. Using the more common deaths-per-capita statistic, it ranks 154th.