Trump's Sanctions Are Proving a Bitter Pill for Iran's Sick
(Bloomberg) -- Leila Koochaki's health has become collateral damage as the U.S. extends its economic offensive against Iran.
The 47-year-old had to contact 15 pharmacies across Tehran before she finally secured the anti-fatigue medication she takes to cope with multiple sclerosis. "I found a small drugstore that could give me a little, just two strips of 10 tablets each," Koochaki said. "I begged them to keep it for me until I got there."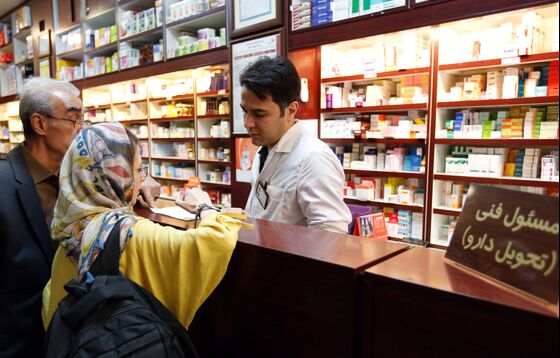 On paper, U.S. sanctions permit Iranian purchases of humanitarian goods like medicines. To avoid accidentally triggering penalties, however, foreign drug companies and international banks are taking extra precautions even when dealing with permitted business. The new legal complications, along with panic buying and hoarding, mean some drugs are increasingly difficult to find.
Making things worse, a collapse in the rial had already pushed up prices of imported medicines and active ingredients used in locally-made generics.
The scarcities are forcing patients to make potentially life-altering decisions. "I might start taking halves or skipping doses so I don't run out," Koochaki said of the Modafinil tablets that keep her going.
When the U.S. increased pressure on Iran on Nov. 5, it was sanctions on critical oil exports that dominated headlines. But the penalties went much further. The Treasury sanctioned more than 700 individuals, entities, aircraft and vessels, including Iran's central bank and many of its commercial lenders. Some of those banks lost access to the Swift international payment system -- rendering them even more toxic to overseas counterparts.
Doug Jacobson, a sanctions attorney at Jacobson Burton Kelley in Washington, said it's becoming difficult to find foreign banks willing to do even permitted business with Iran.
U.S. officials say they're "not going to sanction humanitarian payments, but banks have to make a risk-based, cost-benefit decision on whether it's worth it for them and many are taking the position that it's not worth it," he said.
European drug companies contacted for this story said they continued to deal with Iran. A spokesperson for French drugmaker Sanofi, the only global pharmaceuticals firm with a production plant in the Islamic Republic, said sanctions changes didn't affect its ability to sell medicines there. Roche said in a statement it's "continuously assessing" the effect of penalties and remains committed to serving Iranians.
But Iran won't be able to import drugs at pre-sanctions levels if it can't pay for them.
Until recently, four private banks facilitated nearly all of Iran's humanitarian trade: Parsian Bank, Middle East Bank, Saman Bank and Pasargad Bank.
In a recent tweet, Iranian Foreign Minister Mohammad Javad Zarif attached two letters he said were sent by European drug suppliers to Iranian importers terminating trade due to sanctions. Attempts to confirm the contents of the letters weren't successful.
Iran's Medical Council also appealed to United Nations Secretary General Antonio Guterres to take action. U.S. sanctions had "seriously affected our ability to access drugs, healthcare services, treatments and necessary medical care," the council said, according to a copy of the letter published on its website.
Brian Hook, the State Department's special representative for Iran policy, told reporters after the latest measures were announced that the U.S. has never targeted medicine or medical devices. The "regime's attempts to mis-characterize these humanitarian exemptions are a pathetic effort to distract from its own corruption and mismanagement."
Under President Donald Trump, the U.S. has sought to curb Iran's influence in the Middle East, withdrawing in May from the 2015 nuclear deal. European and other signatories back the accord as the best way to prevent Iran producing a nuclear weapon, and are seeking to maintain channels for trade and investment.
The main medication Koochaki takes now is an Iranian version of MS treatment Avonex, and a Health Ministry helpline assists her in finding supplies. For some illnesses, however, patients rely on foreign medication as local alternatives don't exist or aren't as effective.
"The efficacy of Iranian medicines is inadequate," said Maziar Mostafavi, a family physician and former emergency-ward doctor. That's partly because difficulties obtaining active ingredients over the years led some manufacturers to lower dosages, especially with antibiotics, he said. "Failures in treatment have increased."