Trump's Roadblocks Force Democrats to Hone Impeachment Strategy
(Bloomberg) -- President Donald Trump set up a constitutional confrontation that is forcing House Speaker Nancy Pelosi to decide how to approach a potentially long court battle over witnesses and records and when to push for a House vote on impeachment.
Pelosi will hold a conference call Friday with the full House Democratic caucus, following the White House declaration it would block any cooperation with the investigation that Democrats say they want to wrap up this year.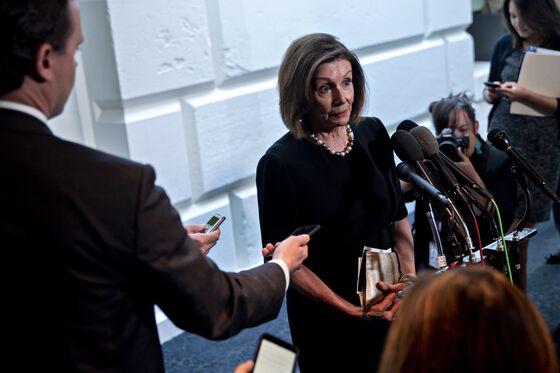 Trump's defiance has frozen the impeachment inquiry in place, at least temporarily, with the administration resisting subpoenas and refusing to allow depositions, even behind closed doors. Republicans say the process can't proceed until the full House votes to formalize an inquiry, although legal scholars say this isn't a constitutional requirement.
For now, Democrats haven't settled on legal or tactical responses to the White House, according to Democratic lawmakers and leadership aides. Democrats will also have to decide whether to take the administration into an uncertain court fight to enforce subpoenas, and when to deliver the actual articles of impeachment.
Total resistance from the White House could hinder Democratic efforts to gather evidence, although it could also bolster their case that Trump is acting lawlessly. Pelosi warned that continued stonewalling from the Trump administration could be the foundation for an additional article of impeachment for obstructing Congress.
The inquiry currently is focused on whether Trump abused his authority by pressuring Ukraine to investigate a potential 2020 challenger, former Vice President Joe Biden, at the same time the U.S. was holding up aid to the country.
The State Department blocked U.S. Ambassador to the European Union Gordon Sondland, who was involved in discussions regarding Ukraine, from giving a deposition to the three House panels leading the inquiry. Republicans were caught off guard, expecting that he would be a favorable witness since he's a political donor and close adviser to Trump.
Marie Yovanovitch, who was recalled by Trump as U.S. ambassador to Ukraine but remains in the foreign service, is still on the schedule for a closed-door deposition Friday.
One official familiar with the probe said Democrats weren't expecting her to appear -- at least not until she is subpoenaed -- given the White House position of refusing to cooperate with the probe.
The official said the committee will probably issue a subpoena to Yovanovitch to protect her legal options, rather than asking her to defy the administration and show up without one.
The White House set out its strategy in a letter Tuesday from White House Counsel Pat Cipollone to Pelosi and the three chairmen of the committees leading the impeachment inquiry. He rejected what he said were "legally unsupported demands made as part of what you have labeled-contrary to the Constitution of the United States and all past bipartisan precedent-as an 'impeachment inquiry."'
Several constitutional scholars on Wednesday dismissed Cipollone's arguments that the impeachment inquiry is illegitimate because it hasn't been formalized by the full House. Cipollone said the president should be allowed process protections, such as the ability to cross-examine witnesses, even though impeachment is a political, not a judicial process.
"The Constitution nowhere says, much less requires, either chamber of Congress to approve resolutions, of any kind, before the committees of either or both chambers conduct investigations, issue subpoenas, take testimony, and gather evidence," said Michael Gerhardt, a law professor at the University of North Carolina.
Harvard University Professor Charles Fried, who was solicitor general in Ronald Reagan's administration, called Cipollone's letter "ignorant nonsense."
He said an impeachment inquiry is like a grand jury process so the target doesn't enjoy the due process of a trial. Fried and other legal experts said the letter itself could be grounds for an article of impeachment based on obstruction of Congress.
University of Texas Law Professor Stephen Vladeck said that as a result of the White House letter, judges in the existing subpoena cases will now likely see there is no chance of an accommodation between Congress and the White House and will expedite rulings on those cases. He predicted a subpoena case reaches the Supreme Court by next June.
The White House stance also may create a dilemma for some of Trump's GOP allies in Congress. Several senators have said they want the Senate Intelligence Committee to look into the situation with Ukraine. South Carolina Republican Senator Lindsey Graham, chairman of the Judiciary Committee, said on Tuesday that he's considering calling Rudy Giuliani, Trump's personal lawyer, to testify as a counter to the inquiry by House Democrats.
Both sides are making political as well as legal calculations. Several polls released since Pelosi announced the impeachment inquiry on Sept. 24 show growing public support for that action, though Americans remain split over whether Trump should be removed from office. Republican voters still strongly back the president, keeping GOP members of Congress lined up behind Trump.
Tom Campbell, a law professor at Chapman University and a former Republican congressman from California, said the decision to have the full House vote on an impeachment inquiry is a political decision rather than a legal one.
Pelosi may be resisting that step for now because "she does not want to make her moderates vulnerable next November, until she has specific articles of impeachment ready," Campbell said. "This allows those members to say they are simply studying the evidence and have not reached any hasty conclusions."
"Preliminary votes to start impeachment proceedings have, thus, always been political acts -- not constitutionally compelled acts," he said.
Case Western law professor Jonathan Adler agreed, arguing that while the White House letter was without legal merit, it is making a political argument for voters that the process is unfair.
"As a political matter, if the House leadership wants to take some of these issues away from the White House, they could take a vote on the floor. They may decide politically to do that even in the absence of a legal requirement to do so," he said.