Trump's Race to Save House Takes Him to Reliably Red Kansas
(Bloomberg) -- President Donald Trump is taking his campaign to save Republican control of the House of Representatives to Kansas, a state that hasn't elected a Democrat to Congress in a decade but might prove a bellwether for the opposition party in November.
Trump is scheduled to hold a rally in Topeka on Saturday, a month before Election Day, in his first trip to the Sunflower State as president. He's thrown his support behind two candidates that some moderate Republicans have disavowed: Kris Kobach, who's running for governor, and Steve Watkins, the nominee for the state's 2nd Congressional District.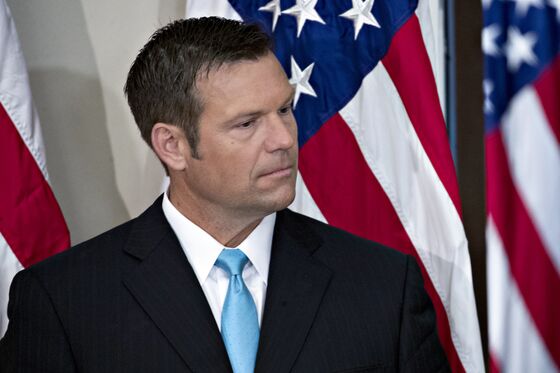 Kansas is as reliably red as any place in the country. Trump won the state by 20 points, and Republicans have held the district Watkins hopes to represent since 2009.
Kansans haven't voted for a Democrat for president since Lyndon Johnson in 1964, and the last time they sent one to the Senate was in 1932. But this year, Democrats are eyeing both the second district and the neighboring third, as well as the governor's mansion.
The nonpartisan Cook Political Report rates the 2nd District a tossup and the 3rd as leaning Democratic. The two parties have poured millions of dollars into the races.
"If they win both the 2nd and the 3rd, it's a sign of a massive wave. If they win one of the two, then they're probably on track to take back the House but not by a massive amount," said David Wasserman, the U.S. House editor at Cook.
Democrats need a net gain of 23 seats to win the majority in the House. As of Sept. 24, outside groups have spent $8.8 million in the districts, according to the Center for Responsive Politics. Nearly half of that came from the Congressional Leadership Fund, the fundraising arm for House Republicans.
Trump is traveling the country to try to hold back a possible blue wave, a personal campaign that highlights the extent to which the vote will be a referendum on his presidency. His destinations have included battleground states as well as traditionally safe Republican territory, including Mississippi on Tuesday and Kansas.
"The president is very much on the ballot," Topeka-based GOP strategist David Kensinger said. To win, he added, Republican candidates must focus on issues.
Topeka is the state capital and the largest city in the 2nd District, which covers eastern Kansas except the core of the Kansas City metropolitan area. It's a largely rural region, the kind of place that should be friendly to Trump and anyone running close to him. Watkins is running against Paul Davis, an attorney and former state legislator.
"The Trump agenda has a particular resonance here, since we nominated an outsider," Kensinger said, referring to Watkins, a first-time political candidate. "I think that will play to his benefit in the 2nd District."
But Watkins, an Army veteran and West Point graduate, has faced criticism that he has spent little time in Kansas since high school. The Associated Press recently published an article questioning whether Watkins falsified or embellished parts of his biography.
"That's fake news. That's garbage reporting," Watkins said in an interview. "My message to voters is that he's a liberal, and voters ought to know that and not be tricked by his messages," he said of Davis.
In the 3rd District, Sharice Davids, a mixed-martial-arts fighter turned political candidate, is waging a close contest against Republican Representative Kevin Yoder. Emily's List, which helps elect Democratic women who support abortion rights, spent nearly $1.1 million on the race, pushing Davids through a crowded primary and shocking some political veterans.
"When I ran in 2014, I couldn't get anyone to pay attention," said former State Senator Kelly Kultala, who lost to Yoder. That year, outside spending in the district totaled less than $11,000.
In 2016, Hillary Clinton narrowly won the district, which encompasses the western suburbs of Kansas City and is home to many Democrats and moderate Republicans. Yoder appears to have been hurt by his association with Trump, said Bob Beatty, a political science professor at Washburn University in Topeka.
Cook updated its rating for Yoder's race on Wednesday to lean Democratic, following reports that national Republicans canceled an ad buy in excess of $1 million on his behalf. His campaign did not respond to a question about whether he would attend Trump's Topeka rally.
Both Watkins and Kobach, the Kansas secretary of state, have embraced the president. Trump endorsed Kobach in the Republican primary, helping him defeat incumbent Governor Jeff Colyer by 343 votes despite concerns among some GOP voters about Kobach's hostility toward immigrants and his largely fruitless crusade against voter fraud.
Kobach is virtually tied with the Democratic candidate, State Senator Laura Kelly, according to an Emerson College poll published Sunday. Jennifer Duffy, a senior editor at Cook, said that support for Kelly is fueled in part by a "voter rebellion" over tax cuts pushed by Governor Sam Brownback, a Republican and Colyer's predecessor. Those cuts produced large budget deficits and led to cuts in spending for education and other services.
Kobach's campaign may be helped by Greg Orman, a businessman running as an independent who could siphon votes from Kelly. But some prominent moderate Republicans have endorsed the Democrat.
Kobach's campaign did not respond to a voicemail or email requesting comment.
"This is a race Republicans shouldn't have to be worried about," Duffy said. In August, Cook changed its rating for the race from likely Republican to a tossup.